by Jimmy Young, founder of Pro Cannabis Media
Thanks to Democracy and the grassroots efforts of cannabis advocates from coast to coast, there are now 15 holes in the cannabis prohibition wall (legal states), and 36 cracks (medicinal programs). So when will that wall come down and how fast? More importantly, what will the industry look like when the dust settles? 
Over the past few weeks, cannabis media pundits from all over the world have chimed in with their predictions for 2021. (Some even pontificated before knowing the results of the Georgia State runoffs in the Senate.) 
With President Joe Biden now in the White House and the Democrats controlling both houses of Congress, cannabis advocates are wondering when, and if, we will see federal legalization of cannabis in 2021. Will it succeed or will our dutifully elected politicians do something that will derail the will of the people during this Green Wave of reform? 
Already, a Republican congressman from Florida, Greg Steube, decided to file the first draft of reform to a committee that will move cannabis from schedule 1 to schedule 3 on the Department of Justice list of "controlled substances."
But for many, this does not go far enough. I recently interviewed the Media Relations Director of NCIA, Morgan Fox, who told me, "It's not something the NCIA or other Cannabis advocacy groups is going to support….we are all focused on de-scheduling, (this draft) it just doesn't go far enough." 
So what position are lobbyists in Washington, D.C. taking now that their arguments for reform may find a more supportive group to talk to? What is the best thing for the industry? What's the right thing to do? 
I also interviewed Michael Correia, the Director of Government Relations for NCIA, who explained that the target should be for full legalization, but that at the heart of the issue, there is something more important that needs to be dealt with – racism. In my interview with him, he said, "…let's just stop arresting people for this. Stop arresting people in this war on drugs so no one's lives are ruined because they're consuming a natural plant, that 30 plus states have said, Hey, we're okay with this. There shouldn't be these differences. So just stopping, arresting these people, and then worrying about what's the next step?"
Why does he feel so strongly about this? The evidence is overwhelming that law enforcement has used simple possession as a profiling tool to fill our privately run prisons with black and brown people over mere cannabis possession. "The vast majority of these arrests (92%) were for simple possession of the drug. 500,395 of [the 545,602] arrested for cannabis [crimes] were simply found [to be] in possession of cannabis."
So are you convinced now that cannabis, a plant, is not illegal because it is considered a drug, but rather because of a racist system and the fact it can be used as a means to profile and jail black and brown people? Do you want more evidence of the racial bias in cannabis arrests? Check out this 2020 report on the racial makeup of those simple possession "crimes."
"
A recent 
report from the ACLU
 looked at data from 2018 and found that black people were 3.6 times more likely to be arrested for cannabis possession than white people.
This is despite both groups use cannabis at similar rates.
Even in western states with recreational cannabis laws, black people were 1.5-1.8% more likely to be arrested for having cannabis."
Emily Earlenbaugh
, Forbes 
So what's the 2021 plan for lobbyists, policymakers, and elected officials? What exactly does this industry look like if one of the following changes happens in the next year or two?
Cole Memo reinstated

SAFE Banking

Rescheduling 

De-scheduling

The MORE Act 

Science and Research Grants
Each one of those changes is not only positive for this young industry but will have a ripple effect that will impact other industries. The trickle-down effect for any of these changes being implemented will impact the private prison system, banking, and financial markets, big alcohol, big pharma, social equity, expungement of past convictions, interstate commerce, and the international markets.
The cannabis lobbyists know that with Democrats in charge of the direction of the Congress over the next two years, this is their opportunity for serious reform. After all, the House passed a legalization bill, the MORE Act, in December of 2020. In 2019, the previous year, the SAFE Banking Act was also approved by the House, but neither even got to the floor of the Senate because of the then-Majority Leader Mitch McConnell's anti-marijuana stance. 
2021 is now upon us, and "grown-ups are now back in charge in D.C." However, many advocates I've talked with are understandably wary and skeptical about the Federal Government dictating governance of this industry if cannabis is federally legalized and falls under the control of the alcohol and Beverage Commission. 
Most cannabis advocates can at least agree that cannabis should be removed from the schedule that was created by the Controlled Substances Act in 1971. This change alone would allow banks to do business with the cannabis industry and allow for the removal of the restrictive 280E tax code that has limited the profit margins of already existing businesses. 
Here are some links to other predictions from leading media sources about what cannabis reform democratic control of Congress may lead to:
Marijuana Moment: What The New Democratic-Controlled Senate Means For Federal Marijuana Legalization In 2021
Politico: Democratic-led Senate could clear a path to marijuana legalization
Forbes: Democrats Win The Senate: The Impact On Marijuana Policy
So after reading all this information, here's what I think will happen over the next four years. 
First Year: 
Cannabis gets removed from the Controlled Substances Act schedule
Second Year: 
Decriminalization and expungement of cannabis possession crimes with banking reform
Third Year:
Interstate commerce 
Fourth Year:
Full Federal legalization, international export markets open
It's 2021, the year of the cannabis plant as a political issue is here and reform is as pungent as the odor of this amazing plant. Stay tuned, this will be an ongoing theme in D.C. politics this year as we all hopefully witness another chapter in the historic end to prohibition. 
---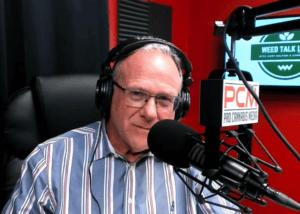 Jimmy Young is the founder of Pro Cannabis Media. An Emmy Award-winning talk show host from New England, and a resident of Massachusetts who holds a medical card after 4 major surgeries in 22 years.
The founder of Pro Cannabis Media is the current host of In The Weeds with Jimmy Young, a weekly podcast distributed over the CLNSMedia.com, site, iTunes, Spotify, Googlecast among others. In July of 2019, he teamed up with the founder of Cannabis.net, Curt Dalton, to host a two hour live monthly Weed Talk Show where the two Massachusetts natives have interviewed some of the biggest names in Cannabis, like Steve DeAngelo, Bruce Linton, and Tommy Chong. Locally local cannabis advocates and representatives from the medical establishment in the Bay State have all appeared on that show that is now being distributed nationwide. Young also produces a weekly news video, called News Dabs, highlighting and commenting on the biggest stories around the world in the emerging cannabis universe.