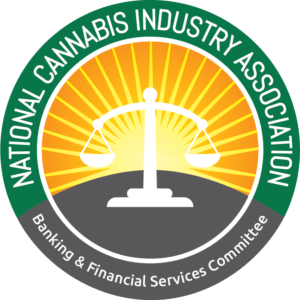 by Kameron Richards and Steven Schain
Members of NCIA's Banking & Financial Services Committee
Obtaining legitimate, cannabis-friendly financial services is among the cannabis industry's biggest hurdles. Obtaining financial services is challenging for dispensaries, marijuana grows, and testing labs but it could also be an obstacle for non-plant touching businesses or individuals engaged in the cannabis industry. Without cannabis-friendly financial services, individuals and businesses related to the cannabis industry are deprived of simple financial solutions, like checking accounts, resulting in large amounts of cash being held at company facilities or the operator's residence, posing significant risks.
Because only a small amount of insured banks and credit unions offer cannabis businesses financial services, finding cannabis-friendly financial services offered by FDIC or NCUA/CUNA institutions is challenging, and following a certain approach may fortify the longevity of a relationship with a financial institution.
Know Your Company Information and Banking Needs 
Thorough onboarding initiates the account opening process for cannabis companies seeking financial services. Cannabis-friendly financial institutions exercise enhanced due diligence at account opening for compliance purposes, which will be further discussed in this article. 
Financial institutions may require information on state licensing, corporate structure, and governance documents. Institutions generally collect information regarding the company's underlying products and whether those products or services violate The Controlled Substances Act ("CSA"). Information collected during the onboarding process often determines the institution's fee, risk-based categorization, and willingness to provide financial services to a particular cannabis company. 
During the onboarding process, cannabis companies should determine if the financial institution provides all services necessary for its specific operation. The services offered by cannabis-friendly financial institutions may vary based on its risk tolerance.
Know Compliance Requirements and Cannabis-Specific Programs 
Financial institutions serving the cannabis industry must comply with The Bank Secrecy Act's ("BSA") requirements set forth in the Treasury Department's Financial Crimes Enforcement Network's ("FinCEN") BSA Expectations Regarding Marijuana Banking (FIN-2014-G001) ("FinCEN Guidance"). To mitigate the possibility of money laundering, institutions assemble extensive risk-based BSA programs centered around assessing the risk of each cannabis account and detecting and reporting "Red Flags" set forth by FinCEN Guidance. 
To understand the constraints under which financial institutions are forced to operate, cannabis companies should familiarize themselves with relevant cannabis industry regulatory guidance and, if possible, structure its operations to ease its financial institution's compliance efforts. Further, cannabis companies should understand any contractual terms and operation of any specific cannabis programs required by its financial institution (e.g., participation in cannabis-specific programs to support loan approvals, liquidity management or the coordination of cash courier services).
Know the Risk-Based Approach
FinCEN Guidance requires institutions to perform enhanced due diligence on cannabis companies, because the risk category of each cannabis account is determined during the onboarding process, institutions are required to obtain corporate and state licensing documentation and detect any negative news on the potential account signers and the business.
Because there is no mandated risk-based structure for institutions to follow, it is critical that cannabis companies know its institution's specific risk-based structure. Further, if a cannabis company is utilizing more than one institution, it should understand that each institution's risk-based categorization may have specific factors or considerations. Some institutions use a tiering structure (which can vary by institution) or make this determination based on the direct or indirect relationship that the account's source of funds has with cannabis prohibited by the CSA. An institution's risk-based categorization could determine an account holder's compliance obligations or eligibility for financial services such as lending, treasury services, payment processing, and 401(k)/retirement solutions.
Know What Could Cause Account Termination
After completing the onboarding process and placing cannabis accounts in the requisite risk profile (which may vary among institutions), institutions are obligated to conduct ongoing enhanced due diligence on cannabis accounts in accordance with the risk each account poses. 
This enhanced due diligence encompasses staying abreast of corporate changes, confirming that all licenses are up to date and conducting periodic negative news checks that indicate FinCEN Guidance "Red Flags." It can also include a litany of happenings that cannabis account holders may not be aware of. While cannabis account signers may be compliant, without any negative news on them or their business, their institution could also close an account due to adverse information from tax and state licensing authorities or wrongdoing by employees or vendors. Cannabis account holders should also be aware of transactions prohibited by its institution's policies and procedures like commingling funds between non-plant touching and plant touching accounts or transferring funds to and from vague accounts at unaware institutions unwilling to serve the cannabis industry. 
Cannabis account holders with multiple relationships should be aware that each institution's closure protocol may vary in response to adverse information or conducting transactions prohibited by internal policies and procedures (account termination terms are often contained in the depository agreement between the institution and cannabis account holder). 
Conclusion 
Beyond assisting a business' core functioning, maintaining relationships with legitimate financial institutions leads to strategic advantages for a cannabis company and its owners and operators, like financing or payment processing.  
Further, because FinCEN requires institutions to monitor and report cannabis account transactions and file a Suspicious Activity Report (SAR) when a cannabis account is opened or closed or if "Red Flags" are detected; cannabis companies can protect their accounts and businesses by knowing applicable laws and regulations and their institution's cannabis-specific programs' policies and procedures.