By Rudy Schreier, MMLG
NCIA's Marketing & Advertising Committee's Social Justice Subcommittee
The cannabis industry is evolving at light speed. From nationwide legalization, to massive corporations developing green thumbs, cannabis culture is shifting daily. Exciting, yes, but this rapid cultural shift poses a threat to social justice by disregarding the harms caused by the war on drugs. Now, more than ever, the cannabis industry needs to come together and determine a course of action to ensure that social justice isn't brushed aside.
Where should we start? And how can all of us in the industry handle something as daunting as social justice with the appropriate sensitivity? Let's review some of the basics.
Cannabis has been aggressively policed since the mid-to-late twentieth century. Minorities from marginalized communities were disproportionately punished for cannabis crimes, contributing to the rise of mass incarceration. Those same communities punished for past involvement with cannabis face an extremely high barrier of entry in the newly legal industry. Many cities and states are adopting social equity programs to lower the barrier. For example, Los Angeles recently approved $10.5 million in funding over the next three years for its social equity program. Initiatives like Los Angeles' are a step in the right direction; however, there's still a lot more to be done.
While social justice in the cannabis industry is a new focus for some, others have been fighting for decades. Omar Figueroa, a cannabis lawyer and advocate located in Northern California, helped to convince the Sonoma County District Attorney to clear cannabis convictions and has defended numerous activists pro bono over the years. When asked how the cannabis industry should address social justice, Omar replied, "[We need to] provide grants and loans to address disparities in access to capital, continue to advocate against cannabis prohibition, and create a leadership institute to empower people directly affected by the war on cannabis." Omar, like many other committed 'canna-pros', are constantly fighting for fair and equitable practices in our industry. With so much work to be done, it can be challenging figuring out where to start. This is where you come in.
As we build the new cannabis culture, we have the unique opportunity to do things differently, ethically, and better. NCIA's Marketing & Advertising Committee's Social Justice Subcommittee is developing an approach to social justice for the cannabis industry, and we need your help. Since we can't tackle everything, we're asking you to make your voice heard and help us navigate the difficult terrain ahead. Please take this 4-question survey about what social justice should mean in the cannabis industry. Your answers will take minutes, but the impact could be long-lasting. Feeling ambitious? Share this 'gram-sized graphic' in your own social channels to spread the 'poll power' far and wide!
Interested in learning more? NCIA's Social Justice Subcommittee will be hosting a panel titled "Cannabis Reform Stops Short: Why We Can't Let Social Justice Get Lost" at NCIA's Cannabis Business Summit & Expo in San Jose on Tuesday, July 23, from 1:30 PM – 2:30 PM. Register for the conference today!
---
Marketing and Advertising Committee: (MAC) of National Cannabis Industry Association (NCIA) — develops best practices in cannabis industry marketing /education, opening dialogues with media outlets that ban cannabis-related advertising.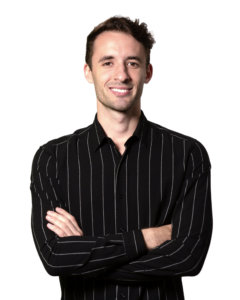 Social Justice Subcommittee: An arm of the MAC committee, the aim is to ensure that social justice issues are positively addressed via cannabis reform. Team Members: MMLG, Cannawise, Canna Advisors, Annabis.
The Author: From operations and marketing, to office and project management, Rudy Schreier wears many hats for the Los Angeles-based licensing and compliance consultancy MMLG. Schreier co-founded the #StartsAtThePolls campaign, which utilized social media platforms to inform voters on how to register to vote, how to get to the polls, and pro-cannabis candidates running for the 2018 elections.

The Panel: Be sure to catch the Social Justice Subcommittee's panel featuring Lisa Jordan (Canna Advisors), Omar Figueroa (Law Offices of Omar Figueroa), Shanita Penny (Minority Cannabis Business Association), and Felicia Carbajal (The Social Impact Center) at NCIA's Cannabis Business Summit & Expo titled, "Cannabis Reform Stops Short: Why We Can't Let Social Justice Get Lost."