by James Schwartz, CEO of Cascade High Organics
Look to the past to see the future
The challenges facing companies pioneering a new industry where each state deals with its own issues are numerous. The importance of strategic business planning and the ability to predict future problems are essential to survival. Colorado, Washington, and Oregon have each dealt with their unique issues and challenges but there are also common problems that every cannabis business experiences: burdensome regulation, unfair taxation, and banking prohibition to name a few. Building your company and brand is dependent on your ability to maneuver your company through the obstacles that will arise in your state market while also planning for a future of legal interstate commerce through a change in federal policy. To place your company in a position to be successful, you should understand the past to predict the future. 
Quick Summary of Cannabis History
The history of cannabis is long and distorted, however a few basic points of what brought us to the current state of federal prohibition and individual state markets should be noted for context.
Cannabis use as medicine dates back to 2700 BC in China, and has been used throughout history. In 1850, it was added to the U.S. Pharmacopeia. Prior to state and then Federal prohibition, cannabis was an elixir/tincture used in many common household cough/cold syrups and other medications for stomach-aches, asthma, depression, and many others. In the 1930s, cannabis was regulated as a drug in all states, and in 1937, the passing of the Marihuana Tax Act regulated it federally. Then in 1970, the Controlled Substances Act determined cannabis to be a Schedule 1 drug meaning it has no medical benefit and a high risk for abuse. From 1970 to 1996 the manufacture, use, or possession of cannabis was illegal in all fifty states.
CALIFORNIA
In 1996, California became the first state to legalize the medical use of cannabis through Proposition 215. California was the first domino to fall and further background of the early days of California medical cannabis will be addressed in later blogs in this series focusing on California. Over the next twenty years, 37 states have joined California with medically legal cannabis, and nine states have passed and implemented legal "recreational" (now referred to as "adult use") cannabis programs.  
OREGON
Oregon was the second state to pass medical cannabis in 1998 and that was the start of this author's journey through the cannabis industry. Prior to 1998, Oregon had been a bastion of black market cannabis cultivation due to its climate and wide open spaces especially in rural southern and eastern Oregon. After 1998, the state "protections" offered by medical cannabis state law allowed the cultivation industry to flourish. However, as opposed to California the state was more focused on growing weed and selling it around the country rather than setting up a distribution system to the medical patients of Oregon. This led to some of the early challenges of the medical cannabis program in Oregon. At this time, the Oregon population was relatively small compared to the state's cannabis production. Oregon was on its way to being one of the largest cannabis producers in the country. But because cannabis was so easily accessible there was little effort put into a healthy distribution system to Oregon patients. Most patients either grew for themselves or had a designated "grower" and that is where I started in the industry.  
OREGON: FORMATION OF RETAIL ESTABLISHMENTS
As a nurse who had self medicated with cannabis for ADHD, I began growing for patients because I wanted to provide others with access to the amazing health benefits of cannabis. This was the common way most patients accessed their cannabis. There were no dispensaries when the program started and patients who didn't have a grower were relegated to barter trade types of acquisition. In 2005, the Oregon Legislature allowed growers to be reimbursed for the cost of production and in 2010, the first dispensaries began to pop up. However, it wasn't until 2012 that legal retail entities were allowed. This lack of a retail access point for patients was one of the first impediments to the program and allowed states like Colorado and California to take the mantel on progress of a robust program of medical cannabis distribution.
COLORADO
In 2000, Colorado became the sixth state to allow medical cannabis with Amendment 20. Its medical program remained low key until 2010 when the Colorado Medical Marijuana Code was created, which provided for licensing of production and retail establishments. This change was a giant step to the progress of cannabis legalization.
Colorado followed the early model presented in California and began implementing licensed retail establishments for card carrying medical cannabis patients. Retails stores began to flourish and this laid the groundwork for the establishment of the Adult Use program. In 2012, Colorado became the first state to legalize what was originally referred to as recreational cannabis now called "Adult Use" cannabis, which allowed the sales of cannabis to all adults aged twenty-one and older and the boom began. Colorado's medical program developed into a rapidly growing Adult Use system and with the new federal guidance of the Cole Memo in 2013 canna-businesses began growing rapidly.
COLORADO: SEED TO SALE TRACKING
The primary language of the Cole Memo highlights a "robust tracking system" of all products produced and sold. The Cole Memo did not provide protections for cannabis businesses but provided guidance that helped assure businesses of some safety from federal interference. With the advent and implementation of a tracking system we could now be assured of where products came from and be able to track them back to their origin.
COLORADO: LAB TESTING
Once tracking was in place, lab testing for the safety of the consumer came to the forefront of industry progress. This was one of the first problems Colorado realized it had with its blossoming industry. As opposed to Oregon which required all products sold through its immature dispensary system since 2012, Colorado had not required lab testing of all its products until 2016 after several large quarantines and destruction of unsafe contaminated products. Many Colorado producers struggled with new pesticide regulations and was an early sticking point to growth of the industry. Over the first years of Adult Use cannabis program, Colorado struggled with the infancy of a brand new industry and how to regulate it and consequently, businesses suffered.
Other early challenges that the first legal state dealt with were allowable dosages and changes to dosing, as well packaging changes and the look of products, specifically how or if the products were attractive or marketed to children. The obstacles of a new industry most directly affect the businesses and their bottom lines. These are important points to consider when strategizing your business model and planning for inevitable changes to regulations. The time spent preparing for a system that will change will go a long way to ensuring for success.
WASHINGTON
Now let's talk about Washington.
Washington was the third state to approve medical cannabis but had problems with implementation due to legislative issues. As multiple pieces of legislation were offered, adopted, and repealed, the lack of clarity prevented the medical cannabis industry from launching. Washington passed its adult use cannabis program at the same time as Colorado in 2012. In Washington, the two major obstacles the industry faced were licensing issues and taxes. A previously existing strong medical program in Colorado allowed for a seamless transition to an adult use program, but that was not present in Washington and this added to difficulties with implementing an adult use program.
Because the industry was just getting off the ground, both states relied on their medical programs as a foundation to the adult use. However, Washington's medical program was murky and disorganized which lead to complications, Washington also limited licenses and put unfair taxes on the industry.  These two factors aided in keeping the black market as the primary driver of the industry, rather than pulling people or businesses into a controlled, tracked, and regulated system.
280E TAX CODE
This provides a nice segue to one of the challenges all cannabis business face: unfair taxes in the 280E tax code. Internal Revenue Code section 280E specifically denies a deduction or credit for any expense in a business consisting of trafficking in illegal drugs "prohibited by Federal law or the law of any State in which such trade or business is conducted" which translates to only "Cost of Goods Sold" as the only deductible expenses. This means administrative costs, executive salaries, marketing and advertising, banking fees, etc., are non-deductible expenses for any cannabis business and subjects them to much higher taxes as most normal business deductions are prohibited. This challenge is one all cannabis businesses deal with and must be factored into financial modeling.
BANKING
While we are on the the subject of taxes and non-allowable deductions, banking is the other major challenge all cannabis businesses face. Due to federal policy around an illegal substance, FDIC insured institutions force canna-businesses to operate in all cash for fear of prosecution under racketeering and money laundering laws. There are a handful of financial institutions, credit unions, or state banks that offer "Enhanced Monitoring Accounts" for cannabis companies. However, they are highly priced and rare. The average cannabis bank account is likely to run $1,000.00 a month, just to have access to banking services, not including additional fees. This $12,000 a year budget line item, while not only expensive, is not a tax write-off per 280E tax code.
One can quickly see from just these two major hurdles or challenges to the industry, normal operations can be difficult. These obstacles are not to be taken lightly; they can be addressed but it must be factored into operating procedures, financial planning/budgeting, and strategic vision.  
NOW BACK TO STATE SPECIFIC ISSUES
As Washington and Colorado dealt with its issues, Oregon voted to approve "Adult Use" cannabis in 2014. Using Colorado and Washington as a guide, Oregon implemented their system with more deliberation and vision based on what had been experienced in the first two states. But as was seen with the unique challenges in the first two states, Oregon encountered an entirely different set of problems. Oregon currently faces a massive oversupply problem which has affected all facets of business across the industry. In normal business and supply and demand economics, if an area is oversupplied, business move their products to where the demand is higher or the supply is lower. However, cannabis remains a federally illegal product and therefore interstate commerce remains illegal.
Oregon's unique problem originated from two main issues:
Oregon had already established itself as a cultivation mecca

The regulatory authority decided against a cap on licenses
This lack of license caps has allowed the number of licensees to explode and thereby allowed the oversupply issue to occur and continue to grow. As stated, this is not a problem exclusive to cultivator/producers. Because of a 75% drop in value, cannabis attorneys, electricians, HVAC, security companies and other ancillary businesses are not getting paid. The oversupplied market and decreased revenue has reverberated across the industry and driven otherwise thriving companies into bankruptcy.  
As you can see, each state deals with its unique challenges when implementing its Adult Use cannabis program, while we all deal with some issues that affect us all. The key to thriving… or surviving is to prepare your company to deal with the current challenges shared by us all and predict the challenges that your business will face in your state while preparation is taken for a national and international market.
---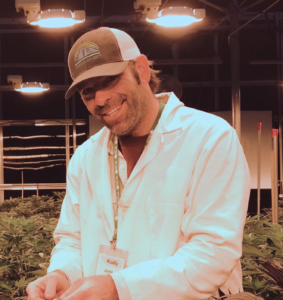 James Schwartz RN, BSN, LNC, is an experienced medical legal consultant and CEO of CascadeHigh Organics with 20 years experience cultivating legal cannabis. James is a self-described organic minimalist cultivating in the most sustainable manner. James believes in clean cannabis and its use as a wellness drug. His Oregon licensed cultivation, Cascade High, has been featured in Dope Magazine and on the cover of Oregon Leaf's Sustainability issue (March '18). James was featured as the Inaugural Stoner Owner by OR Leaf in Dec 2018. He has articles published by Dope Magazine about Cannabusiness and the Pharmaceutical Industry (May 2017), as well as a medical cannabis article in the Jan. 2019 Healthcare issue of OR Leaf. James is currently on the NCIA Cannabis Cultivation Committee and has presented Cannabis topics to multiple audiences at conferences including Cannabis Science Conference, PDX Hempfest, Cannabiz Convention, CBD Expo and Webinar series, Cannabis Collaborative Conference(CCC), Cannabis Nurse Conference, NCIA and educational industry mixers. His business, legal, medical, and agricultural knowledge provides a unique perspective on the industry. James has lobbied for Cannabis on both the national and state level with Oregon Cannabis Association and is a fierce advocate for the plant and all who use it.