By Lindsey Griffith, Creative Content Specialist at ThrivePOP
It's no secret: cannabis marketing is hard. Without federal legalization, many forms of digital advertising like Facebook, Instagram, and Google are nearly impossible. For years the industry has had to find creative ways to market cannabis while also staying compliant with current rules and regulations. As technology began to grow, influencer marketing began to take over social media platforms and rapidly became one of the most popular ways to promote your product or service.  
From Kendall Jenner to Bella Hadid, major influencers and celebrities got paid in product or cash to promote to their large following. Evidence shows that for every $1 spent on an influencer marketing strategy, businesses will receive a return of over $5, more than doubling their revenue. While this was extremely popular for many years, the yearning for authenticity shifted the focus to smaller influencers. Here, we'll discuss how that shift can be used as a pivotal tool in your cannabis marketing strategy. 
Why Micro-Influencers Have The Most Power
After grasping what an influencer does and how they benefit your marketing strategy you may be asking yourself: What's the difference between a micro-influencer and a macro-influencer? Essentially, a micro-influencer is a social media personality with a following between 1,000 to 10,000 people. While macro-influencers generally have an audience ranging anywhere from 15,000 followers to millions of followers. 
When researching a potential campaign, it's important to consider your own cannabis brands target age, gender, lifestyle traits, and more. After identifying these demographics, now you can begin to research local influencers that you believe will best speak to that audience. Some interesting statistics that you should consider when you begin implementing your influencer marketing strategy:
84% of Micro-Influencers recommend products or services at least once a week.
77% of Micro-Influencers create content every day. 
Micro-Influencers have over 7 times higher engagement rate than Macro-Influencers.
63% of marketers intend to increase their influencer marketing budget in the next year.
54 percent of influencers say they will work with brands who respect them as they would any other publisher.
91% of millennials trust online reviews as much as friends and family.
68% of bloggers prefer to work directly with a brand instead of an agency or network
*Data taken from a 2020 study from Influencer Marketing Hub.
Build Authenticity 
When marketing a product or service you're always striving towards building trust and authenticity. One of the biggest advantages micro-influencers have in promoting products or services to their audience is that they are deemed trustworthy sources, as opposed to a macro-influencer. 
While trust in major influencers began to wane over time, it proceeded to plummet after several major scandals that caused users to question these social profile's credibility and whether or not their recommendations were genuine. Fyre Festival anyone? This is when people started to look at smaller influencers to speak about products or services they truly valued, and to share that value with a smaller audience. No matter the marketing campaign, establishing transparency and credibility is the key to success. 
Create Relationships 
Collaborating with influencers doesn't just help you create new relationships with potential customers, but it also helps grow your relationships with long-term brand partners. Once you've found an influencer that is the best fit, one of the best ways to build and maintain those relationships is to find ways to enrich further collaborations. 
In order for your campaign to be successful, both parties need to be clear about expectations on benchmarks to measure. Disagreements and fights that come about when there is a miscommunication on the success of an ad campaign can permanently tarnish not only your relationship but can also put your brand authenticity at risk. Some of the items you need to determine before starting a campaign include:
Content imagery and verbiage.
Posting frequency and schedule.
Posting platforms and unique content curation/platform. 
Establish payment (monetary or gifting product.)
Requested campaign outcome (gains of followers, purchases, engagement, etc.)
How To Reach Out
Now that you know everything it takes to rock your cannabis marketing with social influencers, it's time to get started! If your cannabis business is ready to take a deep dive first make your dream influencer list. Once this dream list is "established" now it's time to reach out! Consider finding an official contact email first as opposed to sending a direct message to the influencers page (this DM box is likely full and your inquiries may get lost). Make sure your message is proofed, professional, and carefully crafted. A sample collaborative email to an influencer may look something like:
"Hi [Insert Influencer Name],
I love your post(s) about [insert topic here] on Instagram. [Insert another sentence or two relating to their feed that adds a human element]!
My name is [insert name here] and I work for [insert company name]. We [insert what you do or your mantra]. I am reaching out because [insert what you saw in their feed, posts and what they are passionate about and relate it to your brand's purpose]. We would love it if you would collaborate with us [insert any collaboration specifics in mind]!
Please let me know if you are interested and I will send more details.
Thanks!
[Insert name here]"
*Collaboration email taken from JoinStatus.com
Get Help From The Experts
No matter where you're at within the industry, it's no secret that cannabis marketing is both difficult and time-consuming. Consult with the movers and shakers in the marketing industry to help guide you in the best direction moving forward. Consider joining social media groups or joining cannabis business clubs within your community to learn from one another and to help grow.  
---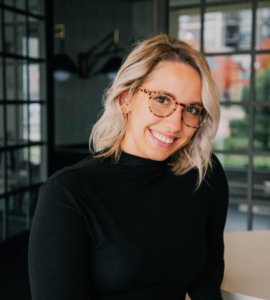 Lindsey Griffith is the Creative Content Specialist at ThrivePOP, a West Michigan-based Digital Marketing Agency. As a copywriter, Lindsey has experience in creating and implementing content across several digital platforms including podcasts, webinars, blogs, and social media profiles. During her cannabis career, she has worked with several cannabis manufacturers on search engine optimization through blogging to drive traffic to their website and assist in organic social strategies to gain new followers. Lindsey received her Bachelor's Degree In Marketing from Grand Valley State University and her work has been published across several cannabis industry platforms.