By Harrison Bard, Co-Founder and CEO, Custom Cones USA
Pre-Rolls More than a Trend
Having the ability to identify trends in the cannabis industry is vital for producers to build a successful brand, and the biggest trend in ther cannabis industry right now is pre-rolls. Growing at 12% YoY in the US and 38% YoY in Canada, pre-rolls are the fastest growing cannabis product in the world of legal cannabis, and it's not close. 
This trend could be chalked up to a sudden rise in popularity and as something that will decline once another hot trend appears; however, we believe that the rise of pre-rolls is more than just a flash in the pan. In fact, after looking over the sales data we received from Headset, we believe that pre-rolls will not only continue their growth, but they will become the bestselling cannabis products by 2030.
Here's why!
Prices Fall, Sales Rise, Both Stabilize
Over the past few years, the wholesale price of flower has dropped dramatically in mature markets, and cheaper cannabis costs have allowed producers to source higher quality flower for their pre-rolls. Combined with the advances in pre-roll making machinery, quality pre-rolls are now able to be sold at a lower retail price, which has driven strong growth for the category.
As you can see from the graph, pre-roll sales have steadily increased as prices have fallen, but the last two years have seen both sales and prices begin to stabilize. The pre-roll segment that has seen the most growth during this time is infused pre-rolls. Customers love high THC percentages, and producers are happy to finally be able to offer it to them in an affordable pre-roll form.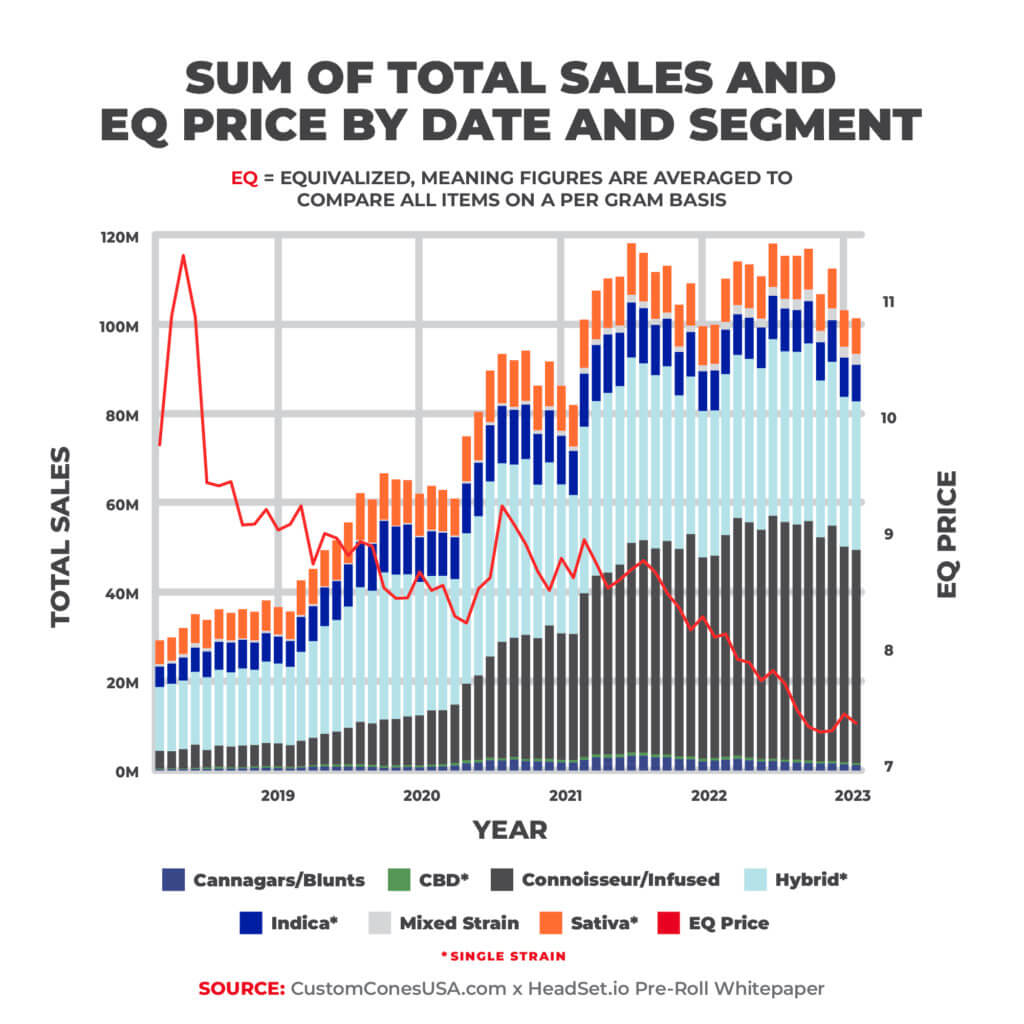 Pre-Rolls have the Least Amount of Price Compression
It's not just pre-roll prices that are falling. Prices are down across the board, but even though prices for all cannabis products declines over time, pre-rolls are showing the least amount of price compression. In other words, if you are in the business of selling cannabis, and you are worried about declining margins, pre-rolls are a category you should be expanding into to maintain and boost profitability.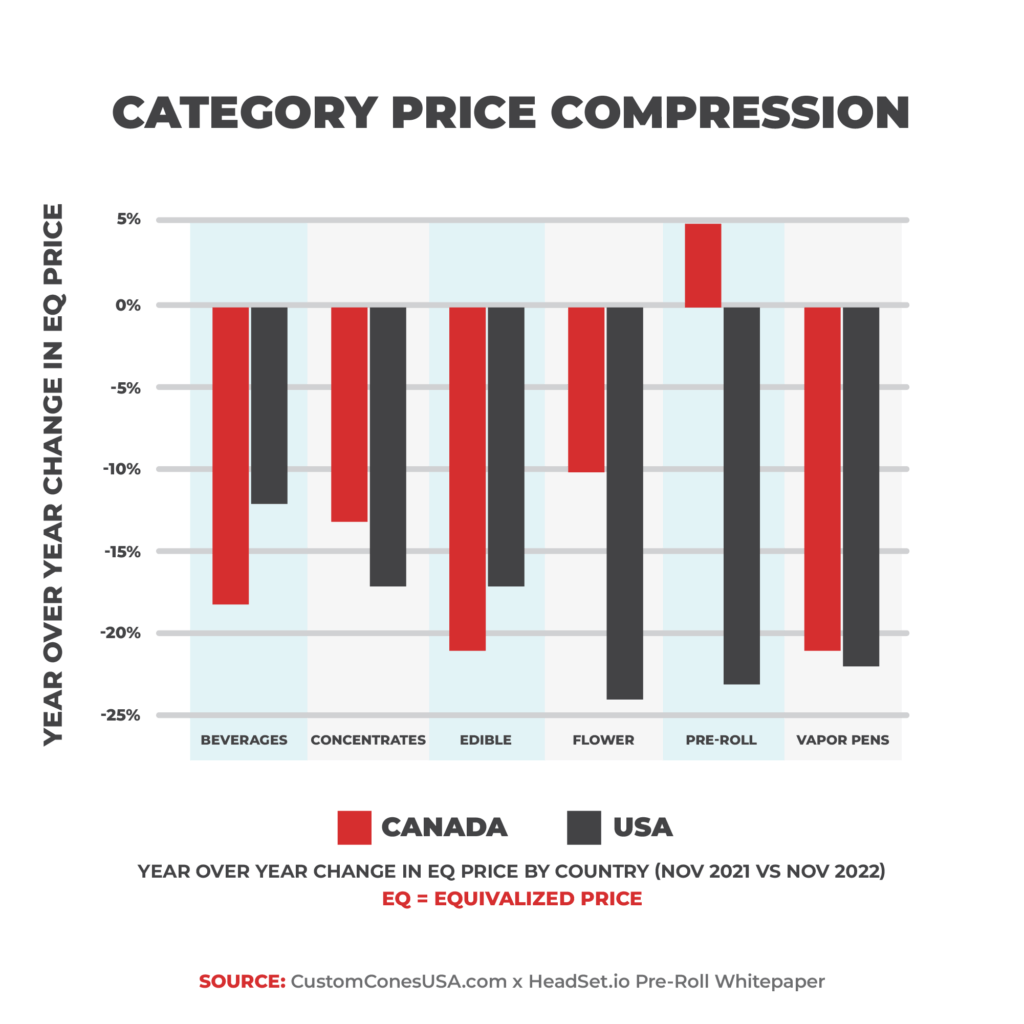 You can also see from the graph that Canada has actually seen the average price of a pre-roll increase, but there is nuance to this data. This does not mean that pre-rolls are getting more expensive for Canadian consumers. This data shows just how popular infused pre-rolls are becoming. They are becoming so popular that people are choosing to buy them over regular, more affordable pre-rolls, and that change in buying habits has increased the average sales price for pre-rolls. 
Pre-Roll Multi-Packs
Another interesting trend we see in the sales data is that pre-roll multi-packs have become extremely popular. In 2018, multi-packs of pre-rolls only made up 27.7% of the market in Oregon, Washington, and Colorado. By 2023, multi-packs make up 47.62% of the market—representing a growth of about 20% over 5 years. Also, Since 2021, we have seen an almost 400% growth in multi-packs that have a volume of 2 or 5 grams as well as steady growth across most other sizes.
Buying pre-rolls by the pack is a lot more convenient for consumers. It means not making a special trip to the dispensary every time a pre-roll is wanted. The rise in their popularity is a sign that consumers are investing in pre-rolls as a staple in their cannabis routine. Because they know they will continue to enjoy pre-rolls, they buy multiples at a time for convenience, and it's this kind of product loyalty that moves a product from a trend into something more. 
Wallet Share by Age
Another interesting thing about pre-rolls is that, when it comes to wallet share, they are the most consistent product segment across all age groups. Other products show a significant increase or decrease in popularity with each new generation; however, pre-rolls steadily hover between 12.8% and 14.5% in each group and even show a slight increase with the younger generations.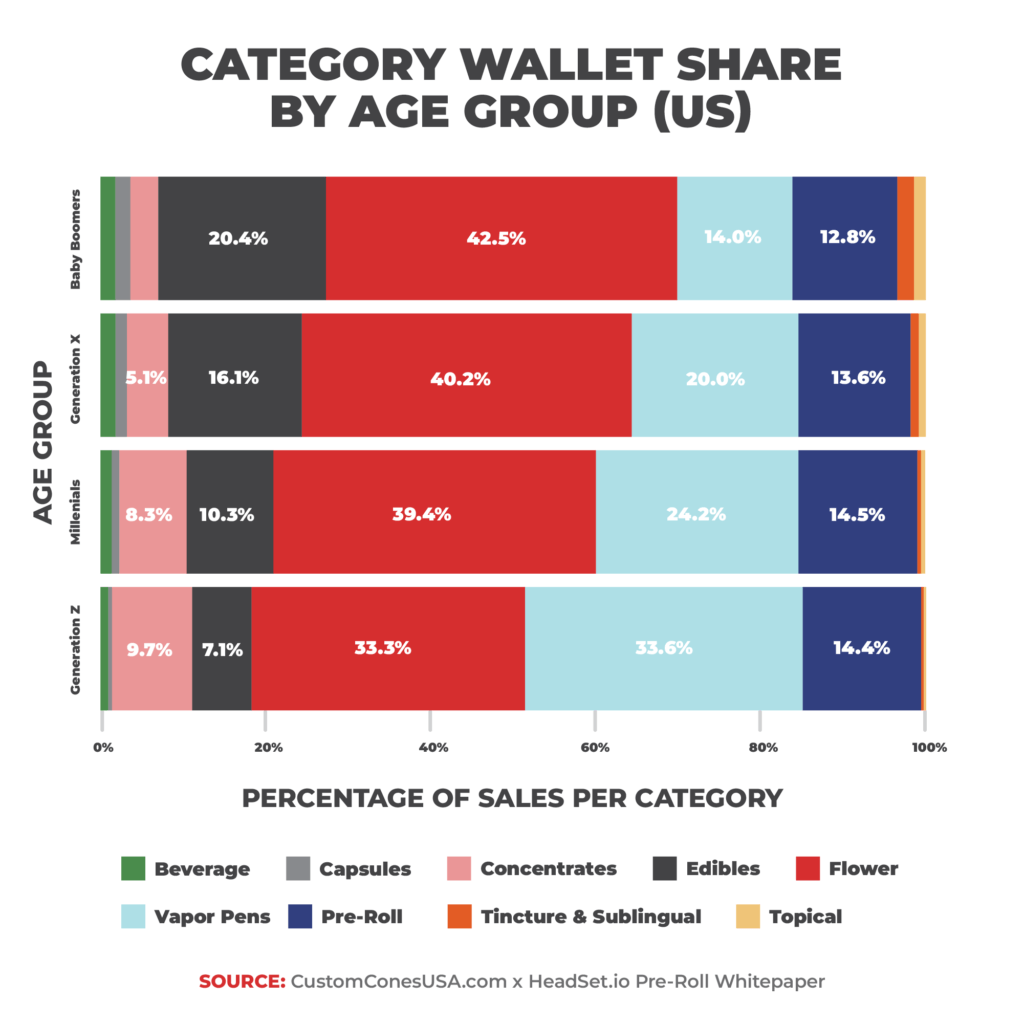 It's also important to note the decline of flower with younger generations. Why this is significant is because, at their core, pre-rolls are a flower product, and they are not following the same decline in sales. They distinguish themselves from loose flower by providing consumers a way to enjoy their flower without extra paraphernalia. In this way, we think pre-rolls could start to eat into the flower market, as they better meet the consumption needs of flower customers. 
Pre-Roll Attachment Rates
Another big reason why pre-rolls will remain a dominant product segment in the future is that they are the perfect add-on item at the point of sale. The data shows that, when a person walks into a dispensary, they will add-on a pre-roll 15.5% to 23.3% of the time. In fact, in all product segments, pre-rolls either have the highest attachment rate or are within a single percentage point of the leader.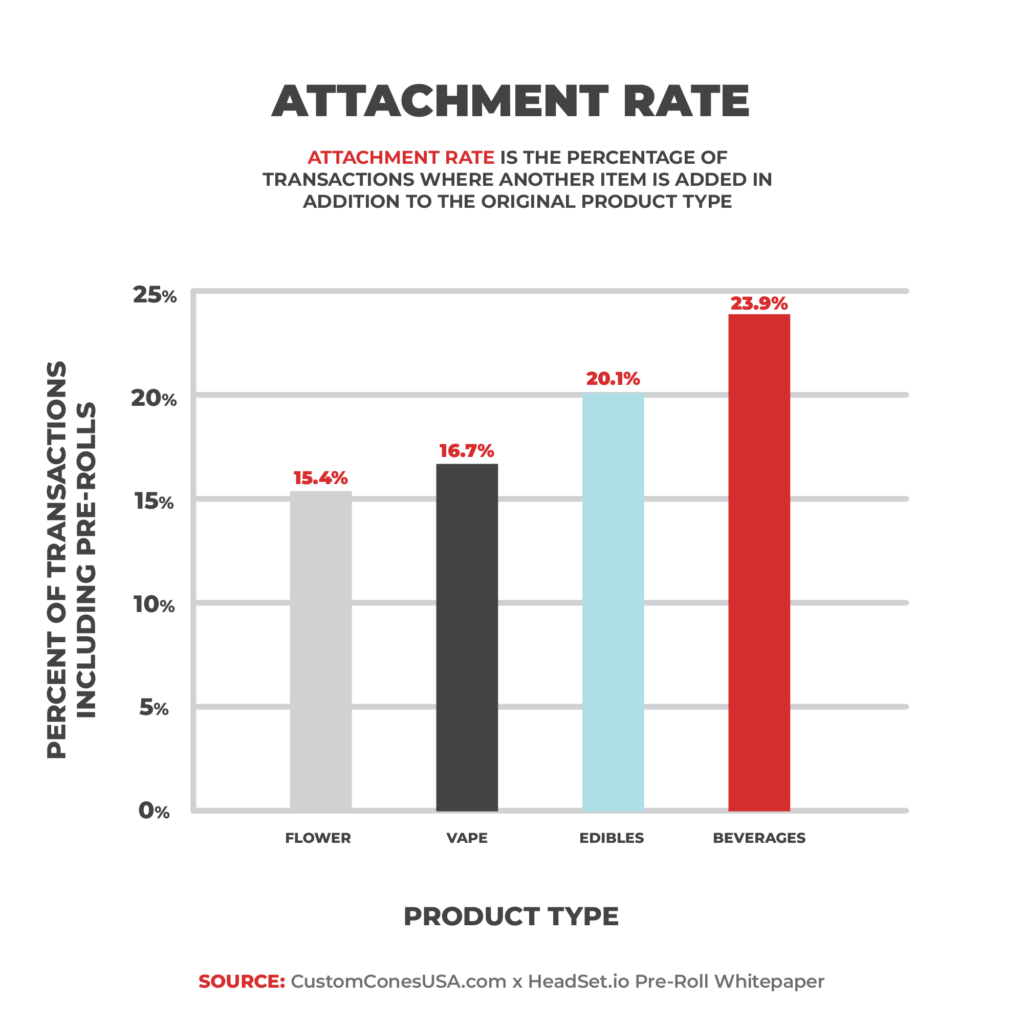 In other words, no matter what a customer is interested in purchasing, it doesn't take a lot of convincing to get them to add on a pre-roll. They're reasonably priced, made with quality materials, and incredibly convenient. Whether they want to consume it right away or want to save it for later, pre-rolls have become something flower lovers like to have on-hand for whenever, and that makes it more than a trend. That makes it a staple.
Convenience Impacting Pre-Roll Purchasing
Cannabis is starting to make its way into mainstream culture. You can't buy it at your local grocery store, like you can buy wine or cigarettes, but it's out there. The legalization of cannabis has opened the door to innovation in the cannabis industry, and those innovations are starting to have an impact on everything—especially consumption. 
Flower needs paraphernalia to be consumed, and, if you are just trying to enjoy cannabis, sometimes you just don't want the hassle. Pre-Rolls are unique in that they offer the consumer flower as well as a way to consume it, so it's not too much a leap to think that pre-roll could keep expanding and start eating into flower sales. 
In this way, cannabis can be compared to tobacco. Even though people can buy loose tobacco and roll their own cigarettes or use a pipe, most people are buying pre-rolled products. Even though the tobacco quality, smoking experience, and price point can be better when you buy loose tobacco, most people are choosing the convenient option. It shouldn't surprise us that cannabis starting to fall into this pattern as the market matures. 
Final Thoughts on The Pre-Roll Market
The data lets us know that pre-rolls are doing amazing things when it comes to sales, but it is also giving us hints as to trends in consumption methods. Pre-rolls are a flower product, and it's clear from the data that flower consumers are buying into the convenience of pre-rolls. This is more than just a trend, but a shift in the preferences around flower consumption. Because of this shift, we can see pre-rolls taking on a more prominent role as the cannabis industry continues its expansion. 
For a more in-depth look at the pre-roll industry, be sure to check out the State of the Pre-Roll White Paper, and, if you have any questions, feel free to reach out to the Pre-Roll Experts at Custom Cones USA.