FOR RELEASE ON
October 25, 2023
Contact: Emma Levine, Marketing Manager
Phone: 530-265-4277
Email: info@thetriminator.com
Triminator Unveils Revolutionary Commercial Hash Washer
Post-Harvest Cannabis Equipment Leader Delivers an All-In-One Hash Washing System for Commercial Solventless Labs
____________________________________________________________________________________________________________________________
Las Vegas, NV, October 25, 2023 — An industry leader in post-harvest cannabis processing equipment, Triminator, has released their groundbreaking commercial hash washing machine, the Maker™. The cutting-edge new addition to their product line is poised to transform the solventless category, offering cannabis producers a high-yield, efficient, and scalable solution for producing premium ice water hash at a commercial capacity.
Ice water hash, also known as bubble hash, has garnered immense popularity among cannabis enthusiasts over the past decade due to its potent and pure cannabinoid profile. Traditionally, the process was labor-intensive and relied on manual hand-washing techniques, making large-scale production a daunting, and unfeasible challenge. However, with the advent of the Maker™, cannabis cultivators can now effortlessly streamline their hash-washing operations and meet the surging demand for top-quality solventless products.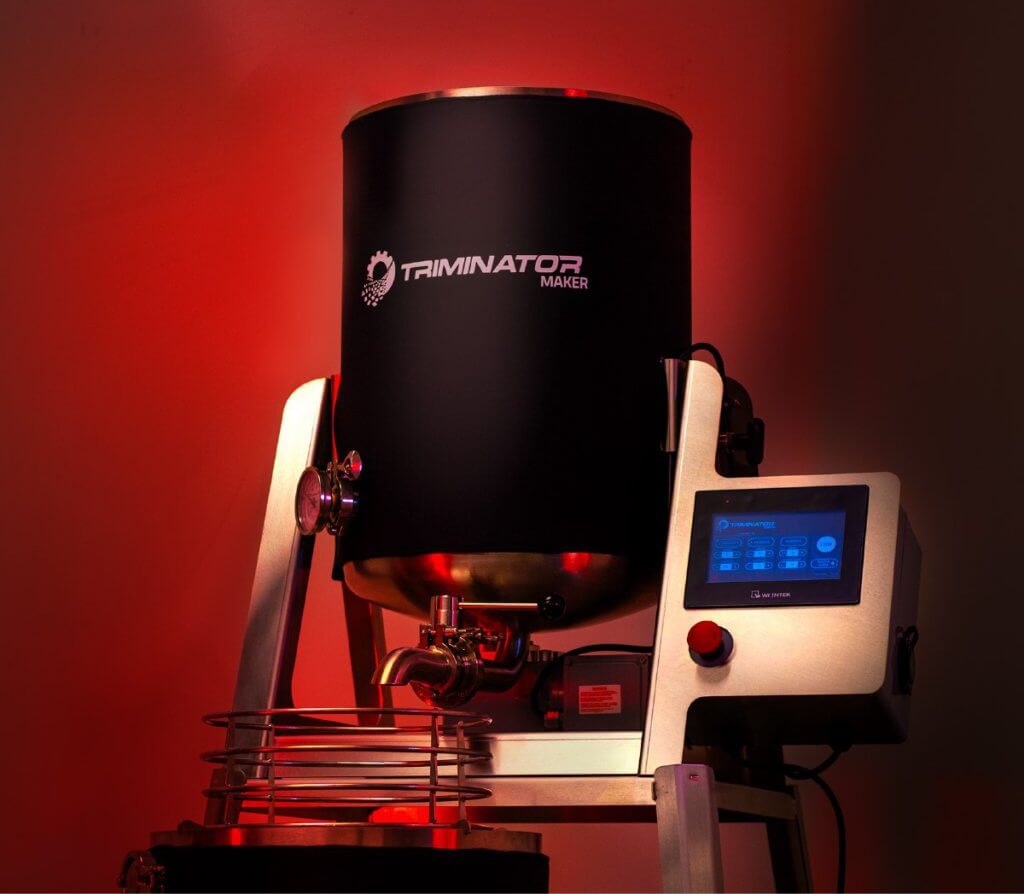 The Maker's introduction comes at an opportune time, as the solventless category continues to gain momentum within the cannabis industry. By investing in advanced equipment like the Maker™, cannabis businesses can ensure they stay ahead of the competition and capitalize on the lucrative solventless market.
As a pioneer in cannabis automation technology, Triminator's team of expert engineers leveraged their extensive knowledge of manufacturing and cannabis technology to meticulously design the Maker™. With deep roots in commercial cannabis production, the Maker™ delivers unparalleled performance and reliability for large-scale ice water extraction.
"The Maker™ is a game-changer for cannabis producers seeking to optimize their ice water hash production. Its state-of-the-art features and precision-engineered components allow for seamless trichome separation for the highest-quality bubble hash. It is easily integrated into existing cannabis workflows and provides significant benefits in terms of productivity, efficiency, and product consistency," stated Dana Mosman, founder of Triminator.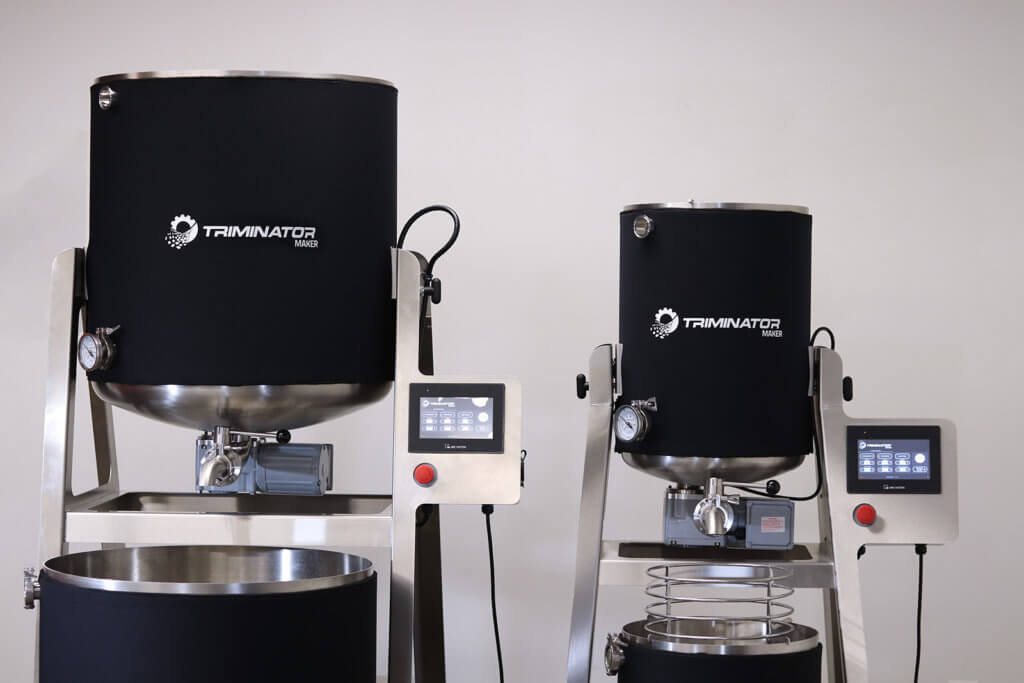 As cannabis producers strive to meet the rising demand for high-quality solventless products, the Triminator hash washer offers a groundbreaking solution that promises to elevate their production capabilities. The Maker™ features an all-in-one system that requires no additional parts for washing or collection. Unlike other hash washers on the market, the Maker™ is the only fully-equipped hash washer that comes complete and ready to operate out of the box at an affordable price.
With the Maker™, you can customize wash parameters and save settings for consistent results. Easily adjust RPM speed, run time, rest intervals, and total run time for endless washing possibilities.
Developed in collaboration with some of the best hash producers, the Triminator washer ensures optimized trichome separation with commercial-scale yields. With automatic wash cycles, producers save time and labor mixing and can complete multiple washes in one day. As a result, businesses can increase efficiency while reducing downtime, labor requirements, and operational costs. 
The Maker™ is gentle on trichomes with the patent-pending, no-shear impeller that imitates the effects of hand washing by creating an effective yet gentle vortex for easy trichome separation. The perforated stainless steel false bottom protects your trichomes during the wash process allowing them to settle into a turbulent-free zone below the vortex. The washing environment stays ultra-cool to maintain optimal temperatures for trichome separation.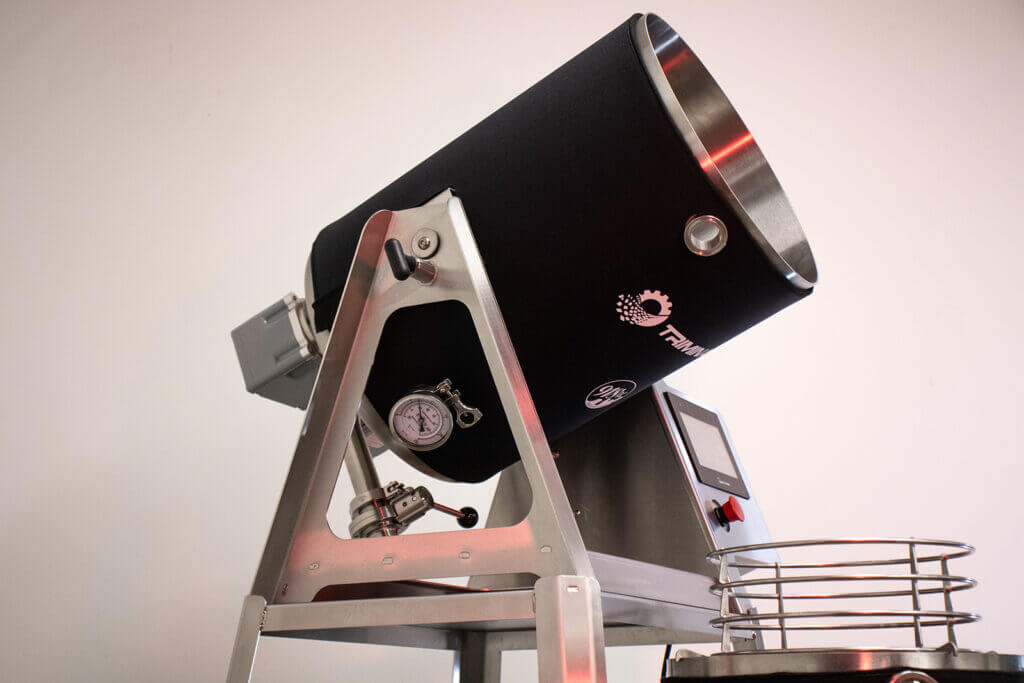 The Maker™ is designed to meet the demands of both small-scale boutique producers and large commercial cannabis operations, making it the perfect solution for businesses of all sizes. Durable and robust in its construction, the hash washer is made with stainless steel and food-safe materials, meeting the highest sanitary standards for any GMP-certified facility. Cleaning the hash washer is also fast and easy, reducing downtime between washes and allowing for a long service life for the machine. The compact footprint makes it an ideal addition to any production facility, optimizing space utilization without compromising on performance.
Incorporating user-friendly design elements, the Maker™ comes equipped with a built-in step stool that facilitates easy loading and unloading, eliminating the need for additional equipment or makeshift setups. This ergonomic addition not only streamlines the workflow but also minimizes strain on production teams, promoting a safer and more efficient environment.
Available in 20- and 60-gallon capacity models, producers can supercharge their production to fit their needs. The Maker™ is available now and can be purchased with special intro pricing through December 31, 2023. Connect with Triminator to learn more about the Maker™.
For further information and inquiries, please contact Triminator at info@thetriminator.com.
About Triminator:
Triminator is a leading provider of cutting-edge post-harvest cannabis processing equipment, dedicated to revolutionizing the industry with innovative solutions that enhance productivity, efficiency, and product quality. With a commitment to excellence and a focus on meeting the evolving needs of the cannabis sector, Triminator continues to push the boundaries of what is possible in cannabis processing technology.
###