by Michael Correia, NCIA's Director of Government Relations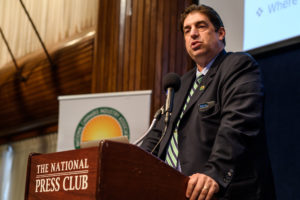 As you may have heard by now, Senate Banking Committee Chairman Mike Crapo (R-ID) issued a very disappointing press release about his opposition to the SAFE Banking Act yesterday. If you recall, the SAFE Banking Act passed the House of Representatives in September with an overwhelming bipartisan majority (321-103) and is waiting for a legislative markup in the more conservative Senate. 
In the release, Chairman Crapo said, "I remain firmly opposed to efforts to legalize marijuana on the federal level, and I am opposed to legalization in the State of Idaho. I also do not support the SAFE Banking Act that passed in the House of Representatives. Significant concerns remain that the SAFE Banking Act does not address the high-level potency of marijuana, marketing tactics to children, lack of research on marijuana's effects, and the need to prevent bad actors and cartels from using the banks to disguise ill-gotten cash to launder money into the financial system." Perhaps the most alarming change Chairman Crapo suggested was a 2% THC potency cap on products in order for a business to have access to the banking system. This provision alone is unworkable and unacceptable.
Chairman Crapo continued by outlining numerous areas that he believes need to be addressed:
Add public health and safety solutions as a requirement for banks to do business with legally-operating state cannabis companies.

Options to consider include THC potency; clear and conspicuous disclosures on products; marketing; effects on minors, unborn children and pregnant women; and age restrictions, among other considerations. 

Prevent bad actors and cartels from using legacy cash and the financial system to disguise ill-gotten cash or launder money.
Update 2014 FinCEN rulemaking and guidance

regarding marijuana-related businesses, and ensure FinCEN has all of the necessary tools it needs to prosecute money launderers and promulgate rulemakings.

Respect state rights in interstate commerce and banking

for institutions who operate in multiple states with different state rules.

Eliminate "Operation Choke Point" and preventing future "Operation Choke Point" initiatives

. Under fear of retribution, many banks have stopped providing financial services to members of lawful industries for no reason other than political pressure, which takes the guise of regulatory and enforcement scrutiny.
Unfortunately, Chairman Crapo's views are out of step with the majority of Americans, and every day that he delays a markup on this legislation is another day that puts public safety at risk. While the Chairman may oppose broader cannabis policy reform, he clearly recognizes the problems created by lack of access to financial services. The SAFE Banking Act already addresses many of the chairman's concerns, particularly public safety, clarity, and transparency. We're happy to discuss these items with the Senate Banking Committee in a markup. However, efforts to slow this legislation's momentum will not fix the underlying problems and will continue to put people at risk. 
NCIA will continue to work with industry stakeholders, advocates, the financial services industry, and other coalition partners to address Chairman Crapo's concerns and reach a conclusion that aids public safety, is good policy, and delivers a positive outcome for the burgeoning cannabis industry. That being said, here is how you can help.
Chairman Crapo is requesting public feedback on the SAFE Banking Act and the concerns that he outlined. Interested? You can submit proposals to Banking Committee staff at submissions@banking.senate.gov. Here are a few important tips to remember:
Be polite. While the Chairman's opinions may not align with your own, remember that he is the sole person deciding whether or not the SAFE Banking Act will continue on in the legislative process.

NCIA, the American Bankers Association, and many other stakeholders have already provided the committee with relevant information on several of the issues identified by the Chairman including legacy cash, interstate commerce and 'Operation Chokepoint.' 

The SAFE Banking Act is a narrow financial services bill that will increase transparency, accountability, and public safety in communities around the country. It does

not

legalize marijuana.

The SAFE Banking Act is supported by a wide range of national organizations and state officials, including: National Association of Attorneys General (NAAG), United Food and Commercial Workers (UFCW), Credit Union National Association (CUNA), Independent Community Bankers Association (ICBA), American Bankers Association (ABA), Mid-size Bank Coalition of America (MBCA), National Bankers Association (NBA), Electronic Transaction Association (ETA), Law Enforcement Action Partnership (LEAP), The Real Estate Roundtable (RER), National Association of REALTORS, Safe and Responsible Banking Alliance (SARBA), American Land Title Association (ALTA), American Property Casualty Insurance Association (APCIA), The Council of Insurance Agents and Brokers (CIAB), Reinsurance Association of America (RAA), Independent Insurance Agents and Brokers of America (Big "I"), Wholesale Specialty Insurance Association (WSIA), National Association of Mutual Insurance Companies (NAMIC), Rural County Representatives of California (RCRC), Brinks, Inc., International Council of Shopping Centers (ICSC), National Association of Professional Employer Associations (NAPEA), National Cannabis Industry Association (NCIA), Minority Cannabis Business Association (MCBA), National Cannabis Roundtable (NCR) and the Cannabis Trade Federation (CTF). Additionally, the Mayors Coalition to Push for Marijuana Reform, 38 State Attorneys General, 20 Governors, and 18 State Banking Supervisors have endorsed the legislation. 
If your business is not yet a member of NCIA, the best way you can help this effort is by joining today so that our team in D.C. can start the year off stronger than ever in our efforts to move sensible banking reform through the Senate and to the president's desk.

Although this news is not what we wanted for Christmas, NCIA has been and will continue to work tirelessly to pass the SAFE Banking Act. We will continue to advocate for a responsible, safe, legal industry in 2020 and beyond. Happy holidays from NCIA's D.C. team to you and yours!