In a year that has tested everyone's resilience, our industry found new legitimacy as cannabis was deemed "essential" by lawmakers and regulators during the pandemic. As we slowly emerge from a shut down, the members of the Marketing & Advertising Committee (MAC) all agreed that 4/20 celebrations have brought a new meaning in 2021.
We celebrate that we have survived, and grieve for those who have lost so much.
We celebrate that cannabis legalization has moved forward – and rapidly – in several more states.
We celebrate that our industry continues to adapt so well, as it has throughout the last few decades.
Part of that celebration was reflected in clever and innovative 4/20 promotions. Of course, they were executed under CDC and county health guidelines because we know compliance, don't we? Several NCIA member retailers, brands, and companies rose to the occasion, and we as marketers wanted to recognize that creativity and ingenuity. So, this year NCIA's MAC committee asked for nominations for the best 420 Marketing Campaigns…and our members did not fail to deliver! 
On Tuesday, May 5th, 2021 at 3:00PM EDT, NCIA'S MAC committee will recognize and showcase several of those marketing successes in our #IndustryEssentials Best Of 4/20 Marketing Campaigns celebration webinar. And, in a twist, we're letting YOU decide who is the best of the best!
We've collected dozens of incredible entries and have boiled it down to EIGHT finalists to showcase during the broadcast. Congratulations to our finalists!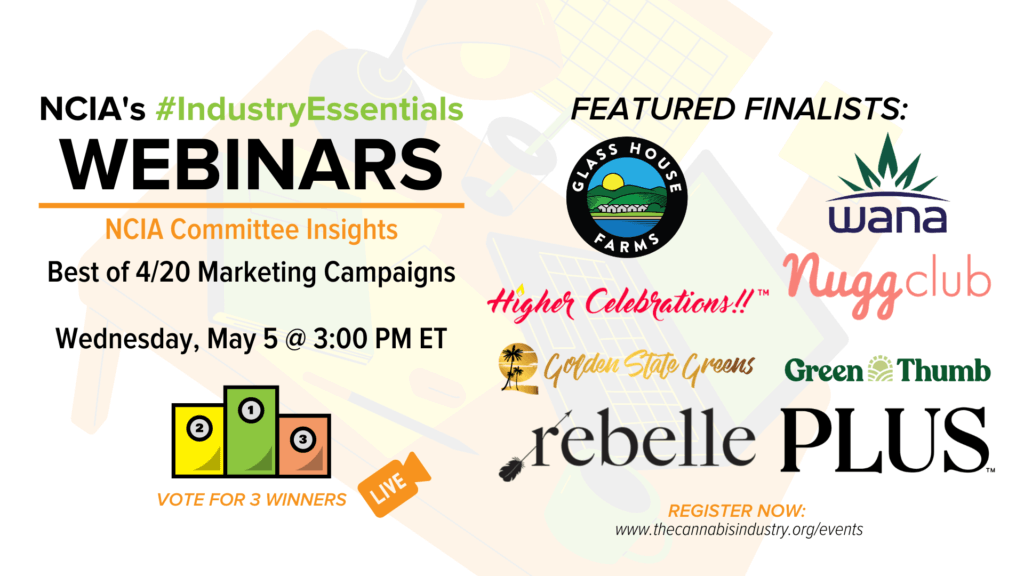 NCIA members will vote live to determine the top three. You won't want to miss this interactive program featuring the best and brightest minds in the marketing space sharing each other's most successful strategies surrounding the biggest retail day (and year) for our industry.
Here is a quick overview of the finalists (in no particular order):
Rebelle's 4/20 Series began with a campaign to petition Governor Cuomo in New York to legalize cannabis. CGP ran a series of billboards around New York in high traffic areas and another at the entrance of the Lincoln tunnel. Finally, CGP conspicuously placed a billboard in Albany with the hopes of gaining attention from the Governor. This campaign was done with the help of Verdes, a design agency who has worked with the likes of Nike and Target. The messaging was loud and clear: "Legalize Loud, Legalize New York, Legalize Now", "New York Wants All The Smoke", "I (Pot Leaf) NY". Their team banded together with the creation of personal Instagram accounts that coordinated messages daily, highlighting the inequities and harm done by the prior war on drugs.  Billboards were highlighted on news channels in Brooklyn and Albany. 
The loud billboards must have worked. Once legalization passed in New York,  messaging shifted gears. The next round of ads debuted April 20th on the NASDAQ Billboard in Times Square. This time, it's a message of celebration: "Happy 420", "Let's Get Loud", "Let's Rebelle". After their 420 moment, Rebelle celebrated NY legalization 4/20 it's first ever Rebelle 420 party at an outdoor restaurant patio location, Ten Hope in Brooklyn.
"4/20 Social" | Golden State Greens
Golden State Greens was back at it again with it's first in-person event since Covid labeled "4/20 Social." Just like an ice cream social, attendees were able to mingle and munch safely distanced outside while listening to their favorite local and international artists. A list of top vendors displayed and gave away products to the lucky guests meeting friends in various hospitality areas. A series of social media posts leading up to the event encouraged followers to share with their friends by rewarding customers with in-store incentives. A group of media teams documented, captured, streamed and produced a recap of the event. A series of well known influencers hosted on stage and in front of the camera to guide guests/digital viewers through the experience. Massive discounts were given storewide and a percentage of all the proceeds for the day were donated to the charity our social following determined through their voice in voting.

"The Dabvent Calendar" |  Higher Celebrations/Birthjays
In 2020, the year when 4/20 was an entire month, Higher Celebrations, an ancillary cannabis gifting company introduced the Dabvent Calendar, an epic month-long countdown to the most recognized cannabis holiday of the year. The Dabvent Calendar gathered 20 brands and 20 Instagram cannabis influencers to partake in a collaborative giveaway that honors every day in April as we do in December while counting down the days until Christmas. A nod to the classic Advent Calendar, the Dabvent Calendar contained daily elements of surprise and delight revealed by popular cannabis influencers such as @Chronicalewinsky (46K Followers) and @Bettykrockerbakes (21K Followers) leading up to the 20th. The physical calendars were gifted to influencers, including small products or swag items representing each major 420 Daily Giveaway that was announced by Higher Celebrations every day at 4:20 MST.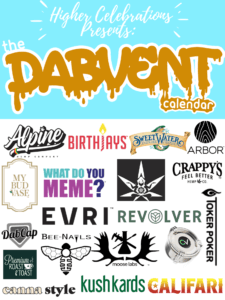 "#4ward20 Celebrating" | WANA Brands
Edibles manufacturer WANA planned a series of activities that incorporate fun, pandemic-safe celebrations as well as opportunities to support the social justice causes brought to the forefront during last summer's consciousness-raising demonstrations. #4ward20 reflects on the challenges of the past year while embracing the optimism on the horizon. In addition to consumer activities, #4ward20 honored dispensary partners by sharing special gifts with the essential workers who have kept the industry going throughout the pandemic. 
Leading up to April 20, Wana Brands released a daily #4ward20 Challenge, providing ideas on ways individuals can celebrate each and every day. Ideas ranged from the silly ("get dressed up, even if it is just to feel good at home") to the socially minded ("go on a distanced walk with a friend") to the philanthropic ("donate money or time to a social equity organization"). Consumers were encouraged to share their activities by posting photos and videos to social media sites with the hashtag #4ward20 and tagging Wana Brands for a chance to win limited-edition #4ward20 swag.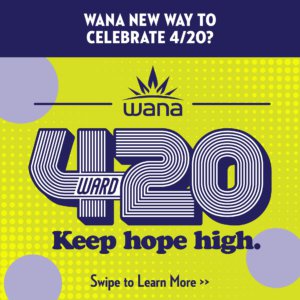 "Glass House Fest" | Glass House Farms
This year on 4/20, the brand hosted Glass House Fest, a socially distanced hybrid digital-and-in-person music festival held at a secret location in LA featuring critically acclaimed rapper and producer, Flying Lotus along with supporting performers including Duckwrth and comedian Mike E Winfield. 
The event included a fully immersive, virtual cannabis greenhouse experience, featuring interactive elements and a discount easter egg redeemable in the store's merch shop. Glass House Fest was hosted live and in accordance with CDC guidelines, as well as virtually through the event livestream. Live music and cannabis experiences have historically gone hand in hand. Glass House Fest was developed to bring back a sense of normalcy to their customers' everyday lives, and the hybrid event could serve as a blueprint for future industry activations.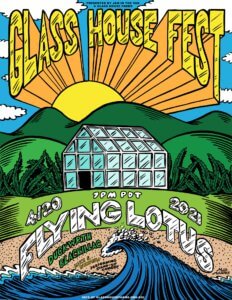 "Year of Essential" |  Green Thumb Industries
Green Thumb Industries and its Rise dispensaries celebrated with their "Year of Essential" 4/20 campaign full of in-store activations, promotions, giveaways and paid media.
Each location was highly decorated with posters, 180 feet of pennant strings, flags, welcome mats, floor decals to help maintain social distancing and large wrapped bongs. There were price promotions in every market the entire month of April.
Traditionally, paper is the first wedding anniversary gift. To celebrate the first "year of essential", Rise locations in Illinois, Maryland, Nevada and Florida gifted customers with rolling paper and copies of Lizzie Post's "Higher Etiquette" and Lizzie hosted a GTI/Rise livestream event on April 19 at 4:20pm. Lizzie Post is the great-great granddaughter of etiquette legend Emily Post who 100 years ago wrote the book "Modern Manners".  The discussion centered on respect for cannabis culture to help usher in a new 4/20, and Lizzie shared tips on "canna-courtesy." There were prizes and incentives for staff as well. The "Year of Essential" is a positive reminder that self-care and well-being are of utmost importance.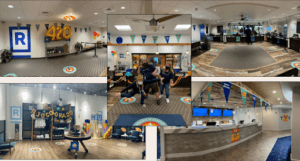 "Waking + Baking: Cannabis Cooking Class and Dance Party" |  PLUS Products
To kick off the week of 4/20, PLUS hosted "Waking + Baking: Cannabis Cooking Class and Dance Party," a free virtual cannabis cooking class and dance party featuring a one-on-one interview with PLUS Chief Science Officer, Ari Mackler. The live cannabis brunch party was hosted and produced by Michelle Lhooq (@MichelleLhooq), a popular and respected LA-based cannabis journalist and author.
Viewers started off their lazy Sunday morning with a cooking class led by PLUS' Research and Design team learning how to bake hash-infused scones and marmalades using PLUS' Hash Gummies as the main ingredient. Registration for the event came with a discount code on PLUS gummies to entice viewers to purchase Hash Gummies for use in the cooking class.
Considering 4/20 landed on a Tuesday, PLUS chose a Sunday to offer those who may not be able to celebrate cannabis mid-week the chance to honor its history on the quietest day of the week. It brought together the community for some lighthearted fun after a year of pandemic-related stress.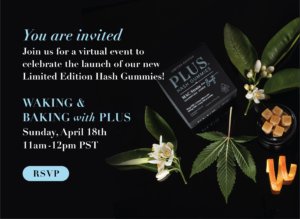 "Nugg Club's Virtual Curated Experience with 4/20 Home Edition Box" | Nugg Club
As a fun way to celebrate 4/20 at home, Nugg Club engaged cannabis enthusiasts through a virtual and immersive experience that was accessed via nuggclub.com/420 (which started live on 4/15). Along with their 4/20 Home Edition Nugg Club box, members were invited to the site to enjoy curated selections of cannabis inspired by music, art, and deals from local restaurants to curb the munchies. 
Nugg Club is a subscription cannabis club and helps anyone explore the world of cannabis at a discount. The company surprises consumers each month with a box of full-sized, premium cannabis products that are carefully curated and personalized for each customer and delivered at a wholesale price. The 4/20 box was a specialized tailored edition of that box.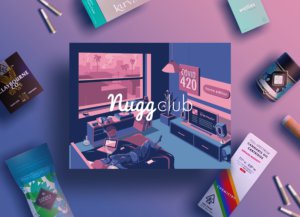 All of the entries were terrific, and it was challenging to narrow the field to only eight (8). Your input and votes will determine the "People's Choice" winners of the best of 4/20. 
We are a resilient industry, and about to emerge into a new post-pandemic environment.
Please join us to celebrate epic marketing in a year of uncertainty and change. Register now and join us on May 5th!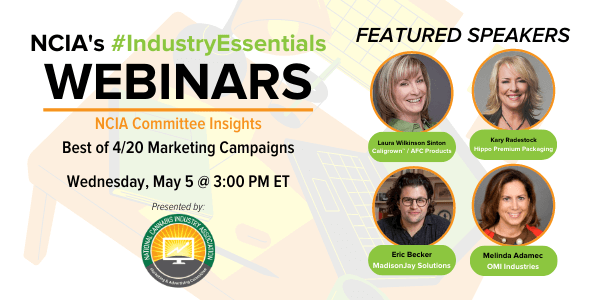 We would also like to extend a big THANK YOU to everyone who submitted entries, and offer Honorable Mentions to all of these companies for their efforts!