It's been a year of big change for NCIA. As we come to the end of 2022, we want to take a moment to send a message to our members and supporters about these changes, and most importantly, get excited for what's next for the future of NCIA events.

The End of An Era

The events industry has faced unforeseen challenges these last couple of years, and NCIA was not isolated from these issues. Outside of needing to postpone our large tradeshows until late 2021, we also had to postpone a whole calendar of approximately 40+ events nationwide which was our primary way of connecting our community and meeting with our members face to face. Our team overcame these challenges by building our expansive digital presence and online events program to continue to provide education and exposure opportunities to our members, however this did still require a significant pivot in organizational strategy.

Due to the residual hardships brought by the pandemic, we learned earlier this year that the Cannabis Business Summit & Expo was not going to be able to be produced on the scale or quality that we or our members had come to expect throughout the years. So, in tandem with our previous tradeshow co-producers, we made the difficult decision to dissolve our existing partnership and accepted an offer from them to acquire our tradeshow portfolio. For those who have been attending our tradeshows since 2014, we can't thank you enough for your participation in those events and making them so impactful for the industry. There are too many good memories to revisit, and hope you take a moment to remember some of your personal highlights throughout the years as we look forward to coming together for new events in 2023.


Looking Ahead to 2023
For now, we will be taking a hiatus from the tradeshow space. This will allow our team to refocus our efforts into other impactful networking and educational opportunities. We're excited to get back to our roots and focus our efforts on intentional and innovative gatherings that connect Main Street cannabis businesses with each other and with NCIA's advocacy efforts.
We've listened to the feedback from our members, and know that in-person networking remains essential to building your business and growing your network. In these uncertain economic times, every dollar spent and any time away from your business impacts your bottom line. As the leading cannabis trade association representing small-business owners, we're committed to making the investment to meet our members where they are, and to continue facilitating experiences where our members can make key connections with fellow business owners. Moving into 2023, we're reinvigorating our events program starting with our regional Industry Social and Cannabis Caucus event series, leading into the cannabis industry's biggest policy and advocacy event of the year: NCIA's 11th Annual Cannabis Industry Lobby Days. 
We invite you to move forward with us as we enter a new chapter in our history. Without further ado, we are excited to announce the lineup of events for the first half of 2023!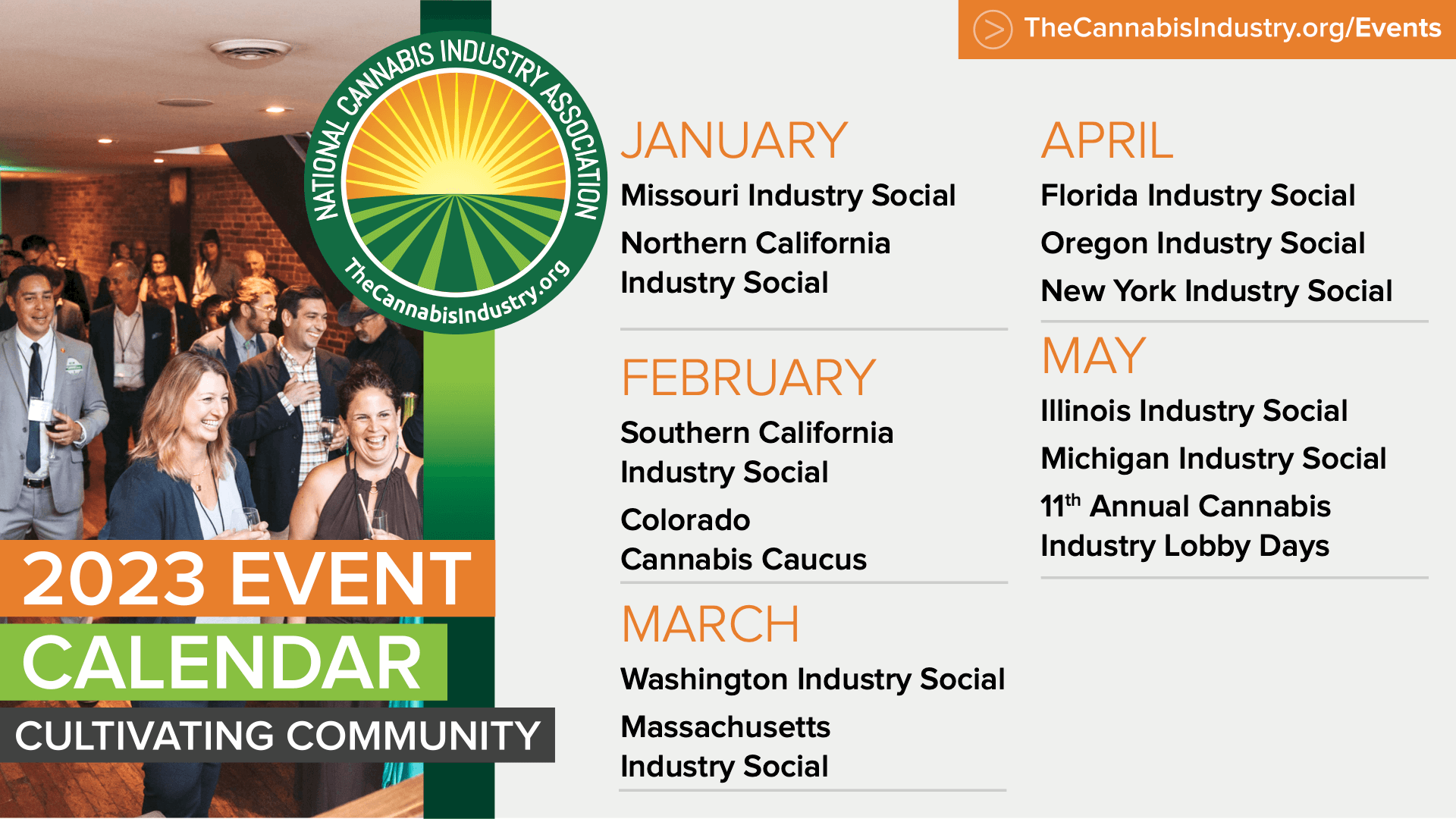 Register Now:
01/25/23 – Missouri Industry Social – St. Louis, MO
01/31/23 – Northern California Industry Social – San Francisco, CA
02/07/23 – Southern California Industry Social – Los Angeles ,CA
02/15/23 – Colorado Cannabis Caucus – Denver, CO
03/08/23 – Washington Industry Social – Seattle, WA
03/30/23 – Massachusetts Industry Social – Boston, MA
04/12/23 – Florida Industry Social – Miami, FL
04/19/23 – Oregon Industry Social – Portland, OR
04/25/23 – New York Industry Social – New York, NY
05/04/23 – Illinois Industry Social – Chicago, IL
05/09/23 – Michigan Industry Social – Detroit, MI
05/16/23 – 05/18/23 – 11th Annual Cannabis Industry Lobby Days –  Washington, DC
Join NCIA to Take Advantage of Complimentary Tickets
As always, NCIA members receive complimentary access to all of these events based on membership level. Looking to have an expanded presence at each event? Consider upgrading your membership today in order to include your entire team or prospective clients.

Thank You to Our Sponsors

Huge thanks to the initial sponsors of these events which have made a significant investment in NCIA's community building efforts moving into 2023! Learn more about each of these pioneering businesses helping drive our mission forward and reach out to schedule a meeting with their team surrounding the upcoming events.
Gold Sponsor


Silver Sponsor

Bronze Sponsor


Support These Events Through Sponsorship

Has your company had trouble breaking through the noise on a crowded expo floor this past year? Is your brand looking for quality B2B connections with market leaders? Want to play a larger role and align your business with NCIA's community building and educational efforts?
Consider one of our affordable sponsorship packages, starting for as low as $500, which will allow you to reach thousands of leading cannabis businesses while supporting NCIA's advocacy work on behalf of small cannabis businesses. Contact our team at sponsorship@thecannabisindustry.org to learn more.


Be in Good Company for 2023!
We can't thank our community enough for the continued support of NCIA and our events. We look forward to seeing you, in person, next year!