NCIA's 2nd Annual Southwest CannaBusiness Symposium Brings Together Cannabis Industry Leaders in Las Vegas
On Saturday, August 23, NCIA hosted cannabis industry professionals for a day of information-packed sessions at its second annual Southwest CannaBusiness Symposium in Las Vegas, Nevada. Opening remarks featured Aaron Smith, executive director of NCIA, Congresswoman Dina Titus (D-Las Vegas) and Nevada State Senator Tick Segerblom (D-Las Vegas). Comments from the panelists focused on the local political atmosphere, touching on how Nevada, having passed legislation las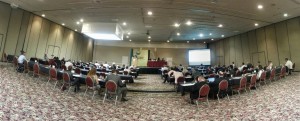 t year to set up a statewide medical program, is currently reviewing applications for licenses for medical marijuana dispensaries and cultivation centers. Additionally the Nevada legislature will consider a full legalization initiative during the 2015 session, although passage would require a 2/3 vote in both chambers. If the measure fails in the legislature, Nevada voters will have a chance to directly vote on legalization as a ballot initiative in 2016. Both Rep. Titus and Sen. Segerblom encouraged attendees to reach out to them and keep an open dialogue so that they can best represent the industry by understanding its needs.
The second panel, titled "Infused Products & Edibles Discussion," featured experts in the fields of extraction, analytical testing, edible manufacturing, and retailing of infused products. Discussed on this panel were the importance of analytical lab testing to ensure quality products, the basics of different types of extraction methods, how to find your edible niche and establishing a brand, and the importance of educating your customers on the effects of infused products. Featured on this panel were Andy Joseph of Apeks Supercritical, Adam Mintz of Steep Hill Halent Labs, Julianna Carella of Auntie Dolores and Étienne Fontan of Berkeley Patients Group.
After these first two panels, attendees broke for a networking lunch where they could talk one-on-one and meet others already involved or looking to get into the industry. Walking around the conference floor you could hear conversations such as "What are current marketing regulations surrounding the sale of cannabis and infused products like in CO or WA?" and "How are you involved or wanting to be involved in the industry?" as well as lengthy discussions on attendees' experiences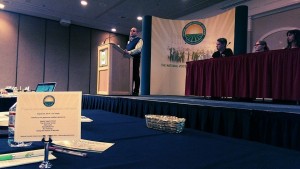 regarding the Nevada application process which ended earlier in the week. Attendees also had the chance to visit sponsor booths to find out more about their products and services. The symposium's sponsors this year included Eden Labs, MJ Freeway, Steep Hill Halent Labs of Nevada, Apeks Supercritical, HempMeds PX, and the ArcView Group.
Following lunch, the panel "Maintaining Responsible Business Practices" featured several distinct topics regarding establishing a culture of responsible practices within your business. The first topic highlighted the importance of setting standards of practice and self-regulation, especially regarding implementing programs that encourage customers to keep marijuana out of the hands of youth. Other topics included information on managing employees and effective human resource strategies, trademarking and protecting your brand, and an array of sustainable business practices that aid in lowering waste and increasing profits while contributing to a cleaner environment overall. Featured on this panel was Leslie Bocskor of Electrum Partners LLC, Carole Richter of CRichter ~ HR Consulting, LLC, Amanda Conley of Cobalt LLP, and Alex Cooley of Solstice Co-op.
Michael Correia, director of government relations for NCIA, followed to provide a federal update about what's been happening in Congress. We've seen some positive movement within the House of Representatives recently. This past May, for the first time in history, a chamber of Congress passed pro-marijuana legislation. Congressmen Dana Rohrabacher (R-CA) and Sam Farr (D-CA) introduced an amendment to the appropriations bill covering the Department of Justice that limited the Department of Justice and DEA from interfering with states moving forward on medical marijuana. It passed 219-189, with an astonishing 49 Republicans supporting. Currently, the legislation is in the Senate and has Senators Rand Paul (R-KY) and Cory Booker (D-NJ) as co-sponsors. In addition, on July 16th, the House passed a similar amendment that would prohibit the Department of Treasury from penalizing banks that do business with state-compliant marijuana businesses. It passed 231-192, with 45 Republicans supporting it.
Rounding out the update was the mention of a potential upcoming issue that may have large implications for any marijuana cultivators using federal water reserves to grow. The Bureau of Reclamation, which manages water for the federal government, has stated that federal water should not be used for state-legal marijuana cultivation, since marijuana remains federally illegal. Although it is not yet a large issue, and so far the Bureau has only said that they will refer such cases to the Department of Justice, it looms as a potential trouble spot in Colorado and Washington State, and because Nevada gets most of its water from federal sources, it will likely become an issue in that state as well. Currently the Bureau of Reclamation is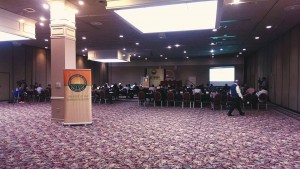 moving cautiously, and a group of senators have asked the Justice Department to give further legal guidance on this. NCIA will be providing updates on this issue as they are available.
The panel "Effective Messaging for Cannabis Professionals" rounded out the day and focused on tactics to use when talking with the media to communicate your message most effectively. Taylor West, deputy director of NCIA, provided advice focused on talking about a medical use program. She touched on the story of the development of the medical cannabis program in Nevada and the importance of emphasizing passion and compassion for patients. That story includes the quality of your product, your dedicated service, and your compassionate care in providing medicine to patients to improve their lives. Joe Brezny, executive director of the Nevada Cannabis Industry Association, provided advice on speaking with the media about the upcoming Nevada full-legalization measure. He touched on the Nevada Regulate Marijuana like Alcohol campaign messaging, which emphasizes that regulated marijuana is no worse than alcohol, that the marijuana market in Nevada is already present but in a black market run by cartels and drug dealers, and that legalizing and regulating marijuana is proving to work in states that have done so already. His key takeaways were that state-specific messaging is important to make it relevant to the political landscape of that state.
Thanks to everyone who joined us in Las Vegas for another successful event. Make sure you don't miss any other great educational and networking events we have coming up!
———————————————————————————————————————————————-
September 9, 2014  – Start Making Sense – A Cannabis Industry Fundraiser for Students for Sensible Drug Policy
September 16, 2014 – Illinois Member Reception and Federal Policy Update
September 29, 2014 – ServSafe® Food Handler Course Presented by NCIA & Cannabis Trainers
October 27-29,2014 – Infused Product and Extraction Symposium

November 13, 2014 – NCIA's 4th Anniversary Dinner