by NCIA's Infused Products Committee;
contributors Todd Winter, Ashley Hansen, Danielle Maybach, Lee Hilbert, Trevor Morones, and Greg Scher
Where is cannabis in the journey of dosing edibles?
Edibles are growing as a market share only behind concentrates. It is essential to have accuracy across the industry to protect human health and stabilize the consumer market. Potency, homogeneity, absorption rate, interpretation of dose (by State, County, International), percentage error/variance, labeling, and source of raw materials are just some of the items always questioned.
While we are discussing this issue, there will be no right answer for everybody. What is the dose? What is a serving? A check of an operator's shelves will show chocolate bars with 800 mg of THC and a similar sized bar with 80 mg of THC. If you walked off the street and bought the 800 mg bar with only experiencing the 80 mg bar; you are in for a trip, and not a good one.
BDS Analytics' GreenEdge Retail Tracking Platform as presented by Tamar Maritz in February had shown that when California consumers purchased cannabinoid products in 2018, they often want to know the CBD and THC content.
Label requirements vary state by state on the THC side and are often inaccurate both in the reporting of potency and the way they are displayed on CBD products. Extracts used as raw ingredients in product formulation come in various forms, it is important for the manufacturers to know the percent of actual CBD or THC when making purchase decisions. CBD extracts can be in the form of isolates with low bioavailability, or full spectrum which means the cannabinoid retains more of the plant's original components.
Additionally, there are infused products, where the flower is extracted by an infusion into an oil, retaining even more of the original cannabinoid profile. All these extracts have specific formulation and labeling nuances that need standardization. The medical community wants even more specific terpene profile information as individual levels of Limonene, Myrcene, and other terpenes gain recognition for properties that have some additional benefit.
Do the terpenes solely earn the credit for their benefits or is it in combination with the other chemical compositions?
There are many ways to add cannabinoids into edibles; for example, when developing cannabis-infused products, are the manufactures using the "sprinkle" method to add the raw material/additive by literally sprinkling isolate? Are they using a pipette for exact measurement from a reputable supplier that is approved for food contact having been third-party audited, or a turkey baster from grandma's kitchen utensil drawer which has seen some years? Methods abound!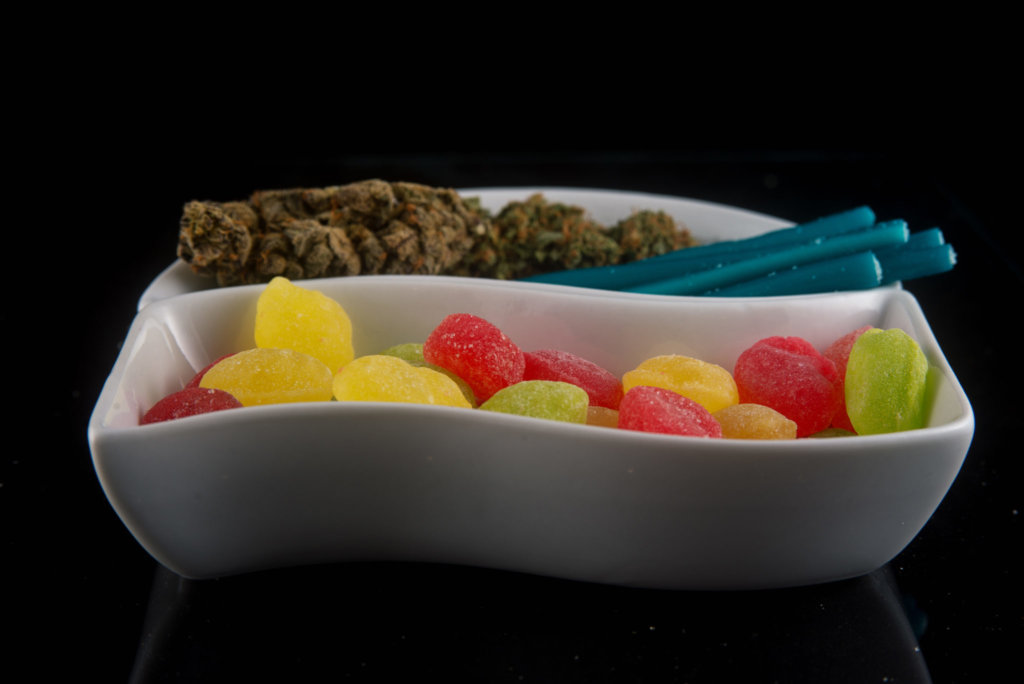 Perhaps the most accurate method to create a homogenous product is to incorporate the raw material during the mixing step; before cooking, gassing (CO2), or pasteurization. Not everybody that starts an edible factory comes from the food or pharmaceutical industry. A standard serving size or dosage, whichever you prefer, could make life easier for all stakeholders with a few exceptions. As yield models mature for extraction, markets will adjust, and prices can stabilize based on real data.
In Iowa, they have just legalized for medical use, but the flower is not legal. It is 100% treated as a drug. Any product needs to have no more than 3% THC to be permitted. We can't forget our colleagues dealing with burdensome regulation. I doubt they can measure with turkey baster there, and if we saw a manufacturer in Iowa, we would probably see a pipette. Consensus on a dose can help elected officials know more and lift heavy restrictions.
Caffeine, like cannabis, is a naturally occurring alkaloid in 60+ plants. Cannabis produces THC and CBD, which are cannabinoids. The next step for the industry in supporting cannabinoid dosing of THC and CBD or any other cannabinoid is to increase general public recognition, routine toxicology studies, and develop appropriate data and work methods to obtain public recognition or certification for food safety, public safety, and documentation.
In the United States caffeine, when in soda, is limited to 65 mg per 12 liquid ounces of beverage. In pill form, the FDA allows 200 mg of caffeine. While this is about THC/CBD, the parallels are plain. While the Cannabis industry addresses dosing challenges are many. Stakeholders composed of consumers, operators, manufacturers, laboratories, distributors, and regulators would like to see the order in the industry.
The Federal Government does not yet consider cannabis as a food additive that is "Generally Recognized as Safe (GRAS)." Caffeine, a GRAS substance under current regulation, attained status under industry practices over 60 years ago. Within our industry, GRAS is not a deeply-rooted measurement for quality or safety standards. Cannabis has no history of being hazardous when infused in products and defining a serving, or a dose should not impact the operations of notable brands that provide excellent food safety and quality.
Each consumer (patient or recreational user) has their personal approach to cannabis dosing based upon their due diligence. Manufacturers are producing THC and CBD products that range from "micro-dose" to "mega-dose" because they understand that no one standard dose is the right for every individual.
Consumers look at labels to determine which product to buy. Manufacturers rely on testing to confirm THC and CBD content. CBD and micro-dose product categories are trending; unfortunately, many laboratories are not equipped to test CBD products accurately and consistently. THC Micro-dose products have similar problems. Not all laboratories have equipment that can report trace amounts accurately. Homogeneity, labeling, and raw ingredient sourcing are opportunities for manufacturers to set themselves apart to the retail operators in a wide-open market. Let us collectively work together towards clarifying the issue and work with all the stakeholders to define for the public some language that can be understood by all, encourage federalization, and develop a standard of excellence.
---
NCIA's Infused Products Committee (IPC) focuses on edible and topical products, reviewing existing business practices and state regulations. Regulation of these products is the IPC's initial key focus, but the committee's purpose is to ensure the infused product sector is helping shape its destiny, rather than being driven by differing jurisdictional regulations. The IPC is also working with the Policy Council and Council on Responsible Cannabis Regulation (CRCR) to develop standardized regulations for legislators and regulators to adopt as their states legalize the industry.