Brought to you by NCIA's Marketing and Advertising Committee, Social Justice Subcommittee
Lisa Jordan, Canna Advisors; Rudy Schreier, MMLG; and Carolyn Gerin, Cannawise
The objective of the Social Justice Subcommittee of NCIA's Marketing and Advertising Committee is to ensure that the social justice work of addressing convictions, providing opportunities, and reinvesting in poor and minority communities that have been battered for decades by the "war on drugs" is not lost in the broader cannabis reform efforts. The Social Justice Subcommittee's recent activities have been focused on the #StartsAtThePolls campaign, and bringing NCIA members and their staff this #StartsAtThePolls Voter Kit.
This simple Voter Kit was created to help voters prepare for the Election Day on November 6. It includes prep tips, resources, voter rights, and what to do/who to contact if they sense a violation (i.e.: can't find their polling place, etc). #StartsAtThePolls is where it all begins. We all need to show up to vote as Americans and an industry. NCIA helps bring it all together in an organized fashion at the national level.
The Voter Kit is an excerpt from the recently published title 'Road Map For Revolutionaries: Resistance, Activism, and Advocacy For All" written by authors Elisa Camahort Page (co-founder of BlogHer), Carolyn Gerin (Co-Founder, Cannawise), and Jamia Wilson (Executive Director, Feminist Press). This Voter Kit was created by the publicity team of Random House/Ten Speed Press with their permission for NCIA committees to use as a resource for NCIA members and their staff, and published with the endorsement of the Marketing and Advertising Committee, and Social Justice subcommittees.
Download your copy of the #StartsAtThePolls Voter Kit and share it with your staff!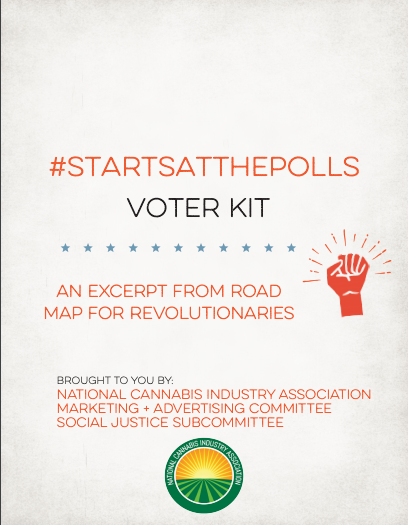 Remember to check out NCIA's Voter Resources, including Key Races to Watch, and Congressional Scorecards.