by David Vaillencourt, The GMP Collective
Facilities Design Committee Chair
NCIA Committees are one of the easiest ways that NCIA enables its members to make a positive impact on the cannabis industry. The Facility Design Committee is one of fourteen (14) committees. We are all member-led, meeting monthly (if not more frequently) to discuss needs and to work together to create resources for the community and industry at large. This translates into blogs, webinars, and more. As the new Committee term gets underway, this article provides a recap of our 2022 term. Who are we? What did we accomplish? How can you as an industry operator or NCIA member leverage these resources? Read on!
"As the outgoing Chair, it was an honor to work alongside over a dozen experts ranging from business management solutions, architects, engineers, construction companies, quality management experts, equipment vendors, and more. I want to thank each and every one of you for your tireless contributions." – David Vaillencourt, The GMP Collective
Accomplishments and key member takeaways
Now entering our fourth year, the FDC put together a significant amount of content for the industry to utilize. I have highlighted the top three impacts that our Committee felt we made. Seeing busy industry pioneers put aside valuable time in their days to consistently show up and create this content for the betterment of you all was a rewarding opportunity in itself and it's impossible to do justice and recognition to the hours contributed by all.
"The knowledge and energy that is gained from this collection of experts who all have one overriding goal to advance cannabis as an industry both educates and motivates me…  The cannabis industry evolves extremely rapidly, by participating in NCIA committees you ensure that you do not get left behind and you have an opportunity to shape the future of cannabis." – Cary Richardson, Miles Construction
What is VPD / HVACD and why should you care?
Understanding plant dynamics and how they impact the selection and sizing of HVAC systems is critical to the cannabis cultivation space. The design assumptions and directions made during early planning will impact plant quality, quantity, operational costs, and energy expenditures for the life of the facility.  It should not be surprising to owners and shareholders that if the first steps of design are made incorrectly, costs to correct original mistakes may exceed the original project budget, and oftentimes that may be too late. It is easy to get lost in the technical details on paper, but our members broke this important topic down for decision makers to better understand in our blog article and webinar "WTF is VPD" (available for free to watch on demand!).
"The details of HVACD get lost at times on me and [Adrian and Kevin] can explain it in a way, that a layman can understand it. David, Brian, and Sean are the other members who are always showing up, we meet at events and they have valuable input on topics of the FDC. We all connected outside of the FDC multiple times and are working on common business opportunities."  – Chris Uhlig, Ceres Greenhouse Solutions
Social Equity is a major problem
Mike Lomuto who led NCIA's Diversity Equity and Inclusion Committee met with Shawn Cooney, our Vice-Chair early on to discuss sustainability and DEI issues in the space. Social equity applicants have so many additional hurdles that the FDC members prioritized how to steer our knowledge to solve real problems social equity applicants face. During several of our meetings, we invited a social equity applicant to share where they were stuck. They benefited from having a team of experts to listen, understand their problem, and offer direction and guidance. 
"The most meaningful thing that occurred [for me] was participating in a hot seat with a social equity license recipient…  We followed up with this individual and it led to us becoming more educated and aware of the issues surrounding social equity in the cannabis industry. Unfortunately, what we uncovered wasn't that great. Social equity programs in several states are fraught with issues and there are often firms who are preying upon vulnerable people… I have a whole new sense of awareness. It's opened me to educate myself and others as well." – Eric Myers, COO, Omega Equipment Supply
But don't take our word for it – hear it from one of our "hot seat" guests who came to us after having multiple setbacks getting their design plans for a dispensary approved by the city. 
"Prior to our meeting with the Facility Design Committee, we had experienced so many setbacks. After my hotseat with the FDC, we were able to identify what we did wrong and why we were having so many delays with the city. [The FDC members] helped us prioritize what steps we needed to take to get our project back on track… We redesigned our floorplan and now we are closer than ever to getting our building permits. We are back on track and I am even more confident in our plan all thanks to the Facilities Design Committee." – Adolfo "Ace" Castillo Founder/Chief Operating Executive Banyan Tree Dispensary
Networking 
Not only do we meet monthly virtually, enabling volunteers from Maine to California and everywhere in between to connect and share knowledge – but many of us made time to connect in person to speak on panels and support each other throughout the year. While the pandemic wreaked havoc on conferences and in-person events, we were able to build lasting relationships thanks to the Committee structure.
"The most impactful aspect of this year was getting to know members at an individual level" – Kevin Quinlan, Mintropy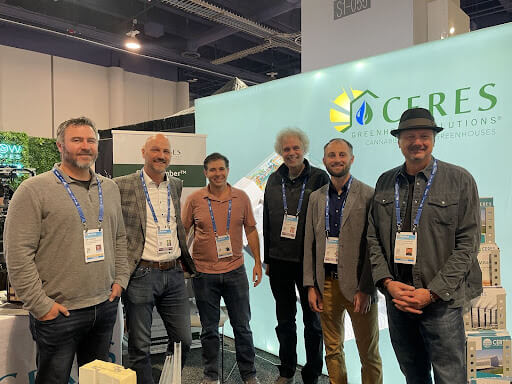 Looking forward into 2023
Stay tuned industry! Bookmark NCIA's Blog page, and subscribe to the newsletter so you can take advantage of the latest webinars and resources published by the FDC and the other NCIA committees. The pathway to a harmonized and equity industry may seem daunting and far away, but rest assured that the hundreds of NCIA members participating in the diverse Committees are working hard to divide and conquer for a unified mission.