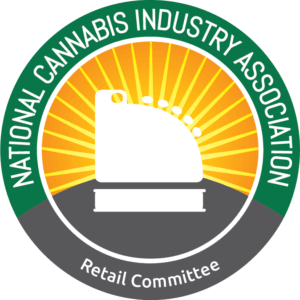 By NCIA's Retail Committee
Have you ever wondered where or how a cannabis retail business banks? You should know that it's complicated because of federal prohibition. So what do you do? Some are finding workarounds and loopholes, others are able to obtain services with smaller financial institutions for exorbitant costs, while many others struggle to maintain an expensive, risky, and dangerous cash-only ecosystem.
The 2020 elections set the creation of four new regulated state cannabis markets in motion, and four more state legislatures followed suit in the first half of 2021, making the last year arguably one of the most consequential and momentous periods for the cannabis industry and policy reform.
However, cannabis is still illegal at the federal level, classified as a Schedule I substance under the Controlled Substances Act, despite state-level regulated cannabis markets in more than half the country. This prevents banks from doing business with cannabis companies because of fear of prosecution or reputational risk, as these businesses aren't viewed as legal under outdated federal laws.
The cannabis industry is optimistic about the future, though, thanks to an increasing interest in cannabis, public safety, and economic development in Congress. Lawmakers in both chambers are actively debating comprehensive legislation to remove cannabis from the schedule of controlled substances and regulate it federally while repairing some of the harms caused by prohibition, but there are also incremental reforms in play that have a track record of success in the House as well as bipartisan support. Chief among them is the Secure and Fair Enforcement (SAFE) Banking Act, which would provide safe harbor for financial institutions that wish to work with state-legal cannabis businesses and allow them to provide services to the industry without fear of prosecution. This legislation originally passed the House in 2019 and was the first piece of standalone cannabis policy reform legislation ever to receive a vote or be approved by a full chamber vote.
Since then, cannabis banking has been approved in the House three more times in various forms, mostly recently when it passed the SAFE Banking Act again – and with record bipartisan support – earlier this year. The bill is now awaiting consideration in the Senate, but has yet to be taken up by the Senate Banking Committee. 
So, what does the SAFE Banking Act mean for retail cannabis businesses?
Loans, capital markets, and credit card processing are common interests for cannabis companies. Access to traditional lending is particularly important for small businesses that usually lack connections to angel investors and venture capital. However, some of the benefits of this legislation are of special interest to cannabis retailers. Check out what some of the Retail Committee members are considering to be important aspects of broadened access to banking and financial services:
Safety 
"As a retail cannabis business operator, safety is of our top priorities as it directly affects our staff, our patrons, and our bottom line," said Larina Scofield, director of retail operations at Lucy Sky Cannabis Boutique dispensary chain in Colorado and vice-chair of NCIA's Retail Committee. "We are required to operate as a predominantly cash business in a high-risk industry that can sometimes lead to criminal targeting; this can put not only our business at risk but also the potential individuals on-site if a targeted crime were to take place. 
"There is also no doubt that operating a cannabis business is costly, due in part to the fact that we do not receive the same benefits and protections that other businesses have; cannabis companies are also subject to higher fees in order to get similar services, if those services are available at all. Lucy Sky is fortunate enough to have banking and armored services, as well as a cashless ATM service to allow for safer money handling, but this does not come without a price… a high price. Our company pays top dollar every year in order to have banking and secured payment delivery (something that is not seen in traditional businesses), in order to provide safety for our business and to the individuals who frequent our facilities.
"SAFE Banking would mitigate that and allow for retail cannabis companies to operate without having to "constantly look over their shoulders" so to speak. It would provide an enormous sense of security in an already high-risk business, it would allow for small business owners to receive proper funding to allow for safer operations, and it is truly crucial in the progression of the industry as a whole."
Less Cash on Premise 
"Less cash during COVID-19 is always a plus. The goal is to limit contact, and we all know cash is constantly being passed from person to person. There are plenty of studies highlighting how many germs really are on physical cash. Researchers found plenty of questionable microbes on $1 bills in a more recent study. In a world where we are all concerned about our physical health, the time is now to reduce physical cash in cannabis businesses. Or at least, give people the choice to go cashless if they want to. Let's also not forget the security benefits of carrying less cash on the premises", said Byron Bogaard, CEO of Highway 33, a cannabis dispensary in Crows Landing, California, and chairperson of NCIA's Retail Committee.
Contactless Delivery for Retail
"Golden State Greens had a spike in deliveries during the COVID pandemic but were still forced to collect cash and signatures from customers. When online orders can process card transactions we can make a true contactless delivery where both payment and signature are managed from the customer's device. This will increase the safety of our drivers by maintaining safe distancing practices and allow new types of deliveries to drop boxes or to customers' homes similar to Amazon," said Gary Strahle, chief growth officer for California dispensary Golden State Greens.
Beyond these major issues, there are a number of potential outcomes that could impact retailers as well.
Revamping the relationship between cannabis businesses and banks will likely trigger higher competition for banking services, resulting in lower fees. This would clearly benefit small businesses but could also have an impact on the frequency and nature of mergers and acquisitions in the cannabis space.
Regulatory frameworks will certainly change, and outstanding litigations will most definitely become more complex. Chargebacks from credit transactions will be a constant problem, due to the level of surveillance and data collection they will more easily be disputed.
Better access to banking also positions technology companies for success, as there will be a high demand for mobile wallets, online ordering, and automatic recurring memberships. We can't predict everything, and there might be more hurdles to cross than we realize, but the technologically-agile retailer may benefit most. Studies show that most of the Top Fortune 500 Companies use software platforms such as Salesforce to manage their enterprise, however many of the canna-specific solutions are missing much of the integration and scalability needed to immediately handle broadly increased access to the banking system.
Speak your voice.
The SAFE Banking Act is critical to the cannabis industry's success, and your voice will tip the scales. Reach out to your members of Congress, especially your Senators, and tell them what safe banking means to you as a cannabis retailer. Remember, policy needs to support logic over emotion. Emotions are important, but remind Senators of the logic behind implementing safe banking solutions for cannabis businesses: 
Reducing the risk of robbery & theft with less cash on the premises 

Supporting the demand cannabis businesses receive, which in turn supports the local and national economy and helps minimize the unregulated market

Reduce pathogen transmission by limiting physical cash transaction
If your senator already supports the SAFE Banking Act, please politely ask them to prioritize this legislation in the current session.