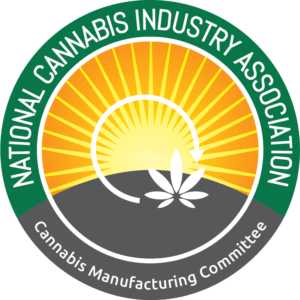 by Trevor Morones, Darwin Mallard, Liz Geisleman
NCIA's Cannabis Manufacturing Committee
Read on for insight and guidance for the vitally important topic of preventing, eliminating, or reducing microbial growth in cannabis edibles and packaging. 
It all starts with the HACCP (Hazard Analysis Critical Control Point) Principles. Gather your team to share the five preliminary steps of HACCP and develop a plan (figure 1). This management system was launched by Pillsbury along with NASA and the U.S. Army for food safety in space exploration in the 1960's. Quality, safety and efficacy is obtainable and sustainable with the HACCP discipline. 

The objective is to PREVENT packaging from being a failure point and inhibit microbial growth in edible products. We know moisture (water activity), temperature, pH, and oxygen levels are primary microbial growth drivers. 
HACCP is an asset, not an expense. Food is medicine for some, and cannabis products are medicine for many. Resin cannabis products (RCP) must be safe, consistent, and reliable products continuously. To generate those results, learn the HACCP mindset. Practice being an advocate with HACCP discipline displaying the actions written in the programs. It's a system for cannabis safety that encourages operations to have Emergency and Business Continuity plans before disruptive events occur, e.g., natural disasters, pandemics, etc.
Resin cannabis product – Any product, whether finished or a work in progress, containing or comprised of cannabis flowers or resins or both and includes, but is not limited to, the cannabis flowers and resins themselves, extracts/concentrates/derivatives thereof, and preparations therefrom.

And can be further classified as Adult-Use or Medicinal-Use and subclassified as Topical-Use.
Creating such a plan is important because exposure to microbes may result in allergic symptoms such as sneezing, coughing, wheezing, nasal congestion, and watery or itchy eyes. Consumers using cannabis products as medicine, such as cancer patients on chemotherapy, are even more susceptible to harm caused by microbes. Thus, it is critical to ensure your products do not have microbial growth. 
This is not only a health concern, but the financial impacts can be detrimental. How much did the February 2021 Canadian infused gummy recall cost? More than 330,000 packages of THC infused gummies, worth approximately 8.2 million Canadian dollars, were lost. Overhead costs go above and beyond. The global cannabis industry must learn from industry events such as this.
Effective HACCP management system ensures control. Empower your team through education and training on discipline of HACCP. Take the infused gummy recall from February 2021 as an example where cross-contamination, improper employee hygiene, and package permeability were failure points that led to loss of control. Lack of control during transport of the initially sterile packaging also contributes to contamination. Personal clothing worn by team members or visitors are also known sources of pathogenic fungus. 
Best practice is to address preventive controls and reducing/mitigating risks. For example, consider installing two-way humidistatic control devices in packaging, such as desiccant packs, to maintain water activity (Aw) in acceptable ranges to mitigate microbial growth. Reducing moisture prevents powdery mildew caused by Golovinomyces Cichoracearum (figure 2). 
A great resource to mitigate risks can be found in the ASTM D37; Standard Guide for Cleaning and Disinfection at a Cannabis Cultivation Center; Aw ASTM Standards for Cannabis Flower: D8196 – Standard Practice for Determining Water Activity in Cannabis Flower; and D8197 – Standard Specification for Maintaining Acceptable Water Activity Range for Dry Cannabis Flower.
 Sanitary environments are critical from seed to sale.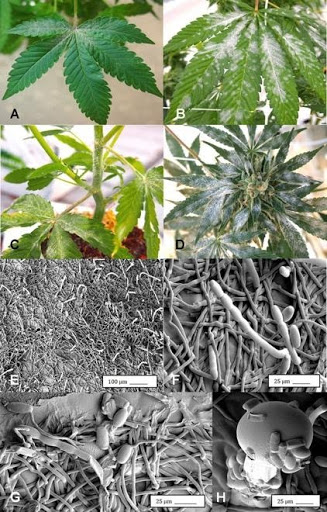 Figure 2, Right. Powdery mildew development on leaves, stems, and flower buds of Cannabis sativa, caused by Golovinomyces

cichoracearum

.

2
Use the principles of HACCP to guide and maintain the integrity of your work. Each principle builds on the next to create a solid foundation to build and operate a safe and consistent management system. Establish storage conditions in your control and transport; determine the temperature and humidity for each product type (gummies do not tolerate heat, and certain ingredients are sensitive to humidity which could change the potency). This includes evaluating the stability of each of the ingredients when in final product form (how long do they remain potent). 
Depending on the ingredients used, i.e., the formulation, gummies can take on or reject water. Most typically let out the water, then that water has nowhere to go (trapped in the packaging), and the product molds. This is why commercially produced gummies are coated in wax, literally to trap the water inside the product. Inadequate gummy formulations lead to water permeability; change in cannabinoid content is the least of the concerns.
General chapter 659 on Packaging and Storage requirements published by the USP (United States Pharmacopeia and the National Formulary, USP–NF) is a great resource. Though not all cannabis products may be for the medical market, using the standards of excellence from the USP is the best way to minimize product failure and help ensure consumer safety. Packaging 659 states that packaging materials must not interact physically or chemically with a packaged article in a manner that causes its safety, identity, strength, quality, or purity to fail to conform to established requirements.
Empower your cross-functional team to apply and implement HACCP through your organization. In doing so, you will have the discipline and tools to mitigate risks and prevent costly downtime. Your consumers benefit by having safer, consistent, and quality products. Finally, collect the data and share the story. We all need to drive improvement and produce safe consistent products for our consumers. HACCP systems are a tried-and-true tool to achieve this.
Please note that prerequisite programs such as current Good Manufacturing Practices (cGMPs) are an essential foundation for the development and implementation of successful HACCP plans. This article is intended to level up your current manufacturing processes and mitigate your exposure to potential recall or unsafe products in the marketplace.
For resources on how to establish an effective HACCP system and other quality management related tools, consider adopting the best practices defined in ASTM D8250 – Standard Practice for Applying a Hazard Analysis Critical Control Points (HACCP) System for Cannabis Consumable Products and/or following the guidelines provided in ASTM D8222 – Standard Guide for Establishing a Quality Management System (QMS) for Consumer Use Cannabis/Hemp Products and ASTM D8229 Standard Guide for Corrective Action and Preventive Action (CAPA) for the Cannabis Industry.