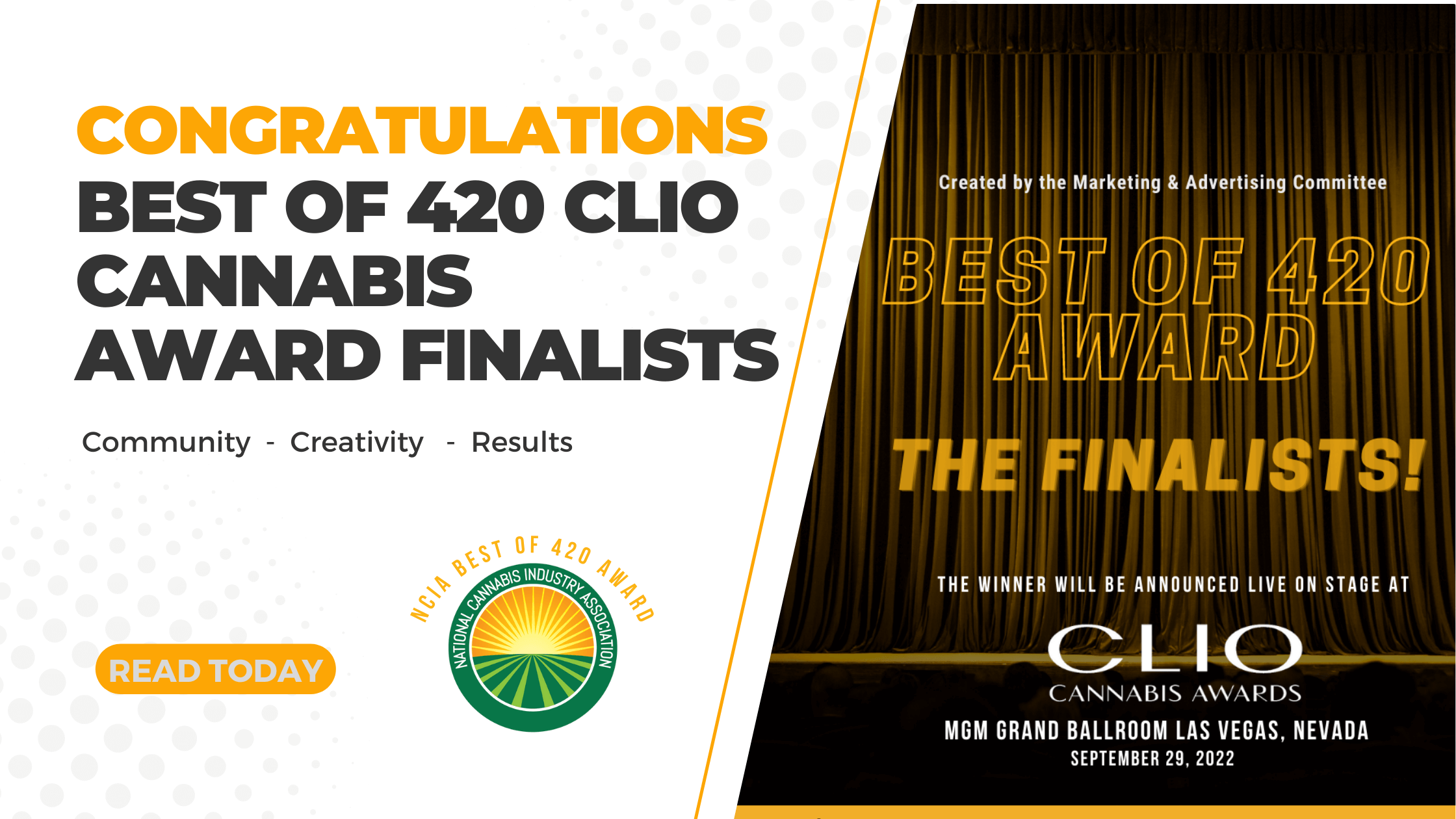 Like everything else in 2022, the Best of 420 Clio Cannabis Award took extra effort to put together. But thanks to the tremendous teamwork and dedication of the entire NCIA Marketing & Advertising Committee, and the subcommittee, chaired by Tara Coomans of Avaans Media, this year brings us new partnerships and fantastic submissions. 
When we say this award is BY the community FOR the community, we mean it. In order to keep the award accessible, the award remained free for the second year in a row, thanks to a 100% volunteer-driven effort and sponsors Cannabis Insurance Wholesalers, Hippo Premium Packaging, and Receptor Brands, alongside media sponsor Honeysuckle magazine. 
All industry businesses, regardless of size, budget, and NCIA membership, were encouraged to submit. And for the first time, the Best of 420 Award will be a Clio Cannabis and presented at the Clio Cannabis Awards.
To reflect the combined values of NCIA, the Marketing & Advertising Committee, and the Clios Cannabis, the judging criteria are distinct from other awards: 
Community Impact: How did your campaign bring your community together? How did it highlight the best of the cannabis community to others? Did it support an advocacy campaign such as DEI, or sustainability?

Creativity: How creative was your overall 420 campaign?

Results: Was it an effective campaign by your own goals and KPIs? 
The 2022 Best of 420 Clio Cannabis submissions were so well rounded in terms of community impact, creativity, and results, had a dead heat between the three finalists, and had to initiate a second stack-ranked round of voting. With submissions this inspiring, we thought they should all three receive recognition for their successful, creative, and community-focused campaigns. 
Weedmaps: Tumbleweeds with Killer Mike
Tumbleweeds is a four-episode series that follows Killer Mike as he joins local comedians and activists in Las Vegas, San Francisco, New York, and Chicago to discover how some of America's greatest cities have adapted and flourished with cannabis legalization.
The episode's page views exceeded the baseline by almost 8X. 
Claybourne Co: Rolling with Claybourne Road to 420. 
Claybourne Co., one of California's OG flower brands, has launched statewide cannabis delivery, including to California's pot deserts and less populous areas. California's pot deserts mean the cannabis community in these areas rarely has a chance to meet and connect with one another or brands.
With its Instagram campaign, Claybourne Co. sought to bring together renegades who carve out their own path to gather and celebrate the launch of Claybourne Co's statewide delivery service with 420 stash and grab locations for merchandise drops, meet and greets with the Rolling with Claybourne Co. ambassadors including a top Harley racer (Clayton Braun), a rookie bull rider (Eli Necochea), and a chain stitcher to the stars (Bill Farrelly) in places like Buellton, and Riverside. Claybourne Co. also created collector "Road to 420" packaging for a 5-gram Gold Cuts flight.
The special edition packaging sold out statewide. 
House of Puff teamed up with author, social justice advocate, artist, Chris Wilson for the long-anticipated second edition of their artist series rolling papers, and the nonprofit, Solitary Watch. The new rolling papers will feature Wilson's powerful painting, Positive Delusions.
The results from this campaign are ongoing, but a percentage of proceeds from this collaboration will go to support the artist. 
And the winner is…
The winner of the NCIA Best of 420 Clio Cannabis will be announced live at the 2022 Clio Cannabis Awards on September 29, at the MGM Grand in Las Vegas during MJ Unpacked. The award will be presented by Kary Radestock who spearheaded and ideated the inaugural NCIA Best of 420 Award in 2021. 
Clio Cannabis Award Tickets Available Here