by Madeline Grant, NCIA's Government Relations Manager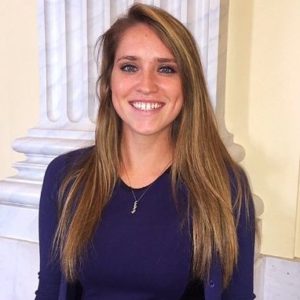 It's funny how things just happen… one day, like any normal day, I was working the lunch shift at a restaurant called Carolina Ale House in Columbia, South Carolina. At first, I was worried about how much I would make in tips that day, as anyone with experience in the service industry can relate to, but then I started chatting with one of my tables… small talk, really. I told them how I was a sophomore at the University of South Carolina studying journalism and mass communications with a focus in public relations and a minor in women and gender studies. One man asked, "Well what do you want to do after college?" A question I thought about often but never had an answer to. He handed me his business card and asked if I was interested in politics. A few days later, I reached out, interviewed with the firm partners, and successfully scored the internship. 
As I entered the political realm, I knew close to nothing but had a desire to learn as much as possible. Growing up, I was never really introduced into the world of politics as my parents didn't say much about it – it was a whole new world to me! I attended caucus meetings, sat in the Senate and listened, followed legislation pertaining to their clients, researched, etc. My boss walked in one day and said he had an interesting project for me: to research and find everything I can about medical cannabis. I discovered so many fascinating miracle stories such as the effectiveness of medical cannabis for children with epilepsy. Seeing the great benefits and possibility, I kept thinking: why is this classified a Schedule 1 substance?
Fast forward to the classic "college graduate in search of a job" situation. I moved back home to Frederick, Maryland and started as an intern on Capitol Hill. After two months of interning, I landed a job on Capitol Hill and fell passionately in love with health issues (every staffer that went the legislative route had their assigned issues to become experts on). I began to learn more about cannabis and the detrimental effects of its Schedule 1 status. 
Cannabis being classified as a Schedule 1 substance deems it to have a high potential for abuse, no currently accepted medical treatment use, and lack of accepted safety for use under medical supervision. Because of this classification, we can't fully explore the medicinal benefit that it can in fact offer. 
As I started taking more meetings with cannabis advocates, lobbyists, and patients, there was one significant group that stuck with me: a group of mothers and children with debilitating chronic diseases. The mothers were there to advocate on behalf of their children who significantly benefited from CBD oil. They told me a story about a family that uprooted their entire lives for their epileptic child because CBD was the only medicine that was working to reduce the seizures. On that day, I realized how important cannabis is for patients and how it truly can make an unlivable life livable. And that was JUST CBD. Can you imagine what we could gain from the whole plant? If we had the ability to research every single component of the plant, we could begin to know the full, true potential of medical cannabis. 
The Schedule 1 status of marijuana hinders research and that needs to change, but thankfully, I can help.
As the Government Relations Manager at NCIA, I passionately lobby for those patients and businesses. I've been at NCIA for nearly three years and slowly but surely I've seen a significant change in the stigma associated with cannabis on Capitol Hill. It is my job to educate members of Congress, Hill staffers, and the public on all issues the cannabis community faces. This can include anything from cannabis business getting access to banking to educating members on the injustice the war on drugs had on Americans. My job is to educate and tell your stories which I do with great honor. I'm proud to represent you and what you do in the cannabis community. 
As we are at home, I would love to meet with you virtually!
Please email me at Madeline@TheCannabisIndustry.org
As I am unable to be on Capitol Hill right now, I want to use my time to compile your stories to forward to Hill offices, so please reach out if you are able and willing to tell your story. Stay safe and healthy.