by Anne Davis, Bennabis Health
The use of medical cannabis in chronic conditions is well-known, and some estimates are that medical cannabis can be an adjunct to more than 100 medical conditions. Frequently mentioned conditions include neuropathic disorders such as multiple sclerosis, neuropathy, PTSD, anxiety and depression and certain epilepsies among young children.
Although cannabis is still federally illegal, multiple studies of patients with multiple sclerosis and their providers have acknowledged that cannabis may have a role in improving symptom control, particularly pain, muscle spasticity, and more.
Anne Davis is a successful attorney, mother and community leader in New Jersey. In 2007, she focused her practice on the legal, regulatory, and advocacy issues surrounding use of medical cannabis. In this role, she became a national figure, presenting at conferences, and a sought-after contributor to health care law and advocacy initiatives.
Fast forward to 2013: Anne was thriving in her career and caring for her 2 daughters, ages 8 and 19-a critical time for her young family, whose needs were typical of busy and actively involved children and parents. In 2013, Anne was diagnosed with relapsing-remitting MS. 
Devastated by the diagnosis, Anne began to research the impact of the medical regimen, prescribed medications and ongoing testing and lab work that would be required. Anne would need frequent lab tests to ensure treatment was not harming her vital organs, a potential side effect of many medications used in treating MS.
After careful consideration, Anne decided to use her professional knowledge about medical cannabis for herself, a decision not supported by her neurologist and care team. 
Much like Anne, studies indicate that most patients conduct their own research when considering medical cannabis. The advice from friends and family are the most frequently cited resources when considering cannabis. A 2014 study indicated that only 18% of patients discussed use of cannabis with their healthcare provider, and less than 1% received assistance from their healthcare team on the kinds of formulations available. This leaves patients in a precarious and potentially harmful situation. Patients rely on and trust their healthcare team.  
Surprisingly, despite lack of support and collaboration with their healthcare team, a survey of MS patients conducted in 2019 showed that more than 40% of patients said they used medical cannabis in the past 3 months. This is a striking number, indicating that patients are seeking non-traditional resources in managing their care. These data beg the question: Why are MS patients trying medical cannabis? Are their current prescriptive medicines not working? Do they have ongoing and unresolved symptoms that interfere with their quality of life? What is motivating patients to pay out of pocket costs for medical cannabis on top of their co-pays and health insurance premiums? 
For Anne, the answer was "to avoid potential side effects" of her prescription medicines. 
"I knew from my years in the industry cannabis was effective and had zero side effects. I was well aware of the research that indicates that cannabis has neuroprotective qualities, in addition to symptom relief. For that reason, I decided to use it every day as part of my treatment plan.
As an MS patient, cannabis is an integral part of my daily life. I use it every night before bed to help with fatigue, muscle cramping and spasticity. It also significantly helps elevate my mood, especially on days when I feel a sense of overwhelm. For me, I struggle with cognitive issues the most from MS. It depends on where the lesions occur in your body, or specific regions of the brain that determines what is impacted the most. It is important to live a healthy lifestyle. For me, that consists of exercise, nutrition, avoiding saturated fats, sugars, beef and dairy. I have reduced stress in my life, get enough sleep, meditate and stay positive. Add cannabis, and I feel like I am doing everything in my power to live my best life."
Anne is often asked what strains work best? The fact is, there is not one in particular. "I prefer to change strains often. It seems that you build up a tolerance when you use the same strain every day. The therapeutic benefits are best from a blend of strains. I prefer high THC as my use is primarily in the evenings. The level of relaxation that I can experience helps me to fall asleep, stay asleep and get a good night's rest. I have heard of pharmaceutical companies getting in the cannabis industry and making the argument that cannabis should be mass-produced and you should have the same consistent THC and CBD levels with every plant. Nothing can be further from accurate. Patients need and want variations." 
What can the industry do for patients?
"First, celebrate and recognize your work, no matter if it is behind the counter, in the boardroom, growing, cultivating, and supporting advocacy that directly benefits patients like me. No matter your role in this industry, behind at the end of the supply chain is a patient seeking resolve from one or more symptoms. It could be the nausea associated with cancer, the pain from glaucoma, the night terrors from PTSD." 
What can the industry do to better serve patients? 
"Continue to grow and produce quality products. What is a quality product in the opinion of a patient? In my experience, it consists of large green or purple buds with aromatic terpenes. I strongly believe in the "entourage effect "so I like both high THC and CBD combined, another reason that I prefer to mix cultivars and create blends." 
The industry can also advance healthcare and consumer knowledge about cannabis in all its forms. Although peer reviewed articles and scientific evidence are less available than we would like, helping patients and their providers understand what and how to use medical cannabis is essential to its acceptance as an alternative treatment option.
Anne continues to successfully use medical cannabis today. Anne's neurologist, who was originally against her decision, has since advised her that she made the right choice.
---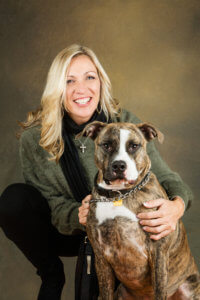 Anne M. Davis, Esq. has been practicing law for 20 years. For the past 12 years, she has been recognized as one of the state's leading experts in marijuana law and policy. In that role, Davis has presented workshops and seminars nationally about marijuana law reform. Since her diagnosis with MS, she has dedicated her skills and experience to create programs and expand access for medical marijuana patients. As part of that mission, she is a Patient Advocate for Bennabis Health, the first health care plan in the nation covering medical marijuana.   
As a community leader, Anne serves as a CASA (Court Appointed Special Advocate) working with foster children; she teaches CCD at her local Church, and has served as a Girl Scout leader for 11 years. Anne was recognized as a "Woman of Distinction" by the Girl Scouts at their annual Gala in 2020. Working with children, keeping them safe and giving them the best opportunities possible are some of her top priorities.