by Nina Simosko, Chief Revenue Officer, Akerna 
The COVID-19 pandemic has drastically changed how businesses operate and how people interact with one another. For many individuals, one of the greatest changes is living under "shelter-in-place" orders. The restrictions put in place have resulted in the closure of businesses that just a few weeks ago, many of us assumed would be open. The impact of COVID-19 on the cannabis industry has been dramatic, and the regulations and designations put in place over the past six weeks have altered the way cannabusinesses interact with their patients, as well as the way they are perceived as part of the larger healthcare conversation. The increasing adoption of technology solutions will continue to define the evolution of the industry long after the COVID-19 crisis has passed. 
Dispensaries As Essential Businesses 
Shelter-in-place has expanded across the country at a similar rate to the virus itself. When officials from states like California and Colorado issued these orders, cannabis dispensaries were initially not designated as an essential business. Due to public outcry, however, these initial orders were reversed. Dispensaries were classified essential and critical, joining other vital businesses like grocery stores, pharmacies, banks, and gas stations.
This distinction of dispensaries — medical, recreational, or both, depending on the state — as an essential business reflects how the cannabis industry and retailers are evolving to become a key part of the health infrastructure. Medical marijuana is a $5 billion industry with around 2,000 retailers serving more than two million patients nationwide. Among them are patients fighting cancer and using cannabis to manage their symptoms, veterans working to manage post-traumatic stress syndrome and those being treated for severe forms of epilepsy, Dravet syndrome, and Lennox-Gastaut syndrome.  For patients like these, the cannabis industry plays an important role in their day-to-day health. 
According to our research, cannabis sales have increased by 19.2% during the COVID-19 pandemic. Additionally, between March 11 and March 31, online ordering increased by 355%, delivery sales went up by 280% and pickup orders increased by 118%.
Modernizing the Cannabis Industry's Way of Distribution 
As demand continues to grow, cannabis dispensaries must adapt and adjust their operations in order to be compliant with the CDC's guidelines for social distancing. For some business owners, this can be challenging, as historically, most cannabis dispensaries have sold and delivered product in-person and in-store with cash payments. In this "old way" of doing business, budtenders played an important role in helping customers, as they are trained to listen and discuss the most suitable products for each individual.
The reality of today's world is forcing a shift in how businesses operate, moving from the traditional "in-person" model and embracing digital transformation for online menus, ordering, and delivery. Dispensary owners need to ask themselves: how with the aid of technology can they differentiate their products, and how can they engage and educate new and existing customers? As an essential business, how can cannabis dispensaries embrace the "new ways" of operating?
Through the integrated use of technology, business owners can keep up with the changing landscape to connect and engage with customers through:
Offering online video budtender consultations to replace in-person meetings 

Providing online menus with robust product descriptions, improved merchandising, and bundled offerings around specific themes such as 'sleep' or 'calming'

Developing targeted email and text messaging campaigns customized for individual customers to educate them on new product information

Guaranteeing secure, electronic payments
While industries across the board are embracing digital transformation, the cannabis industry now has an opportunity to fast-track its way there – and in time, this is what will enable cannabis business owners to thrive while protecting the health and safety of the community.
---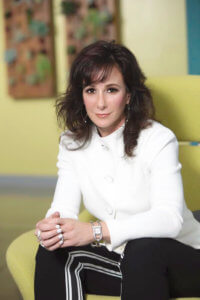 Nina Simosko serves as Chief Revenue Officer for Akerna, a global regulatory compliance technology company in the cannabis space. Akerna's companies and investments also include MJ Freeway, Ample Organics, Last Call Analytics, Leaf Data Systems®, solo sciences, and ZolTrain. 
With more than 20 years of technology industry experience, she has spearheaded strategic innovation initiatives for global Fortune 100 companies including Oracle, SAP, and most recently, NTT Group. Nina oversees both Akerna and MJ Freeway's revenue generation streams, builds strategies to drive revenue growth, and plays a pivotal role in aligning revenue generation processes across the Akerna organization
Previously, Nina was President and CEO of NTT Innovation Institute Inc. (NTTi3), the prestigious Silicon Valley-based innovation center for NTT Group, one of the world's largest ICT companies. Prior to NTT i3, Nina was responsible for leading the creation and execution of Nike Technology strategy, planning and operations world-wide. At SAP, she was the Senior Vice President of SAP's Global Premier Customer Network (PCN) where she led both the PCN Center of Excellence and SAP's Global Executive Advisory Board. During her eight-year tenure, she was a part of SAP's Global Ecosystem & Partner Group which was charged with continuing to build and enable an open ecosystem of software, service and technology partners together with SAP's communities of innovation. 
Ms. Simosko currently sits on the Advisory board at Santa.io, AppOrchid and Reflektion and she has also been a member of the advisory boards at Appcelerator and Taulia.  
Nina can be found on Twitter and LinkedIn. 
The changes around ordering, delivery, payment, patient education and promotion are here to stay. With more than 70 integrated partners, MJ Platform offers clients the advanced technology solutions that are becoming increasingly important to the industry as we work through these challenging times, and that will define the future of cannabis in the months and years to come.