by Kary Radestock, CEO of Hippo Premium Packaging
Celebrating excellence in branding, packaging, and marketing within the cannabis industry
There is so much talk about the lack of sophisticated branding in the cannabis space. And while it is true that there are many look-alike logos and a plethora of cannabis leaves in way too many brands, there is some great work being produced that deserves to be recognized. This inaugural blog will highlight two brands that recently exploded on the scene that bring a sophistication that is often lacking in the cannabis sector. They are: hmbldt and Canndescent. We will look at Canndescent in Part 1 of this blog.
I was recently meeting with a client, Adam, a successful dispensary owner in San Diego, when in walks this beautifully branded, big glossy white, litho-wrapped, corrugated box with the word Canndescent on it.
I was awestruck. Adam opened it and said, "Wait until you look inside!" I was like a kid on Christmas morning as Adam unveiled a simple and tastefully branded 1 lb. flexible bag containing beautiful flowers.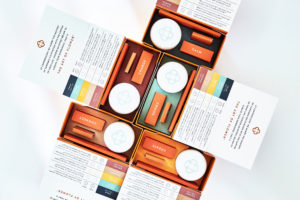 "Wow… Just wow," was about all I could say.
About a month later back in his office, Adam whipped out a pretty little orange box and asked, "Why aren't we doing something like this?" I grabbed the package from him and exclaimed, "Holy cow! This is amazing!"
I like to remember my initial exposure to a company – it's the moment I first fall in love with the brand.
Canndescent, co-founded by Adrian Sedlin and his brother-in-law, was officially launched in September 2016 when the team secured a $6.5MM investment deal and opened the first municipally permitted cultivation facility in the state of California. I was recently fortunate enough to visit that facility and talk to Adrian at length.
I found out that this wasn't Adrian's first rodeo. Armed with an MBA from Harvard and four other successful businesses ventures under his belt, he turned his eye to the cannabis industry. "My partner heads up our grow team, who have a combined 200 years of cannabis growing experience. Our goal was to build an iconic brand that changes the way the industry is perceived," he said.
By the time the money came in, the management team had already reviewed over 500 logos from an online search process (and no, the Canndescent logo you see was not among them). In addition, they had already decided on Sterling Brands, an award-winning, international brand development agency, to assist in their brand development.
"Sterling did an incredible job helping to build the brand DNA – the effects-based architecture to simplify the cannabis experience and cut through the noise," Adrian commented. "This is an archaic industry, and the thousands of cannabis strains are confusing to the general consumer," he added. "Great brands are created to solve a problem. Canndescent makes a brand promise to help our customers curate their own cannabis-induced experience, while simplifying the process."
With effect names like Calm, Cruise, Create, Connect and Charge, the consumer can easily choose the appropriate product based on how they wish to feel at any given time. It takes the guessing game out of the equation.
Adrian admitted that the logo was derived from all the "C's."
"When those C's were placed together in the winning pattern, they created the look we were going for. We wanted an icon that could stand alone as well as work as a pattern, like Louis Vuitton and Gucci," he said. "Plus, the logo even looks a bit like a flower, which is the product we are selling!"
The Canndescent marketing team took their cues from great fashion houses: the color system was inspired by Tory Burch and Hermes, while the numbering system by Chanel. "Plagiarism is stealing from one, creativity is stealing from all," Adrian laughed.
Their cannabis kits (folding cartons with magnetic closures) are fully versioned by effect name and a corresponding color-coding system. The outer labels contain tasting notes to further describe the experience. For example, Calm 101 reads: "Sedates the mind and body allowing the world to melt blissfully away." Nice, right?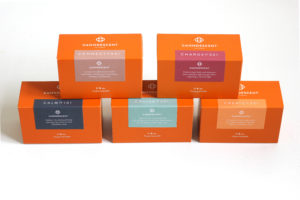 I bought it… literally. There is extensive detail put into the packaging of the kits' various pieces (flower jar, matches, rolling papers and hemp wick). On the rolling papers, you'll find a quotation relevant to the category containing the effect name. It's like a little surprise… that Ah Ha! moment that makes you smile and makes you fall in love with the brand just a little bit more.
"Your brand is a point of view that is reflected in every choice that a company makes: every touch, every time." Adrian said. The word Can(n)descent means to project light. I asked him where he'd like to see the company in five years and he replied, "I'd like to think that the logo would be a recognizable icon and become a beacon to society for living in love and gratitude."
In looking at the Canndescent brand development process, we see what's possible when you combine vision, expertise and execution – when extraordinary attention to detail and quality production is a top company focus. For all their hard work, we get to see excellence in branding and a big step forward towards elevating the image of the cannabis industry.
Thank you, Canndescent team! May your light forever shine brightly.
EDITOR'S NOTE: The author chose her subject as an example of best practices in branding and design. The subject is not a client of her firm.
---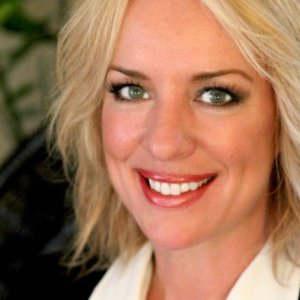 Kary Radestock, CEO, launched Hippo Premium Packaging in March 2016 offering an array of services to the cannabis market, including: Marketing Strategy, Brand Development, Social Media, Public Relations, Graphic and Web Design, and of course, Printing and Packaging. Radestock brings over 20 years of award-winning print and packaging expertise, and leads a team of the nation's top brand builders, marketers and print production experts. Hippo works with businesses looking for a brand refresh or an entire brand development, and specializes in helping canna-business get their products to market in the most beautiful and affordable way possible. Radestock's Creative Collective of talent and experts, allows her to offer world-class solutions to support the unique needs of the Cannabis Industry.