by Milan Patel, Co-Founder and CEO of PathogenDx
As a new industry, cannabis has the opportunity to do business the right way. From day one. Many industries have come before ours, making missteps as well as setting best practices. In fact, we have the Harvard Business Review articles to prove it.
That's why it frustrates me to no end to see industry players short-cut the right path forward. One of those areas is testing. In every consumer product area, testing is vital to ensuring consumer health and safety, but it is even more dire for products that are consumed or inhaled.
The Dire Need to Detect Microbes
Microbial contaminant testing is a critical step in the supply chain for all food and agricultural products, but it becomes ever more important to ensure cannabis products are verified as free of hazardous contaminants as cannabis-derived products become accepted treatments for various medical conditions. 
Currently, the regulatory framework for evaluating the safety of cannabis products differs from state to state, with an abundance of clinical cases to back up the reason for testing, and the availability of technology to meet the safety standards to protect immuno-compromised patients and consumers. Conventional methods such as Petri-dish culturing and qPCR methods are not nearly as accurate or sensitive as commercially available, next-generation technology such as DNA microarray testing. Yet, the continued use of these outdated methods opens up the possibility that dangerous and deadly contaminants can enter the supply chain, and get consumed by millions of consumers.
In a recent study released to regulators and labs across the country, it was presented that plate culturing and qPCR testing was unable to detect the presence of a deadly fungal species, Aspergillus, that is presently common in both recreational and medical marijuana. A different technology, the DNA-Microarray tests not only detected Aspergillus, it also identified the exact species of the fungus, a nuance that requires longer testing times and additional testing steps when using petri dishes or qPCR methods. 
Technologies such as sequencing and DNA microarrays can test for dozens of different deadly pathogens multiple times simultaneously from the same sample, whereas plate and qPCR methods test for a single or limited number of microbes. What this means is definitive confirmation when using the Microarray technology. This is where the technology is different and better, and also saves on costs, streamlines the entire testing process and reduces any opportunity for operator error.
In addition to being more accurate, DNA microarray testing is also faster. Plate methods require microbials to be cultured before being tested, which takes a minimum of 24 hours and often closer to a week for slower-growing organisms, such as many fungi including Aspergillus. In contrast, DNA Microarray testing yields results in six hours, and reduces harm to lab technicians by not subjecting them to large amounts of live cultures.
The point here is when technology is available that protects consumers and patients to an even greater level, is faster and more economical to process, and better in terms of performance, then why should the cannabis industry walk down the same path other industries have traversed, and one which they have tripped over multiple times? Why not learn from the lessons of these other industries and set a path that ensures greater safety and quality to the product?   
History Not Worth Repeating
We've seen what happens when industries and governments turn a blind eye to deadly matters. In the pharmaceutical industry, the FDA came under scrutiny after a study found that excess dosages of the Merck drug Vioxx tripled a patient's risk of cardiac arrest. In front of a Senate Finance Committee, the FDA was asked why danger signals of Vioxx went ignored. Questioning specifically focused on its relationship with the drugmaker, its expedited review process and the timeliness in conducting and stopping clinical trials when potentially adverse information was found that put the public at risk.
And yet, a similarly concerning matter remains ongoing with asbestos makers. The U.S. began regulating asbestos in the 1970s but has yet to ban the mineral, despite it being the number one cause of work-related deaths in the world. In fact, evidence suggests there is no safe level of asbestos exposure. 
Similarly, science shows that there are no safe levels of Aspergillus. All it takes is one spore to kill. Sub-par and outdated testing methods not only risk the health of immunocompromised patients, it also puts consumers exposed over a period of time into the line of fire – as well as the credibility of the industry as a whole. Regulators need to demand cannabis is 100 percent contaminant-free by using testing methods that deliver absolutely proven and reliable results. 
A number of stakeholders in the industry and beyond have reason to take up the call. In the recent e-vape crisis over 2,000 people have been hospitalized and 50 people have died due to lung infections. The pathogenic strains of the Aspergillus family would exacerbate this crisis further, and so gives the industry reason to 'tighten' the regulatory framework even more so not only with trusted testing methods, but ones that definitively protect public health. Even today in certain states that have not mandated testing of Aspergillus, but only mandating testing of Yeast & Mold, those states are allowing their consumers and patients to inhale Aspergillus ultimately fueling a national pandemic in lung infections. Just reference a peer-reviewed scientific paper by Kagan MD et al in the Journal of Allergy Clinical Immunology published in 1983, where the authors concluded that "[t]he use of MJ thus assumes the risks of both fungal exposure and infection, as well as the possible induction of a variety of immune and infectious lung disorders. Given the extraordinary number of individuals estimated to be MJ smokers, the occurrence of these illnesses may well become more commonplace".
Sometimes the way things have always been done just isn't good enough anymore. Technology has changed the way we take pictures, listen to music and even hail a ride. Can you do those things the old way? Sure, but they won't have as much definition or clarity. It won't be as convenient or cheap. When there is truly a better way, why wouldn't you change? 
And that's what we ask when it comes to protecting the supply chain, a place where quality and accuracy cannot be compromised. When it comes to which testing method is the best, there is a clear choice – a choice that literally comes down to life and death. In order to safeguard both consumers and the legitimacy of the industry, cannabis stakeholders should demand labs use rigorous testing methods that pinpoint pathogens and protect public health.
---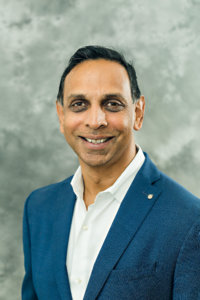 Mr. Patel leads the strategic vision, financial health and global growth of PathogenDx, a Scottsdale, AZ based company which provides disruptive DNA-based pathogen testing technology and solutions for the cannabis, botanical, food and agricultural industries.
Previously, Mr. Patel spent over 25 years working with large public, small private and entrepreneurial companies in numerous fields from the life sciences, to biotechnology, to government services and the automotive industry. Milan served as COO/CFO of GMSbiotech. He also was CFO of 2020 Company, LLC, a leading premier professional services firm that delivered business and technology solutions to the government, in the areas of health, education and science.
Mr. Patel also worked at Intel Corporation in Sales & Marketing, Finance and Manufacturing. He has extensive experience in corporate finance, mergers and acquisitions, business strategy and planning, infrastructure and organizational development, and controls, compliance and audit and has led several company exits.
Milan earned his BS in Electrical and Electronics Engineering from the University of Detroit Mercy; a MS in Biomedical/Medical Engineering, University of Michigan; and a MBA in Finance and Marketing, University of Detroit Mercy.