For NCIA's March member spotlight, we cruise into Santa Cruz, California, to chat with the owners of Naturally Mystic Organics. Owners D'Angelo "Cricket" and Jozee Roberto offer the knowledge and traditions of ancient herbal medicine paired with their dedicated advocacy work in Santa Cruz on behalf of cannabis patients and environmental sustainability.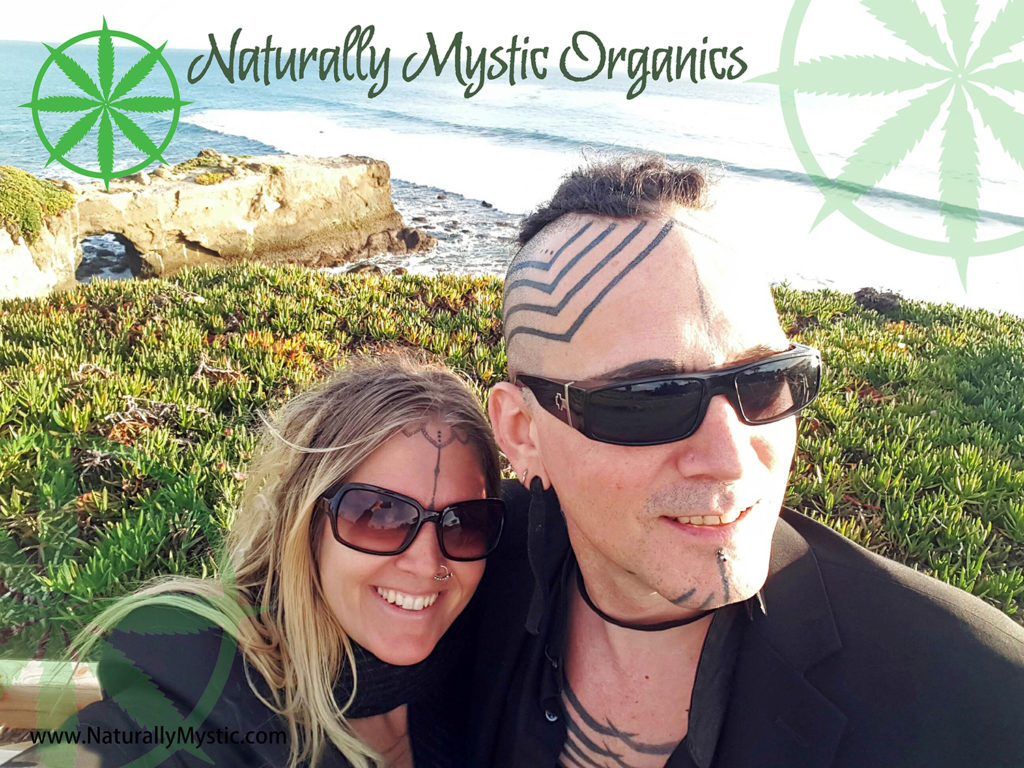 Cannabis Industry Sector:
Cannabis Infused Medical Products
NCIA Member Since:
May 2015
Tell us a bit about you and why you started Naturally Mystic Organics?
As we've raised our seven children over the past 23 years using plant medicines (non-cannabis), we've witnessed first-hand the amazing power herbs have to offer. We both have had the pleasure of growing up in California and being raised within the cannabis movement. Along the way we came to develop a personal relationship with cannabis as we've witnessed and experienced its numerous benefits. Quite compelled, we decided to share our high standards of what we consider to be real medicinal healing as an offering to the world.
Why should patients seeking medical cannabis look for products made by Naturally Mystic Organics?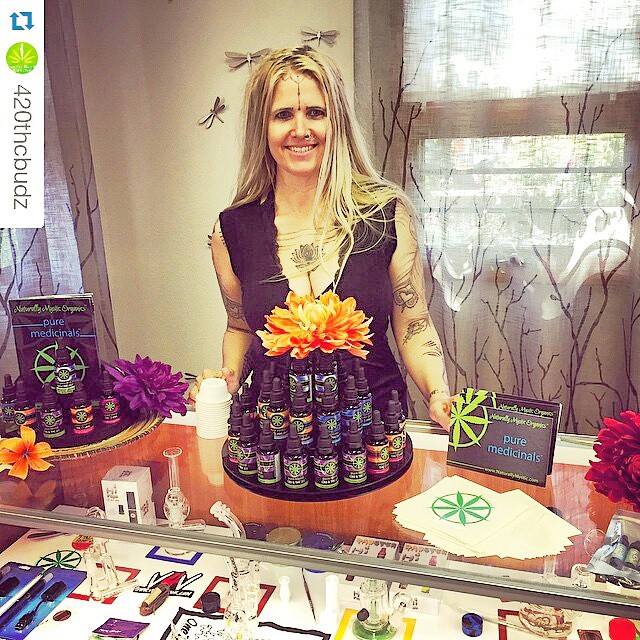 We specialize in high-CBD products and provide the finest tinctures and topicals on Earth. We approach cannabis like an herb. As herbalists we take special care to craft with ancient methods, avoiding the use of metal to extract or infuse. We use glass, ceramic, and bamboo equipment and instruments.
In herbalism, as in any area of life, we learn that your final product is only as good as what you start with. For example, we pick only the best (top shelf) cannabis flowers for our tinctures, never trim, that has been grown with loving care and without the use of harmful pesticides or chemicals. Our topicals are made from the trim of these beautiful flowers. The spiritual connection between the plant energy and the herbalist is maintained throughout our process by setting the intention of health and well-being during production through prayer, silence, or chanting. If someone is having a bad day then that person does not make the medicine until a well-balanced attitude is in place. All other materials put into our products are certified organic and GMO-free. And to put the icing on the cake, we use violet glass bottles for our tinctures. Eliminating light is a supreme way to eliminate contamination after opening.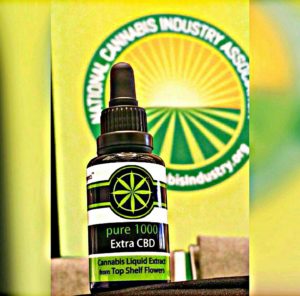 Tinctures provide a great alternative to consuming cannabis, as opposed to smoking it. Our tinctures, formulated for consistency and reliability of potency, are a great way to monitor dosage. Providing patients an opportunity to connect with other plant medicine that they otherwise might never have, we pair cannabis with other amazing herbs to help guide an endocannabinoid system to the desired outcome. Our Pure 1000 line of tinctures is designed for patients with extreme situations. Oh, and by the way, our tinctures taste great. Perfectly preserved terpenes make it taste like you are drinking a bud.
We are proud to present our humble offering to the world: supreme traditional cannabis herbal medicine in the form of tinctures and topicals – products fit for royalty.
You're based in Santa Cruz, California, where regulations are constantly changing. Several pieces of legislation have been proposed to further regulate and legalize cannabis throughout the state. How have you been involved in this process?
We, Cricket and Jozee, are founding members and representatives of RCSC (Responsible Cultivation Santa Cruz). Santa Cruz County has a wide acceptance for the medicinal value of cannabis. Care for the environment and the safety of our communities are also shared values. Our county had a somewhat advanced policy about cannabis prior to 2015 that led to reports of environmental degradation and an assault to the quality of life in some communities because of an influx of production. This became a real issue that forced the County Board of Supervisors to respond. Their response came in the spring of 2015 as a vote to ban all commercial cultivation. The cannabis community responded. RCSC hatched out of community meetings hosted by the CAA (Cannabis Advocates Alliance) and petitioned to referendum before the ban became law. Our referendum was a success. The county had a couple of choices at this point to repeal the law or to put it before the county for a vote. They decided to repeal it and then a couple of Supervisors proposed the creation of the Cannabis Cultivation Choices Committee, aka C4. C4 was created as a conversation between community stake holders to propose recommendations to the Board of Supervisors for cannabis policy. Naturally Mystic Organics cofounder D'Angelo "Cricket" Roberto represents RCSC on this committee.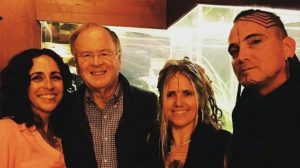 Santa Cruz County is on the leading edge of cannabis policy in California. C4 began holding meetings at the beginning of September 2015 and at this point the cannabis community wanted a clear pathway to legitimacy. Sometime after that our state legislature passed a bundle of bills that our governor signed into law, aka MMSRA (Medical Marijuana Safety & Regulation Act). This legislation helped to shape C4's discussion from 'what could be possible' to 'what is possible.' The shared values of Santa Cruz are the core to the framework that C4 is building on. The recommendations that come forth will be to protect our environment, to protect the health and safety of our communities, and to assure an adequate supply of medicinal cannabis. It is important to note that these recommended regulations are being designed to nurture our current cannabis community and will restrict expansion so that we do so responsibly.
Santa Cruz County is the second smallest county in the state. We have a great portion of the population in the rural areas and much of our terrain is on slopes greater than 30%. We have a lot to consider here. In regards to any aspect of the emerging cannabis industry the question always is: How much and where? There are a lot of details. This is an industry that has struggled illegitimately for way too long and the side effects have finally forced society to realize the sensibility of a regulated system. We're proud to be a part of history and helping to shape the future of cannabis in California.
Why did you join NCIA?
Naturally Mystic Organics joined NCIA to become a part of the foundation that helps to solidify the future of national cannabis policy. We've been very effective on the local level and are in entrenched on the state level. It's been said that as California goes, so goes the nation. As we help to advance the conversation we hope to lend our voice to the choir at NCIA. To understand that we're ushering in a new era is to preserve what the cannabis movement has taught us – empathy. Empathy leads to compassion, and as the cannabis industry unfolds we need to pass the values our history has taught us. This can be done through sustainable business models that encourage innovation and provide a real living wage. Society is in the middle of an overhaul and cannabis is in the center of it all. A healthy society shapes policies rather than policy shaping society. The cannabis policy landscape across the United States is transforming right before our eyes. The industry will revitalize the economy and create jobs. It will provide opportunities consistant with the promise of America. NCIA has positioned itself in the center of the conversation – right where we want to be.
Contact Naturally Mystic Organics:
---
Are you a member of NCIA interested in submitting a guest blog post? Please contact NCIA Communications and Projects Manager Bethany Moore for more information.