Etagg solutions™ a leading U.S. company in Electronic Digital labels, is proud to announce their company's participation at the 2019 California Cannabis Business Conference, October 8- 9, Long Beach, CA.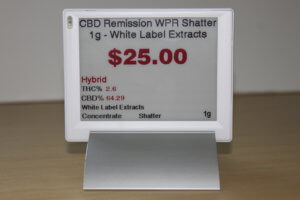 Etaggs™ ESLs are wireless, efficient state of the art labeling platform where product details, pricing and other information can be electronically displayed and updated from anywhere. 
Stop by our booth #520 and let us demonstrate to you how to improve your store's operation and save your money.
For further information or to set up a specific time to meet at our booth, please contact:
Vera Maalouf
Marketing Director
Etagg Solutions, Inc.
www.etaggsolutions.com
vmaalouf@etaggsolutions.com
262-496-9807