Megan Markle's Nephew Partners with Leafbuyer.com to Showcase New Cannabis Strain in Honor of His Soon-To-Be Royal Aunt

DENVER—Leafbuyer.com, a website that connects cannabis consumers to dispensaries has unveiled exclusive photos and video of "Markle Sparkle," a new cannabis strain developed by Meghan Markle's nephew. Tyler Dooley, 25, is the son of Meghan's half-brother Thomas Markle Junior. Dooley is currently in London providing commentary for the royal wedding on the UK morning show Good Morning Britain. Dooley partnered with Denver-based Leafbuyer.com to release the first photos, video and information about his new hybrid strain.
"We're thrilled Tyler chose Leafbuyer to help launch his new 'royal' strain," stated Kurt Rossner, CEO of Leafbuyer Technologies Inc. "Our job, as the premier cannabis deals, news, education and product website in the country, is to help consumers find Markle Sparkle once it's available for purchase at local dispensaries." Dooley is a licensed medical marijuana grower in Grants Pass, Oregon who is legally growing the special strain of marijuana in honor of his aunt, Meghan Markle, and her upcoming marriage to Prince Harry.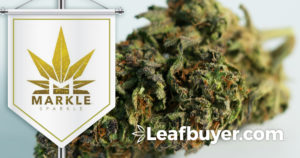 The product, in flower and concentrate form, will be officially unveiled on June 2 at the High Times Cannabis Cup event in Santa Rosa, California. Dooley, along with representatives from Leafbuyer.com, will be showcasing samples of Markle Sparkle, which will ultimately sell at dispensaries for approximately $280/oz. Markle Sparkle is a potent sativa-dominant hybrid that helps relieve pain, anxiety and insomnia. Dooley says it's a high-yielding plant that grows best outdoors in the Pacific Northwest. "I can't reveal too much at this point," states Dooley, "but what I can say is it smells like blueberries and it's made up of three different strains – Blue City Diesel, Blueberry Northern Lights and a third secret strain, which you'll find out on June 2!"
To learn more about the new Markle Sparkle marijuana strain, go to Leafbuyer's strains and blog page at Leafbuyer.com.
About Leafbuyer: Leafbuyer.com is one of the most comprehensive online sources for cannabis deals and specials. It connects consumers with dispensaries and works alongside cannabis businesses to showcase their unique products. The company's national network reaches millions of marijuana consumers monthly. The company also operates one of the larges cannabis-based employment boards in the industry.
Contact: Leafbuyer Technologies, Inc. Ginger Delgado, 303-916-8166 ginger@leafbuyer.com