Thanks to a collaboration with NCIA members CannaRegs and New Frontier, we are pleased to announce a new resource now available on NCIA's website to help you stay up-to-date with each state's cannabis regulations and market size estimates. NCIA's new State-by-State Marijuana Policies Map provides a valuable overview of every state's approach to cannabis and cannabis markets.
Users can explore valuable information in this new interactive map by simply clicking on each state to see detailed summaries of the state's cannabis market and regulations. This information is compiled and updated regularly by CannaRegs and New Frontier as changes are made to regulations and more data becomes available.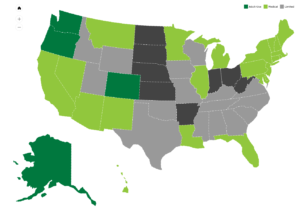 The map provides information including medical and adult-use laws, as well as the number of cannabis cultivations, dispensaries, manufacturers, and testing labs allowed and issued in the state, fee structures for applications and licenses, residency requirements, and qualifying medical conditions for patients. The map also includes current medical and adult-use sales estimates, as well as projected sales for the year 2020. This information is provided for educational purposes only and is not legal advice or substitute for legal counsel.
CannaRegs is a web-based subscription service for cannabis professionals that provides enhanced access to all cannabis-related rules and regulations from state, county, municipal, and federal sources, and aggregates these rules and regulations in an intuitive, easy-to-use database. Click here to request a demo of CannaRegs' services and save 15% if you're an NCIA member.
New Frontier is a data collection and industry-reporting firm in the cannabis industry, providing data, analytics, and customized actionable intelligence to investors, operators, and legislators in this new blooming sector.
Click here to explore the State Marijuana Policies Map.