Several new bills that support cannabis policy reform have been introduced in recent weeks. Last month, NCIA saw two bills reintroduced from last year, The Ending Federal Marijuana Prohibition Act and the Marijuana Data Collection Act, both of which received bipartisan support in the House of Representatives. In last year's session, both bills had more than 30 co-sponsors each. The Ending Federal Marijuana Prohibition Act was first introduced in the House in 2011 in the 112th Congress.
This session's pair of bills were introduced by Rep. Tulsi Gabbard (D-HI) and Rep. Don Young (R-AK).
The Ending Federal Marijuana Prohibition Act (H.R. 1588) would remove cannabis from the Controlled Substances Act and effectively allow states to determine their own cannabis policies and put an end to federal cannabis prosecutions. This is important for myriad reasons. First, it protects decisions that states have made to legalize marijuana, reflecting the will of the people and their elected representatives. Ending prohibition will also protect public safety by normalizing banking and other professional services. It will also save taxpayer monies by ending the "war on drugs" as it relates to federal enforcement of marijuana laws. Most significantly, it will allow important medical research to be conducted, free from fear of federal interference. NCIA is proud to include The Ending Federal Marijuana Prohibition Act in our priority legislation, and we look forward to working with members of Congress to build support for the bill.
The Marijuana Data Collection Act (H.R. 1587) would require the National Academy of Sciences to study and report on the status of state cannabis programs and their impact on public health, safety, and the economy. This is a critical first step in normalizing research into marijuana, including how state legalization has financially benefited states, how it has allowed for law enforcement to focus on more important public safety priorities, and how scientific research can benefit medicinal patients nationwide.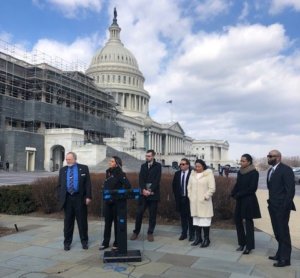 On March 7, a press conference hosted by NORML Executive Director Erik Altieri was held at the House Triangle of the U.S. Capitol to announce the bills. NCIA's Government Relations team attended and captured photos of this historic announcement.
If you're interested in lobbying in support of this bill, or any others, make sure you register for NCIA's 9th Annual Cannabis Industry Lobby Days in Washington, D.C. on May 21-23 so that you can tell congressional offices your personal story. There's strength in numbers, and we can't do it without you!