by Michelle Rutter, Government Relations Coordinator
In the first week of June, the cannabis industry was celebrating its victories in the House of Representatives. At the end of last week, we were celebrating a victory in the US Senate, too.
At the beginning of the month, the U.S. House of Representatives debated the Commerce, Justice, and Science (CJS) Appropriations bill (HR 2578), which funds applicable government agencies for the upcoming FY2016. This year, there were four cannabis-related amendments under consideration in the House: the Rohrabacher-Farr medical marijuana amendment, the McClintock-Polis adult-use marijuana amendment, the Bonamici-Massie industrial hemp amendment, and the Perry CBD oil amendment. You can read about the results of the House votes in this NCIA blog post.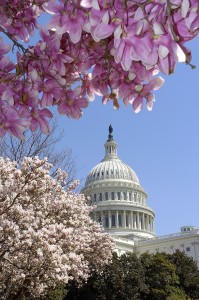 On June 11, two cannabis-related amendments were brought before the Senate Appropriations Committee. Cannabis champion Sen. Barbara Mikulski (D-MD) offered a medical cannabis amendment, which would ban the Department of Justice from interfering with state-compliant medical cannabis businesses. In addition, Sen. Jon Tester (D-MT) offered a hemp amendment that would protect state industrial hemp laws from the Department of Justice's interference. These amendments are the Senate companions to the House's Rohrabacher-Farr and Bonamici-Massie amendments, respectively.
The Senate Appropriations Committee voted with Sen. Mikulski to protect state medical marijuana laws 21-9. Senator Jerry Moran (R-KS) changed his original 'No' vote to a 'Yes', while presidential contender and Senator Lindsey Graham (R-SC) also attempted to change his 'No' vote to a 'Yes', but was too late. Sen. Tester's industrial hemp amendment also passed through the committee via voice-vote.
Victory is sweet, but it's important to remember that these appropriations amendments only protect states' medical cannabis and hemp laws for the upcoming fiscal year. As encouraging as the appropriations season has been, it is still imperative that we pass comprehensive cannabis banking and 280E reform bills in order to be treated like every other American business.
Below is the detailed vote breakdown from the Senate committee's vote on the Mikulski amendment:
| | |
| --- | --- |
| Republicans | Democrats |
| Thad Cochran (R-MS): No | Barbara Mikulski (D-MD): Yes |
| Mitch McConnell (R-KY): No | Patrick Leahy (D-VT): Yes |
| Richard Shelby (R-AL): No | Patty Murray (D-WA): Yes |
| Lamar Alexander (R-TN): Yes | Dianne Feinstein (D-CA): No |
| Susan Collins (R-ME): Yes | Richard Durbin (D-IL): Yes |
| Lisa Murkowski (R-AK): Yes | Jack Reed (D-RI): Yes |
| Lindsey Graham (R-SC): No | Jon Tester (D-MT): Yes |
| Mark Kirk (R-IL): No | Tom Udall (D-NM): Yes |
| Roy Blunt (R-MO): Yes | Jean Shaheen (D-NH): Yes |
| Jerry Moran (R-KS): Yes | Jeff Merkley (D-OR): Yes |
| John Hoven (R-ND): No | Chris Coons (D-DE): Yes |
| John Boozman (R-AR): No | Brian Schatz (D-HI): Yes |
| Shelley Moore Capito (R-WV): Yes | Tammy Baldwin (D-WI): Yes |
| Bill Cassidy (R-LA): Yes | Chris Murphy (D-CT): Yes |
| James Lankford (R-OK): No | |
| Steve Daines (R-MT): Yes | |