1. Registration is complimentary for members!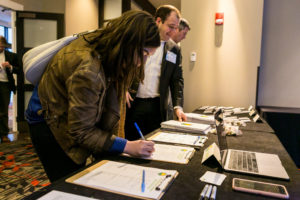 Back with a fresh new look, NCIA's popular Cannabis Caucus Series are meaningful networking events that pop up in five of the most burgeoning cannabis markets every three months. We launched this event series three years ago as an exclusive opportunity for NCIA members and their guests to connect with each other, learn about regional issues from influential guest speakers and get the latest news about NCIA's federal policy work
One of the many benefits of NCIA membership is complimentary access to all of our 15 Cannabis Caucus events a year. Even better, depending on your membership level, you get complimentary tickets for up to to five of your colleagues! This is equivalent to $250 worth of tickets! If you're an NCIA member and you aren't taking the opportunity to attend these events, you're leaving money on the table.
This year, we're offering limited complimentary tickets to a select group of non-members who are passionate about advocacy and want to join the movement to protect our industry. If this is you, please fill out this form and we will follow up shortly.
Of course, if you're not yet an NCIA member, you should consider joining to receive unlimited access to these events and more! Contact Membership@TheCannabisIndustry.org for more information!

2. You'll make meaningful connections with industry leaders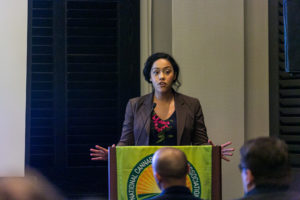 During last year's Cannabis Caucus events, more than 1,000 attendees turned out for our 32 events nationwide. This means that although these events are growing increasingly popular, they are still small enough to make meaningful connections with other industry leaders in your region. Instead of just making small talk with someone in passing, you'll get to to have real conversations with some of the most influential leaders in the industry. Year after year, we hear about people striking business partnerships, friendships and impactful connections at these events because they offer the time, space and opportunity to do so.
3. NCIA convenes industry influencers
As the largest national trade association in the U.S. and the only organization representing nearly 2,000 cannabis-related businesses at the national level, we have pretty deep connections. We know that 70 percent of the individuals who attend Cannabis Caucus events have executive level decision-making authority and 30 percent have heavy decision-making influence. All of this is to say that the caliber of the meaningful connections you will make have the potential to benefit your business in very real ways and quickly. We also know that these boutique events are frequently attended by industry pioneers and dedicated policy reform advocates, the movers and shakers of the industry, who have helped support the movement for decades.
4. Simplified, accurate federal and regional policy updates
For many people, federal policy developments can seem a bit dry and/or overly complex. However, in our industry, understanding and staying current on the changing tides of policies can make or break your business. At Cannabis Caucuses, we'll break down all of the recent federal policy issues you need to know in order to protect your business. Better yet, our intel is coming straight from our Government Relations team on the Hill. Consider this your opportunity for simplified, accurate federal policy insights to inform your business strategy.
At every event, we also recruit influential policy makers, government officials, or industry executives as guest speakers to shed light on important regional issues. Take the opportunity to meet the guest speakers afterwards to ask questions during the nearly two hours worth of networking. When else would you get this opportunity?
5. They're fun!

This might not be one your boss cares so much about, but we do. Your registration includes hors d'oeuvres, plus enjoy drinks from a cash bar in a relaxed, sophisticated setting. Repeatedly, we hear from guests that Cannabis Caucus events are their favorite because of the quality of the event, the caliber of the attendees and the sense of community and camaraderie they foster.

Register today!