Written by Brooke Gilbert, Director of Events & Education
For the second year in a row, the National Cannabis Industry Association set the stage for a night of fun, music, mischief, and the celebration of cannabis with our acclaimed benefit concert, Cannabis Carnival II. Held at Denver's historic Fillmore Auditorium, the Carnival featured a wide-ranging group of world-class musicians and performers, including headliners Medeski Martin & Wood, Everyone Orchestra featuring an all-star ensemble of accomplished musicians, performance troupe Quixotic, and Rob Garza of Thievery Corporation.
Funhouse Facilitator Bhang Corporation gave the interior of the already impressive Fillmore Auditorium a new life through the creation of an inviting, Bhang-branded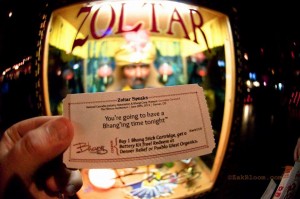 Funhouse Lounge space complete with seating, psychedelic fine art by Don Callarman and Android Jones, plus even a chance to get your fortune told by the mighty Zoltar!
Filling out the raised viewing area along the east side of the Fillmore were our Cannabis Cavalcade of supporting sponsors and our Non-Profit Village. Attendees had the chance to stop by Mountain Medicine, O.PenVAPE, Mahatma Concentrates, and Terrapin Care Station booth setups to pick up goodies, play carnival-themed games for a variety of prizes, and meet those who make these wonderful products. On top of all this, attendees could also visit the booths of harm reduction heroes Dancesafe and Harm Reduction Action Center to learn more about practical measures to stay safe at live music events and give back by entering into Share Your Cloud's art raffle to raise money HRAC's lifesaving local efforts.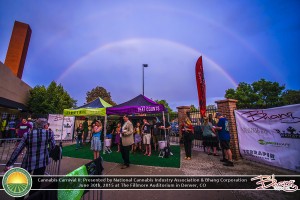 The party continued outside with even more carnival fun. Whether taking a chance at soaking someone in the 300-gallon Dunk Tank or showing off your strength by taking a swing at the High Striker, there was plenty of excitement to go around. O.PenVAPE topped it all off by providing a stilt-walker to entertain guests throughout the night in hosting their tricked-out Volkswagen bus where attendees could take a break to play everyone's party favorite, Mario Kart™.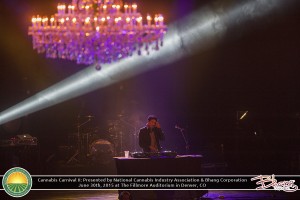 Opening up the musical portion of the evening was Rob Garza, multi-instrumentalist and founding member of Thievery Corporation. His engaging mix of deep house and nu-disco during his set got everyone warmed up while exploring the venue. Intensely mesmerizing, highly skilled, and visually stunning, Quixotic took the stage next and stole the show for many who were unaware of what they were about to witness. Based out of Kansas City, this group of performers masters the fusion of dance, high fashion, aerial acrobatics, projection mapping, and original live music, producing a multi-dimensional experience unlike any other. You can view highlights from their performance in our official photo album found on our Facebook page here.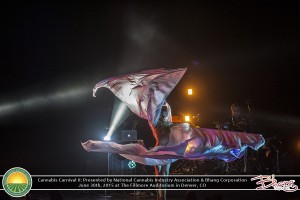 The constantly revolving improvisational supergroup Everyone Orchestra took the stage following Quixotic. Matt Butler, a masterful entertainer who also served as our jovial ringleader for the evening, conducted the highly anticipated lineup of musicians, including members of The String Cheese Incident, Big Gigantic, Papadosio, The Motet, Tea Leaf Green, Elephant Revival, The Bridge, and The Congress, through an hour-long improvisational journey which did not disappoint. Combining an eclectic mixture of funk, rock, bluegrass, soul, jazz, and audience participation all guided by the meticulous mind of Matt Butler, Everyone Orchestra got everyone dancing and letting loose to the collaboratively created soundtrack.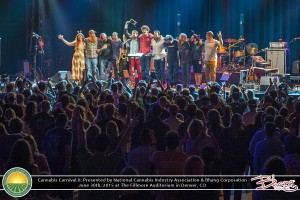 A surprise guest for the evening came out during the setbreak before Medeski Martin & Wood closed out the show. Few people knew beforehand that Representative Dana Rohrabacher (R-CA), a longtime champion of cannabis policy reform, also plays guitar and is no stranger to songwriting. In what might have been a first for a member of Congress, Rep. Rohrabacher jumped on stage and shared a personally penned song about freedom at a cannabis-centric concert. This rare moment was definitely a highlight of the evening as it reflected the merging of a political movement, art, and activism that Cannabis Carnival means to encompass.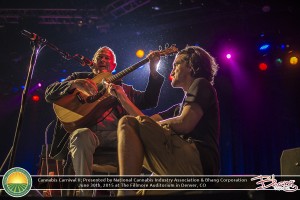 World-renowned jazz funk trio Medeski Martin & Wood took the stage last, joined by a late night rush of local cannabis enthusiasts who weren't going to miss their last stateside appearance in 2015. This increasingly rare performance by the jazz fusion pioneers was a real treat for all and the diverse audience once again demonstrated the role cannabis can play in crossing cultural boundaries. With never a dull moment, MMW's set showcased their wide range with Billy Martin providing an ever-changing canvas of beats and percussive sounds for Chris Woods to build upon, while John Medeski took things deep through his expansive selection of vintage pianos, organs and synthesizers.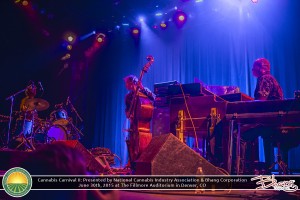 As attendees left with smiles on their faces, we couldn't have been happier with another successful year of throwing Cannabis Carnival. In case you didn't hear, NCIA will be taking the Cannabis Business Summit and Cannabis Carnival to the Bay Area in 2016. Stay on the lookout for date and location announcements for next year's edition in the coming months!
A huge thanks to all those who came out and made the evening so memorable.We'd also like to especially thank all of our sponsors one last time for helping make the evening possible: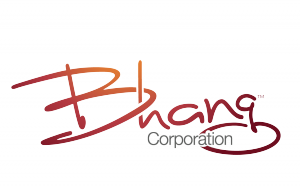 Mahatma Concentrates
Mountain Medicine
O.PenVape
Terrapin Care Station
Vicente Sederberg, LLC
See you next year!