NCIA's Annual Cannabis Business Summit & Expo, held virtually as the inaugural Cannabis Business Cyber Summit, was a great success! November 10-12, attendees took part in live programming and interaction, enjoying unmatched access to the cannabis industry's leading experts, latest research, and most innovative products and services through the Cyber platform.
Our three days of #CannaBizSummit education and experiences, totaling over 150 hours of industry content and 30 exhibiting sponsors, is now available for on-demand viewing through December 10, 2020. Register now to gain access.
Highlights from #CannaBizSummit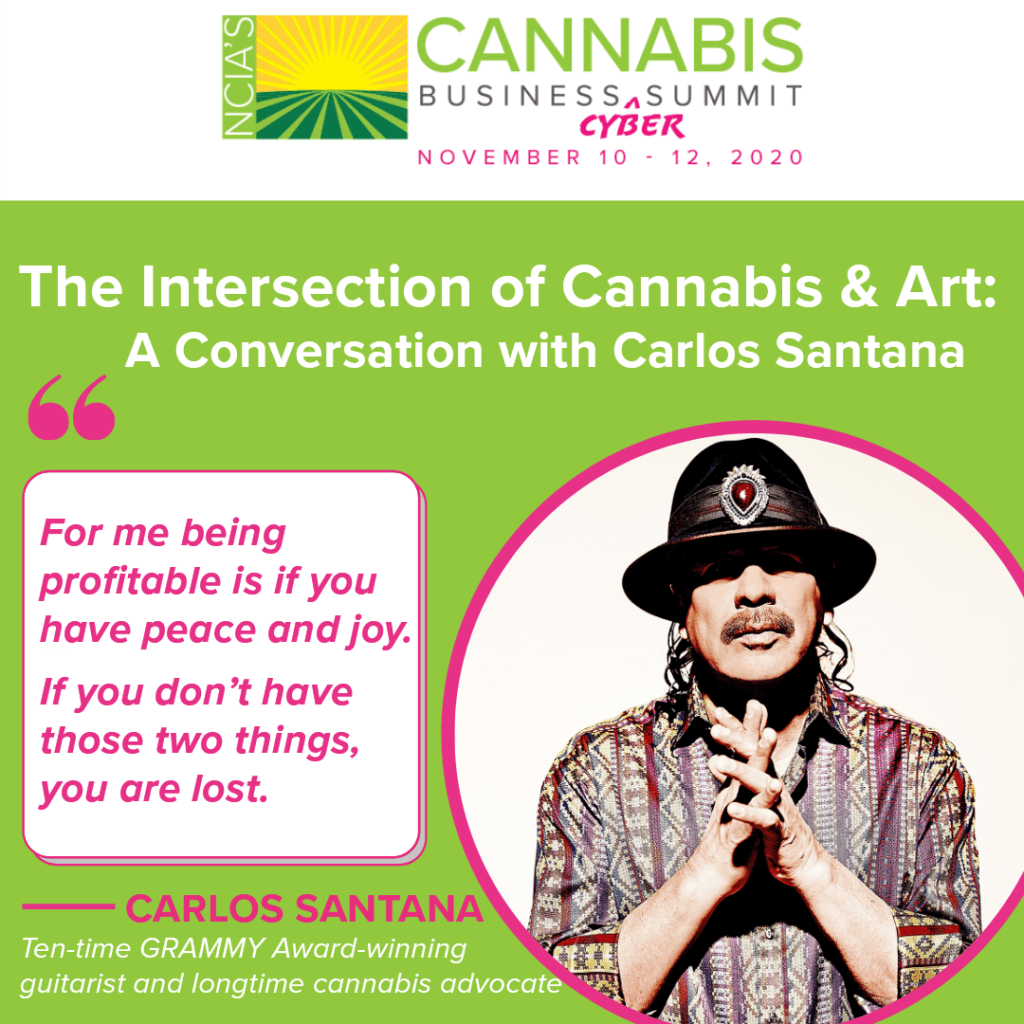 On Day 1, keynote speaker and GRAMMY Award-winning musician Carlos Santana gave an inspiring talk, where he discussed the benefits of cannabis, music, and the significant, personal mission behind his cannabis brand, Mirayo. "Mirayo is my being, my light, it honors my mother," Santana said. On financial success, he says, "For me being profitable is if you have peace and joy, if you don't have those two things, you are lost." 
The event featured exhibit halls on the first two days, where attendees could source, learn, and live chat with all participating exhibit sponsors. Participating sponsor, MJ Freeway, said, "We were thrilled to have the opportunity to sponsor and participate in NCIA's Cannabis Business Cyber Summit. The sessions and speakers were impressive, and the platform was engaging. Our team made some new connections and followed up with some old friends."  
Other highlights from Day 1 include a cannabis cooking demo with Chef Travis Petersen and NCIA education sessions, "From Sweets to Scale: Edibles Innovation & Trends for Infused Products," and "The Social Equity Dilemma: What Lessons Did We Learn from Illinois, and How do we Proceed?"
In the session, "Running for Office & Advocating as a Cannabis Entrepreneur," Cody Bass of the Tahoe Wellness Center spoke on the importance of getting involved in local and national politics as a cannabis advocate. "We cannot continue to depend on politics as normal and think that things are going to change," Bass said. "We have to become engaged to a point of not just lobbying, but really start to become the elected that represent our community."
The CannaVest investment forum was also completely virtual and coincided with the Cannabis Business Cyber Summit, November 10-12. CannaVest included valuable sessions designed with the specific needs of the institutional investor and sophisticated accredited investor in mind. From timely roundtables like, "The Multi-State Operator Roundtable: A Look at Business Plans & Operating Models in a COVID World," to panel sessions, such as, "M&A and Capital Raising: A Look at the US Public Markets," there was something at CannaVest for all investment-minded attendees. CannaVest was supported by eight sponsoring companies who met with and showcased their products and services within the Cyber exhibit hall.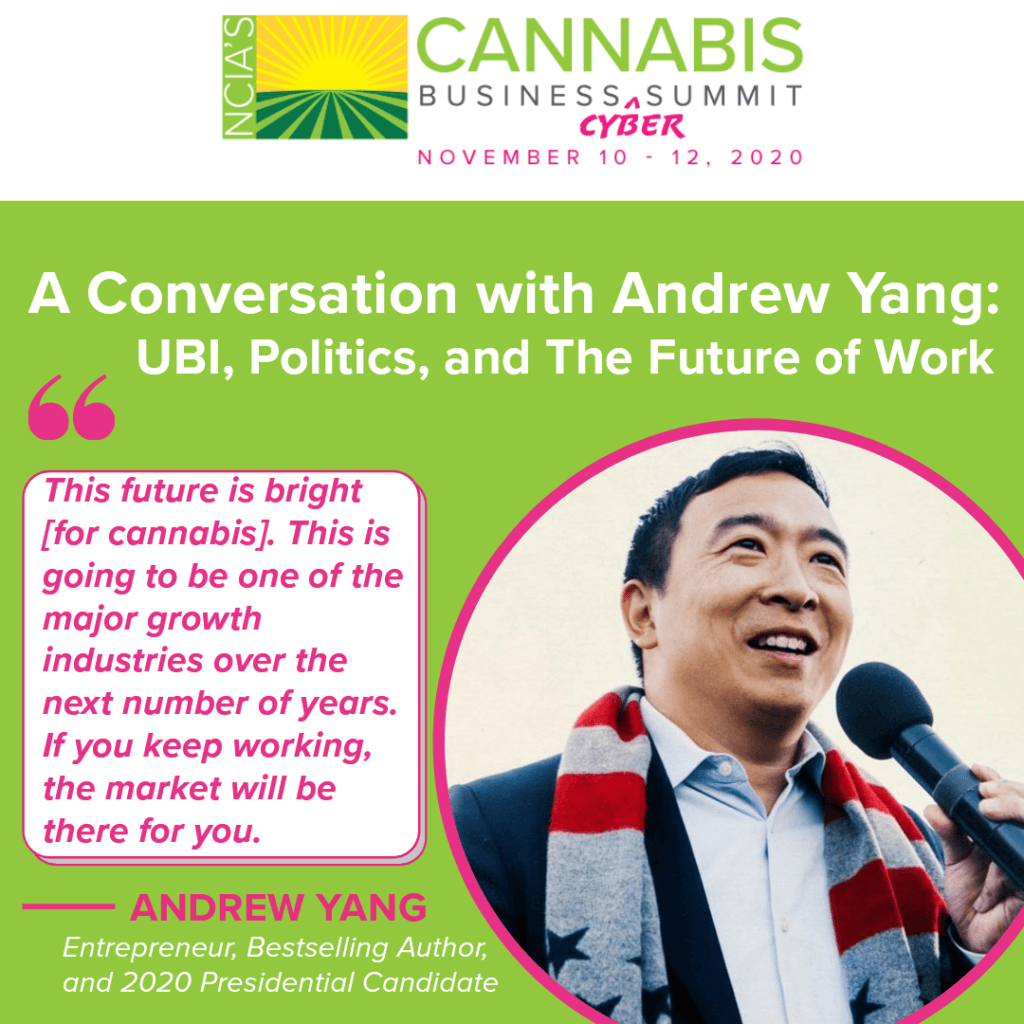 On Day 2, 2020 Presidential candidate Andrew Yang joined us as our Cyber Summit keynote speaker. In his powerful discussion, Yang discussed universal basic income, the recent presidential election, cannabis legalization, the ongoing COVID-19 pandemic, and more. "The future is bright," Yang said. "This is going to be one of the major growth industries over the next number of years. If you keep working, the market will be there for you." Read this story on Marijuana Moment about Yang's thoughts shared during his presentation about the prospect of cannabis legalization with Joe Biden as U.S. President.
Day 2 also featured a yoga session, the MediPharm Lab Tour presented by President and Director Keith Strachan, and educational sessions on topics like how to set a higher standard in manufacturing infused products, how to be a marketing leader in the ongoing COVID-19 pandemic, and how to create a circular economy. 
Attendees joined NCIA's co-founder and CEO, Aaron Smith, on the final live day of #CannaBizSummit for a keynote presentation marking the 10th anniversary of the association's founding and a discussion on where the cannabis industry stands today. Speaking on the success of five states – Arizona, Mississippi, Montana, New Jersey, and South Dakota – in legalizing some form of cannabis use in the recent election, he said: "This could not have happened if not for this legal industry setting an example for the world of what it looks like to replace prohibition with responsible cannabis businesses."
Attendees also enjoyed valuable sessions featuring panels of experts, such as, "Cannabis Marketing Technology: Are you a Laggard or a Leader?," "Breaking into New Markets: 4 Steps to Becoming a Successful MSO," and many more. In "The Michigan Market and Beyond," attendees heard from the state's Marijuana Regulatory Agency on important issues impacting the agency. Andrew Brisbo, leader of the Marijuana Regulatory Agency, said, "I think it's very important to be cognizant of the cost of doing business and not have regulation just for regulation's sake. We want to make sure that Michigan is in the best position for the future we are seeing."
All 150+ hours of this exceptional content are now available for viewing through the Cyber virtual platform through December 10, 2020, to all registrants. For those who did not register and attend the live days but are interested in participating, NCIA members and license holders can register through December 10 for free, with non-members paying just $49. A Cyber pass includes access to all recorded content as well as the virtual expo hall where you can visit sponsor booths and download resources for your business.  
Visit the virtual platform to log in or register today.
Thank you again to all those who joined us for our live days of Cannabis Business Cyber Summit. Be sure to save the dates for our 2021 events, where we hope to see you in-person. 
Explore NCIA's website to stay up to date on 2021 event information.