by Gary Cohen, CEO of Cova Software
In the retail cannabis industry, there's no conventional roadmap to success — at least not yet. Pioneering businesses must create their own strategies and systems through trial and error, all while coping with restrictive, ever-changing regulations and shifting market trends.
But as we enter the second decade of legalization, the landscape is changing. Cannabis entrepreneurs are learning from the last five years of industry growth and drawing on what worked for other retailers.
At Cova, we've partnered with more than 800 retailers to implement business operation systems through our cannabis POS software. We've seen retailers succeed, expanding into multiple markets with dozens of stores. And we've seen other retailers struggle and fold.
So, what makes the difference between success and the long, downward spiral into "retail fail?" What are the cannabis retail mistakes that kill market entrants? Through working with so many companies, we've discovered some of the secrets to cannabis retail success — and uncovered the nasty reasons for common failures. You'll find them all in our new book, "Why Some Cannabis Retailers Fail… and the Secrets of Those Who Succeed."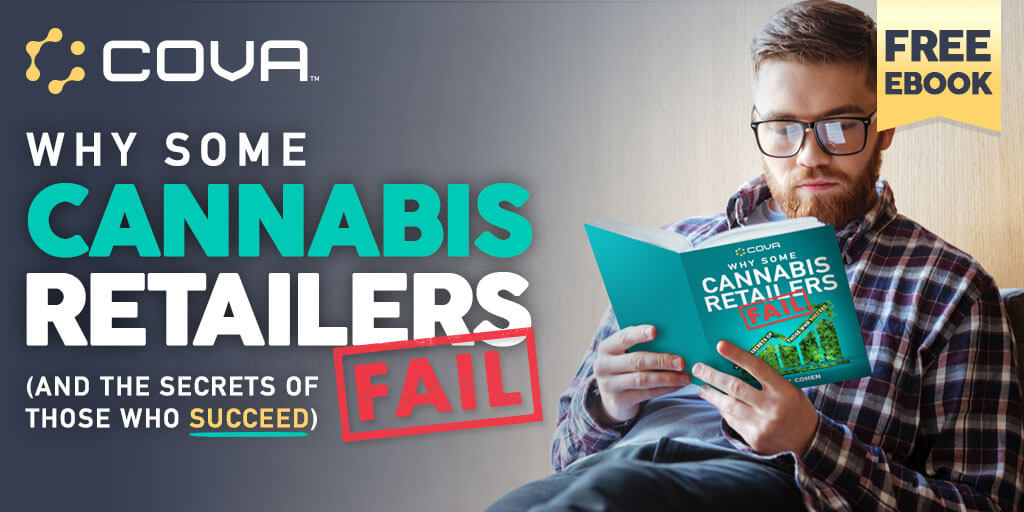 Here in this article, we document the biggest dispensary-killing mistakes that we've observed over the last five years. Don't fall victim to these errors! Keep reading…
Dispensary Mistake #1: Financial Mismanagement
Most retailers — successful or otherwise — understand the importance of financial management, and they stay on point with their finances, or so it may seem. They keep orderly books and watchful eyes on their cash flow. 
Yet what sustains a cannabis retail store financially is forecasting and preparation. A dispensary with an uber-tight budget might look like a booming business when it's actually vulnerable to a variety of external risks — risks like global pandemics. 
COVID-19 interrupted sales for many retailers while at the same time necessitating new technologies and infrastructure. Online ordering was suddenly a must-have POS integration, and delivery services — which were considered a questionable experiment just months before — were immediately necessary to stay competitive in many markets.
Likewise, the start-stop nature of legalization can create unexpected exposure, especially in new markets. When regulators hesitate to enact legislation and permit sales, retailers are left sitting on expensive real estate — sans revenue.
It's best to set aside two years of operating capital if possible or maintain access to that amount of financing. Everything in cannabis takes longer than expected. Successful retailers recognize that fact and prepare accordingly.
Mistake #2: A Cloudy Vision for the Future
Successful retailers have a crystal-clear vision for the company they want to build and what they want to offer customers. When asked, these folks have quick answers to questions like "what are your companies goals" or "what are your companies values"?
Some retail operations fail to realize that they don't have a clear vision. Individual stakeholders may have different values and assume others feel the same. If that's the case, the business is pulled in different directions and has trouble making progress to any one goal. Internal conflicts slow decision making, which is critical for effective operations.
Be clear on your values and vision. Common values include profitability, serving medical patients, or simply living the cannabis lifestyle. Whatever your values, make sure they're documented in a plan and shared with the rest of your team.
Mistake #3: Problems with Authority
In the days of prohibition, successful cannabis "retailers" made sure to avoid the law. Now, retailers embrace regulations and comply with every last rule — without cutting a single corner.
Successful retailers often designate a compliance supervisor. That person can manage seed-to-sale reporting, compliance logistics, and how your stores meet regulations on a day-to-day basis. They also nurture your relationship with regulators and ensure you're seen as one of the "good guys." 
Many features of a cannabis-specialized POS support regulatory compliance. Technologies like ID-scanning and POS/security integrations keep your front of house compliant, while seed-to-sale reporting meets regulatory requirements on the back end. Moreover, they eliminate human error — one of the biggest causes of violations.
Mistake #4: A Poorly Designed Customer Experience
Sometimes, retailers struggle to step into their customers' shoes. They can't see their own brand from the customer perspective, and they don't understand why they're poorly received by the market.
Each point of contact with your customer is an opportunity to deliver a good experience. Taken together, they add up to the customer experience. These touchpoints include your advertising, social media, store aesthetics, parking, online ordering system, and the type of customer service you provide.
For your customers to have a coherent experience of your brand, every touchpoint of your operation must be consistent. Whether your store caters to wealthy Millennials or aging Baby Boomers, it's important that the quality of their interactions with your company are consistent. An upscale dispensary won't have a filthy exit area or a bad website; likewise, a store that focuses on value pricing won't have fancy bathroom fixtures.
Mistake #5: Mismanaging HR and PR
Good retailers have great relationships. They treat their employees and communities well — and are treated well in return! Failing retailers, on the other hand, often let bad employees spoil their customer experience, or they find themselves at odds with their community and neighbors.
When it comes to HR, good retailers actively cultivate their staff — and that means weeding out the undesirables. They know that their brand critically depends on their budtenders so they train and treat them well. But, when it's necessary, they also release those who steal, cause customer service complaints, or show up late (or intoxicated).
When it comes to PR, successful retailers are engaged in their communities through active outreach. In emerging cannabis markets, communities usually need some reassurance that cannabis medicines aren't the evil they may have imagined them to be. So, if you're struggling for acceptance in your location, you could consider reaching out to medical professionals, clergy, and law enforcement with an offer of cannabis education. Often, it just takes a meet-and-greet to humanize your dispensary and set fears at ease.
Mistake #6: Operational Chaos
The Wild West of cannabis can be chaotic even in the best-run businesses. That makes it even more important to limit internal disorder and run a tight ship.
Successful retailers often have team members who are experienced in other industries and have excellent business operations skills. They analyze their sales reports and constantly refine what works. Even when things are going well, they experiment with different inventory items and suppliers, and they look for ways to reduce costs.
Technology can help tame the chaos of cannabis by automating many tasks that cause human error. Moreover, tech can save a lot of time — and payroll hours. When your cannabis POS and inventory management system integrate with your regulatory reporting system and have automated features, you save a ton of time and money.
Mistake #7: Not Using Data
The future of cannabis retail is data-driven. Like in other industries, successful cannabis retailers — the ones who expand to dozens of locations across multiple markets — are mining data to improve their business operations and customer service.
A good example is a loyalty program. These programs keep customers coming back, usually by using a points-based rewards system that mines data. It's easy to track who buys which products, in what quantities, and at what frequency. And because you have the customers' contact info, you can directly market to them with personalized promotions. To go one step further, you can implement a clienteling program and display the customer's purchase history to your budtenders on your POS tablets. That way, they can offer personalized recommendations for a better customer experience.
Benchmark data is increasingly relevant to the cannabis industry too. With benchmark data, retailers can assess their performance against industry norms and address opportunity areas that may be holding them back. It illuminates industry trends and shifts in consumer preferences and, by providing an outlook, helps companies better plan for the future. As the industry evolves, companies will rely more and more on benchmark data firms to provide the intel for better decisions.
Successful Retailers Keep Learning
Across the board, the best retailers seek to improve. If you're ready to step up your operation — or enter the market successfully — you might want to check out Cova's ebook "Why Some Cannabis Retailers Fail… and the Secrets of Those Who Succeed." 
The book can be downloaded here, and contains the dispensary tips that we've learned from working hand-in-hand with more than 800 retailers. You'll discover additional cannabis retail mistakes as well the tactics that work for the most prominent retailers. Happy reading!
---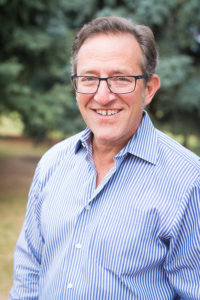 Gary Cohen is the CEO of Cova Software, the fastest growing technology brand in the cannabis industry. Cohen's focus has been driving the company's overall strategy, including its vision, go-to-market plan, and strategic development. Since joining the cannabis industry in 2016 and launching Cova commercially in 4q17, Cohen has led Cova to dominate the enterprise sector for dispensary Point of Sale, while forging client relationships with hundreds of single-store retailers across North America.
In solutioning the POS platform, Cohen & the Cova team have met with over 1,900 operators and leveraged expert knowledge to provide retailers the support they need to get a license, pass inspection, launch a store, and improve operations. Cohen leads seminars on retail technology, compliance, business operations, and cannabis banking laws at the industry's largest events, including the NCIA and MJBizCon. As Cova has become the predominate thought leader for cannabis retail tech, Cohen has established himself as a leading voice educating cannabis entrepreneurs as they build their own successful brands.