by Allison Kopf, CEO and Founder of Artemis
In the cannabis industry, it is critical for cultivators to track crops throughout their production. Traceability benefits and protects cannabis companies, state governments, and the consumer. Without proper tracking systems in place, it would be impossible for states to tax businesses appropriately, it would be dangerous for consumers, and the burden of risk is placed almost entirely on the operator. 
To combat this risk, states have mandated certain systems to track cannabis products called track-and-trace or seed-to-sale systems. There are a few leaders in the space – Metrc, MJ Freeway, and BioTrack. All three provide tracking software solutions for operators and contract their software to state governments. 
These systems are designed for regulators, not cultivators. Growers instead have to purchase a second system to manage their operation. We've highlighted why it's important for growers to implement a cultivation management platform (CMP) in the past, but it's important to note how difficult it is to implement a CMP in the current market. 
Growers are second class citizens in the cannabis world – and that's a major failure of the industry right now. Growers are the backbone of this industry and we, as innovators, should be making it as easy as possible to track products through the supply chain. This is not just because it's a good business decision or because it makes it easier for governments to tax products, but because it's good for the industry. It's good for the consumer. It's the right thing to do. 
However, the industry is disconnected. For Metrc required states, it takes weeks before you will hear from the company regarding connectivity and months before integration can happen. The regulatory systems all tout their API as a way for other software companies to integrate into their systems, but in reality, it's not that simple. 
Here's what that means for growers. Growers are mandated to use regulatory systems to record weights and plant IDs (as well as other data) for the benefit of the regulator and the chosen software provider, but they cannot use those tools to their advantage. Instead, they have to choose to purchase a third-party system that may or may not be able to integrate into the regulatory system or they are forced to purchase the cultivation software from the same regulatory software provider, which again, may or may not fulfill their needs. If the grower chooses a system that they like but cannot integrate, it means they have to enter information twice. This is a costly burden and often leads to unnecessary data entry errors. 
Most of the regulatory systems on the market today are ill-equipped to provide enterprise-ready software in the first place, but it's not the fault of those software providers. This is a new industry. Most of the software companies on the market are undercapitalized and many are outsourcing development as a result. This leads to serious security issues and system outages, like we've seen in Washington and Pennsylvania.  
A better way to handle the growth of this industry would be to regulate in a connected and open environment. Instead of mandating a particular software solution, mandate traceability and let the grower decide how to meet that requirement.
For example, under the Controlled Substance Act, the DEA requires certain reporting requirements and these are submitted to the DEA database ARCOS (Automated Reports and Consolidated Ordering System). However, a company could choose to use Microsoft NAV for its management solution and sync to ARCOS for submittal of reports.
In food, the USDA governs food safety requirements under FSMA (the Food Safety Modernization Act). FSMA mandates food producers create and maintain a food safety plan, however it does not require a specific format or content. There is guidance for how to create a plan, but FSMA also allows for flexibility in operations and there is trust that operators will create a plan that is right for their operation. 
This idea of trust in the grower and a unified framework of requirements is missing in the cannabis industry. Some software providers have tried to close that gap, but relying on mandatory software and changes on a state-by-state basis will only hurt the industry. We need to enable growers to scale efficiently and legally. We should support growers and provide tools that make it easier for them to implement new regulatory requirements, not harder. Our industry should consider opening up the software market for regulatory reporting and at a minimum should encourage data integrations, not limit them.  
---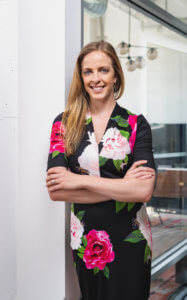 Allison Kopf is the Founder and CEO of Artemis, the market-leading Cultivation Management Platform serving the fruit, vegetable, floriculture, cannabis, and hemp industries. Artemis won the highly coveted Disrupt Cup at TechCrunch Disrupt in San Francisco. Kopf was recently named one of Forbes 2019 30 Under 30 as well as one of New York Business Journal's 2019 "Women of Influence." Allison is an Investment Partner at XFactor Ventures and serves on the boards of Cornell University's Controlled Environment Agriculture program and Santa Clara University's College of Arts and Sciences. She is a Techstars Farm to Fork mentor and holds a BS in Physics from Santa Clara University.
Artemis provides a world-class Cultivation Management Platform that enables owners and managers of enterprise horticulture facilities to drive efficiency, profits, and growth while ensuring security and regulatory compliance. With Artemis, users can manage workflow and daily tasks, register crop batches, trace food safety issues, manage workers, and leverage data insights to increase workforce efficiency and crop productivity. Read our software buyer's guide for more information.