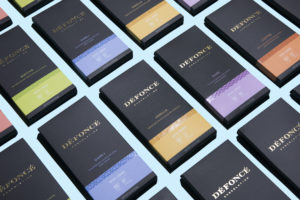 Meet Eric Eslao, CEO of Défoncé Chocolatier, based in Northern California. The company produces cannabis-infused chocolates, and proudly donates to St. Jude Children's Research Hospital.
Cannabis Industry Sector:
Infused Products and Extractions
NCIA Member Member Since:
May 2016
Tell me a bit about your background and why you launched your company?
I'm a Bay Area native and I absolutely love living here. I completed my undergrad at USF and MBA at SFSU. And had a super fun career at iTunes. So I literally never left the Bay Area, which is very rare.
I started the company a few years ago as I felt consumers deserved a better edible. While the overall aesthetic is what people notice first, it's really the elevated taste and the amount of care we put into the product that I'm most proud of.
What unique value does your company offer to the cannabis industry?
A great-tasting edible.
Cannabis companies have a unique responsibility to shape this growing industry to be socially responsible and advocate for it to be treated fairly. How does your company help work toward that goal for the greater good of the cannabis industry?
Edibles–historically–have had a bad rap. Whether it's due to some of the insane dosing that was considered normal or issues with microbes, edibles were a crap shoot for even the experienced cannabis user.
As we move into an era where dosing is more normalized and regulations are more in line with normal food manufacturing, we'll see more sophisticated products and operators. As a result, I feel the edible industry will start to have equal footing with well-respected food brands. This normalization will elevate our industry as a whole.
What kind of challenges do you face in the industry and what solutions would you like to see?
In California, we've had a medical market for 20 years. Going from two decades of quasi-legal businesses to a regulated market is a large hurdle–especially for operators that have been at it the entire time. To make sure we don't leave behind the people that got us to this point, I would love to see veteran operators allowed more time and given more resources to be compliant–specifically the cultivators that have risked their livelihood to get us to adult-use.
Why did you join NCIA? What's the best part about being a member?
It's great to be part of a group with like-minded individuals: cannabis professionals looking to elevate the industry as a whole.