By Gabriel Cross, CEO of Odyssey Distribution
Member of NCIA's State Regulations Committee

Oversupply and shortages, high prices and lack of choice for patients and consumers, illicit markets, tainted products, and the inability to access banking and capital all plague the burgeoning cannabis industry. While cannabis advocates and industry leaders are working on each of these problems, there is one solution that would ease the burden on all of them. Allowing for interstate trade between states with legal cannabis markets would improve each of these issues while supporting the individual solutions to each that the industry has been working on. This is the first post in a series that explores the benefits and barriers to setting up a legal framework for interstate trade, even before wholesale legalization at the federal level.
Since the beginning of legal, adult-use cannabis, when Colorado and Washington passed the first ballot measure allowing for adult-use, the industry was guided by the Cole Memo, which laid out the parameters for the federal government staying out of the states' cannabis experiments. Among other things, the Cole memo stated that the DEA could crackdown on cannabis moving from states with well-regulated systems to states that do not allow cannabis. This statement has been interpreted conservatively to mean that no cannabis should cross state lines for any reason, ever, based on the fact that at the federal level, cannabis is still a Schedule I drug under the Controlled Substances Act.
Today, there are 10 states which have legalized adult-use, another 19 which allow for medical use, and six more which allow the use of CBD products only. Many of these states share borders, and producer states could serve several nearby markets without ever entering a state that does not allow cannabis in any form. Furthermore, the Cole Memo, which was rescinded by Jeff Sessions in 2018, has not been replaced by any guidance whatsoever. This means that each U.S. Attorney's office is free to set their own enforcement priorities around state-legal cannabis activities, and there is no official overriding policy at the DOJ on interstate trade between states with medical or adult use. Corresponding guidance from FinCEN, however, remains in effect and similarly discourages the transfer of cannabis between states. 
Cannabis markets vary widely from state to state with regard to the underlying market dynamics and challenges that they face. Some states produce too much while other states experience shortages. Meanwhile, new states pass legislation or have voter initiatives that allow medical or adult-use every year without any infrastructure in place to supply that state's demand. In each new legal market, the vast majority of demand had long been met through illicit market supply, and generally from outside of the state's boundaries.
The artificial boundaries around cannabis markets have far-reaching impacts for local economies, patient access, illicit market activity, and social equity. Later posts in this series will take a deep dive into each of these issues, and in this post, we will look at how this has impacted states, the industry, and consumers so far.
Lessons Learned:
Washington State chose to take the strictest possible reading of the Cole Memo, and insist that not only must

cannabis

not cross state lines but also sources of funding must come from within the state. Combined with their high capitalization requirement for licenses, the result was a disaster from an equity standpoint: only wealthy and well-connected individuals in the state (which are overwhelmingly white males) were able to even attempt a license. This decision was based substantially on the fact that interstate trade was not allowed.

In Oregon, which has an ideal growing climate and a long tradition of exporting cannabis (albeit in the illicit market), the artificial boundaries created by the ban on interstate trade lead to a massive oversupply for its small population, which crippled the industry and tanked many small businesses. Despite the fact that Oregonians consume more cannabis per capita than any state, their climate and culture have led to growing massive quantities of world-class cannabis that cannot reach patients and consumers, even in neighboring states that might have under-supply issues. The result is that hundreds of small, mom-and-pop shops and family farms have gone out of business, eradicating millions of dollars of local capital, and accelerating mass consolidation of the industry into the hands of a few foreign corporations. Meanwhile, in medical markets like Illinois and Michigan, patients have had sporadic access to quality cannabis-based medicines.
When Nevada originally launched, due to the influence of local liquor distributors, it was almost impossible to get products to market, and the state's dispensaries sold out on the first day of sales. After ironing out some of the kinks, sales are going strong, but the practice of growing thirsty plants indoors in the desert is of dubious value when the same plant can be grown with a fraction of the inputs in northern California and southern Oregon.
California's legal system is a perfect example of how over-regulation fuels illicit market activity. Because of the structure of their regulatory framework and high taxes, the state is served by only 800 licensed dispensaries, whose prices are double and triple those found on the illicit market for similar products. This has led to the emergence of thousands of "pop-up" or unlicensed dispensaries, selling untested products tax-free in a thriving illicit market. The booming illicit market in California has also led to massive wholesale markets of hardware, branded packaging, and flavoring and cutting agents (all technically legal) to supply the illegal operators with everything they need to look legitimate. This is a major contributing factor to the wide-spread vaping related illness cases popping up all over the country, as many illicit market operators purchase their supplies in downtown Los Angeles.
The ban on interstate trade promises to continue to create new and novel problems as well. If New York, the 4

th

most populous state in the union, legalized adult-use (which seems likely in the near future), and interstate trade were still banned, it would require a massive investment, on the order of billions of dollars, to create enough indoor and greenhouse grow facilities to supply the demand created by its 19 million inhabitants. The recent legalization of hemp under the last Farm Bill has created a number of legal dilemmas as well, as some individual states that do not recognize any difference between hemp and cannabis flower have seized products and arrested individuals taking hemp legally grown in one state to a market where it is legal to sell.
Some suggest that these issues will be sorted in local markets, and in each state individually this approach might seem to make sense. When you add these problems together, though, a much more elegant, efficient, and obvious solution emerges: let states that have always exported cannabis send it to states that have always imported it. A set of different and seemingly unconnected problems become each other's solutions.
Historically, people across the country have consumed cannabis, and the vast majority of it was grown in a few locations that are particularly well-suited to the plant. It is highly likely that a fully-matured nationwide legal market (one which must account for not only interstate, but also international competition) will ultimately be best served by the same general market dynamics. The only question is: how long will we allow the artificial market boundaries around each state to decimate local capital, curb access for patients and consumers, encourage investments that are attractive short-term but disastrous long-term, and prop up the illegal markets that pose a public health risk?
Interstate trade between states that allow some form of legal cannabis would provide much-needed relief on a number of fronts for cannabis businesses, and could be structured in such a way to support social equity efforts. With a little guidance on enforcement and thoughtful programs and agreements between states, there is a path to legal interstate commerce even before cannabis is removed from the Controlled Substances Act. The state of Oregon has already passed legislation allowing for the export and import of cannabis products provided that the Federal Government allows it. This could be either through legislation such as the proposed Blumenauer/Widen State Cannabis Commerce Act, or though DOJ enforcement guidance (whether from the Attorney General or the relevant local U.S. Attorney's). There are multiple paths that can lead to the end of banned interstate trade, and it seems increasingly inevitable that we will see legal cannabis trade across state borders in the near future. For most operators in the cannabis industry, and for all patients and consumers, this will be a good thing, and can't come soon enough.
---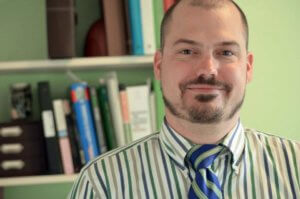 Gabriel Cross is a Founder and CEO at Odyssey Distribution, LLC, a distributor for locally-owned craft cannabis producers and processors in Oregon. Gabe worked in the sustainable building industry for a decade before starting Odyssey and brings his experience with sustainability and systems thinking to his work in the cannabis industry. Odyssey manages logistics, sales and marketing for boutique producers so they can focus on creating great craft cannabis products for the Oregon market.