by Dr. Teresa Smith, Ebee Management Group
The state-by-state level of legalization and expansion of cannabis continues to pick up momentum across the United States, however, the adoption at Federal level is a much slower movement. The absence of federal legalization has created a situation where federally insured lending institutions like banks and traditional investment capital markets are prohibited from funding cannabis projects. The direct result of this restriction in capital has historically forced the cannabis industry to rely exclusively on private loans and individual investors as the primary sources of development and operating capital. These sources of capital are limited in capacity and can garner interest rates from 15-25%. While the legalized cannabis industry has made great strides in removing much of the negative stigma surrounding the products and their uses, resulting in the opening of some additional funding sources such as crowdfunding and angel investors, the cost of these capital sources is still significantly above the conventional market rates. At Ebee Management Group, we would argue that the most underutilized yet best financing tool presently available for the cannabis industry is the Commercial Property Assessed Clean Energy (C-PACE).  
C-PACE is an innovative financing tool that gives owners of commercial, industrial, and multi-family properties access to long-term fixed-rate financing for energy efficiency, water conservation, and renewable energy projects. The C-PACE legislation authorizes municipalities or counties to partner with private capital providers to deliver financing options to commercial property owners for energy qualified improvements with the collection of the debt repayment through a special assessment on the property's tax bill. The C-PACE funds provide upfront capital with 100% financing for qualified improvement often with terms up to 20 years. The resulting energy savings and reduced operating and maintenance costs typically exceed the amount of the assessment payment and often contribute to a positive cash flow to the operating budget. 
The primary caveat to the use of C-PACE for cannabis is that the property must be in a state that has passed the legislation that empowers local municipalities to provide C-PACE as a funding tool. C-PACE can be funded directly by the municipality through a bond issuance; however, most projects are presently being funded by the private equity markets. Typical terms on a C-PACE-funded cannabis transaction are 100% financing, fixed for a term up to 20 years at interest rates ranging from 7%to 9%. The maps below illustrate the current enactment of state-level policy for both cannabis and PACE.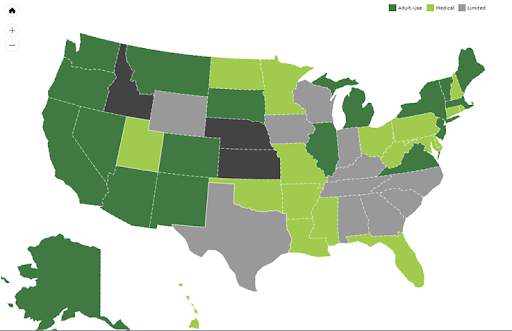 Map provided and maintained on the NCIA website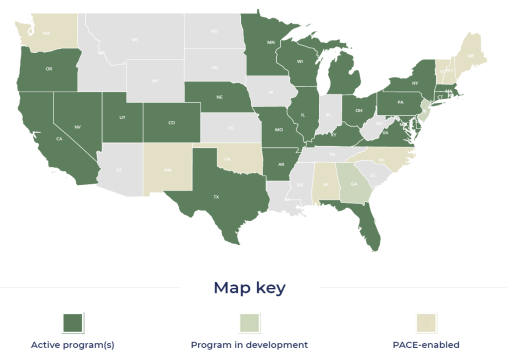 Map provided and maintained on the PACENation website
C-PACE can be utilized for any improvement that saves energy with maximum lending limits influenced by individual state legislation and program guidelines. Typically, the maximum loan amount is capped at  20-25% of the completed appraised value and restricted to funding only qualifying improvements. Typical qualified improvements include lighting, HVAC systems, and building controls, doors, windows, roofs, and alternative power generation like wind and solar. PACE can be used for retrofitting an existing building, new construction, and in some states, refinance of existing debt. For the established cannabis market, the refinance option is an extremely attractive tool because it can be utilized to pay off higher-cost investor debt and is non-recourse to the owner. The debt is tied to the physical facility as a special assessment, not a mortgage lien, and is thus fully transferable at sale. You heard me right. If you have a  short-term hold strategy for a facility, any remaining obligation you have associated with your PACE assessment does not have to be paid off at closing. The balance of the debt follows the tax bill and transfers directly to the new owner like any other existing tax-based assessment.  
The table below outlines the benefits and features of C-PACE
Owner Benefits 
Financing Features 
Qualified Equipment

•

Lower cost capital 

• Non-recourse to owner 

• Preserves owner's capital 

• Debt transfers at sale

•

100% financing of

qualified improvements

• Long-term fixed-rate up  to 20 years 

• Competitive interest rates ranging from 6.5%-9.5% 

• Debt securitized by a special assessment on the property

•

Lighting 

• HVAC

• Controls 

• Roofs 

• Doors & Windows 

• Insulation 

• Power factor conversion

• Alternative energy generation
The future of a wider array of funding options for the cannabis industry will clearly be impacted by both the ongoing adoption on a state-level and the possible federal-level legalization. Presently the pressure from states like New York and Chicago that house the two largest capital markets in the United States is leading to the expanded conversations about tapping into some of these sources of capital. That being said, arguably the best real-time solution for structuring a cannabis capital stack is C-PACE. New construction, building retrofit, or refinance, C-PACE can fill a gap or serve as a lower-cost replacement of other investment capital or equity. 
---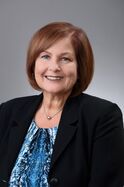 Dr. Teresa Smith leads the Strategic Growth & Development for Ebee Management Group where she is recognized as an industry expert in sustainable development, leveraging PACE financing solutions for qualified energy efficiency projects throughout Ohio and Michigan.  Prior to joining Ebee in 2019, Teresa was the Business Development Manager for the Toledo-Lucas County Port Authority where she built a robust growth process that delivered a 280% annualized increase in Property Assessed Clean Energy (PACE) loan transactions, driving loan balances from $3 million in 2011 to $47 million in 2019.  Teresa obtained a Bachelor Degree in Economics from Eastern Michigan University, a MBA in Executive Management from the University of Toledo and a Doctorate Degree in Business Management with a specialty in Leadership from Capella University.
Ebee Management Group is a full-cycle construction, finance, and energy management firm, offering our clients the most cost-effective and appropriate development strategies — never compromising integrity and quality.  We oversee every aspect of the project with a proprietary process and unique energy financing programs, delivering a custom designed, state-of-the-art energy savings solution with a guarantee to save you time, energy, and money.  Ebee offers a wide array of financing solutions for the Cannabis Industry that reduce equity requirements and replace much more expensive sources of capital.  Our flagship financing tool for new construction, renovation and refinance of commercial facilities is Commercial Property Assessed Clean Energy (C-PACE).  This financing tool makes it possible for owners and developers of commercial properties to obtain low-cost, non-recourse, long-term financing which is paid back through an annual assessment on the organization's property tax bill.  For more information, contact Teresa Smith at 419.340.0420, tsmith@ebeeco.com or visit our website at https://www.ebeeco.com/