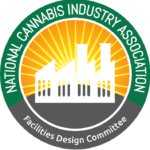 by Kathleen May, Sonny Antonio, Casey Rivero, David Vaillencourt
NCIA's Facilities Design Committee
In our previous blogs, the Facility Design Committee authors emphasized the importance of defining facility layout and design components during the planning phase of facility purchase, infrastructure, and operational flow of processes and materials. This blog dives further into the often overlooked variables that we have seen significantly impact operational timelines, and in some cases send business owners back to the drawing board at considerable cost. These critical areas are the capacity of your utilities – specifically a) Electrical Facilities, b) Gas Facilities, and c) Phone and Cable.
ELECTRIC FACILITIES
Do you know how much power your operation will require and whether the facility and utilities are capable of supporting your requirement? Facilities should be designed to meet the electrical demands of equipment operation, lighting, and accurate functionality of HVAC systems. Processes and procedures should be designed according to the requirements outlined in the National Electrical Code (NEC), Institute of Electrical and Electronics Engineers (IEEE), National Electrical Safety Code (NESC), International Building Code (IBC), International Energy Conservation Code (IECC), and any other relevant standards dictated by the Authority Having Jurisdiction (AHJ).
Key questions to ask:
Is the electric capacity adequate to support the operations planned in the facility?
Is primary (main) and secondary (meter) power installed? 
Is there three (3) phase power?
If three (3) phase is required, is it available?  

If it is not available, has the cost to supply the facility with three (3) phase been budgeted for?
Does the local power company have the capacity to support the facility? Has there been discussion with the local power company to communicate capacity needs? 

If the capacity is not supported, is there an opportunity that it will be?
Why does this matter? 
Cannabis operations, especially growing plants require a significant amount of electrical capacity and existing buildings were rarely designed to handle these requirements. Further, just because you see power lines nearby, this does not mean that they can magically handle whatever power requirements you need. Our national power grid has many limitations, and depending on the jurisdiction and local power authority may not have the resources to meet your needs. 
What can I do? 
If you aren't absolutely certain that you have sufficient power capacity, assess the proposed location with a Subject Matter Expert (SME) and a representative from the local Power Company.  
Walking the site to confirm what has been verbally communicated is critical.  Discrepancies are not uncommon.
GAS FACILITIES
The same types of questions that were asked for the Electrical Facilities should be asked when confirming gas facilities and capabilities. Key questions may include:
Is the existing gas service adequate for the operations planned for the facility?

Just like with electrical power – confirming the presence of a gas meter does not guarantee that the gas capacity is adequate for the operation.
If upgrades are required or if a new gas line needs to be installed, have those costs been budgeted for?
Again, hiring a consultant with subject matter expertise in gas utilities, gas lines, and gas pressure would be beneficial when speaking with the local gas company.
PHONE and CABLE
While many across the country have ditched landlines in favor of cell phones, the same is far from true for new businesses, especially with the security requirements needed for a cannabis facility. 
Are phone and cable required for the operation? If so, some key questions to consider are the following:
What size and speed are required to support specific needs (i.e., security)?

Is the existing wire

large enough for my needs? If not, is it possible to get phone and cable to the site?

Is satellite an option if phone and cable are unavailable? 

Have all costs been budgeted for?
Especially in rural or newly designated economic improvement zones, high-speed internet access may be limited. Service Level Agreements (SLAs) provide the assurance of minimum uptimes. A car crash into a nearby service line or other technical glitches can quickly put you out of compliance with 24/7 camera monitoring requirements, intrusion detection systems, and more. In many cases, it's wise to consider redundancy from secondary providers where available. 
In Conclusion…
Every site and facility is different and may or may not be sufficient for the overall operations planned. Site and facility capabilities should be assessed for each project and assumptions should not be made based on previous experience. Ask the critical questions upfront and invest in experts that understand these key components of facility layout and design. Proper planning will avoid project setbacks and unexpected obstacles, and will always save time and money.    
---
The Facilities Design Committee focuses on providing NCIA members and regulators a framework and information about facilities design options through which legal producers can plan for GMP level production as the market transitions from a state to a federally regulated industry.