by Phil Gibson, AEssenseGrows
By now, we've all seen the concerning vape cartridge illnesses and deaths across various states. While the exact cause is still being determined, our industry has an opportunity to step up our game. So the question we must ask ourselves is: how can the cannabis industry help to prevent potentially dangerous illicit market cannabis sales?
The everyday consumer is seduced by lower-cost alternatives and some turn to the grey market with an assumption of safety. "If the price is half as much, why not?" wonders the consumer. Unfortunately, tragic examples slapped us back to reality and we are now seeing all too clearly the downsides of the laissez-faire approach that feeds the grey market. Low cost is good, but people are dying. This is where our crisis is real. 
Safety protocols, procedures, regulations, and oversight, applied to the old methods of production, lead to increased costs that are duplicated on the way through the channel. High taxes multiply that effect, serving as a barrier to the consumer. The illicit market circumvents the bureaucracy and offers a lower cost that meets consumer demand at an increased risk. 
Lower Production Costs = Lower Costs For The Consumer
As the end of cannabis prohibition nears, we have to remember that long before we had added regulations and government overhead, proponents of legal cannabis emphasized the medicinal value of the plant, for treating everything from chronic pain to post-traumatic stress syndrome. What started as a simple plant that grew outdoors with free sun and water has evolved, with numerous controls added to regulate, generate tax revenue, and improve the odds that this new medicine is safe. As well-meaning as those precautions are, they have added significant cost to the wonder drug through legal channels. Our best hope for migrating consumers away from dangerous shortcut products is to get a handle on production cost and make it easier for cultivators to follow the rules and enjoy profitability. 
It pains all of us when we see the recent spate of illnesses — even deaths — increasingly associated with vaping cannabis, despite the fact that the majority of health issues appear to stem from the illicit market. If we don't fix this, the market will be severely impacted by either consumer avoidance or government fiat. I'm proud to see that NCIA is taking a lead role in communications around this critical issue and in the fight to deschedule cannabis and enacting federal regulations at a reasonable cost, protecting consumers from potentially dangerous illicit cannabis distribution. 
Raise The Quality, Lower The Cost Of Production
Safety, of course, has been and always will be a key concern of the legal cannabis industry. But as our industry grows up and competitive pressures bear down, we can't afford to shortcut our responsibilities. Running a grow operation is full of potentially harmful contaminants that can strike at any time. Producers need to choose ways to protect their investments with safe operational procedures and new technologies that guarantee both safe and superior products for our customers. At a lower cost! 
Where there is a need and a business opportunity, innovation will rise to the challenge. The vape crisis points to an urgent need for low-cost yields and profits for legal cannabis producers. This can be achieved through a highly controlled aeroponic approach for consistent, pure, clean yields that exceed regulatory and medicinal requirements. Using advanced technology, the cost of production can be reduced to as low as $0.30/gram, and the result is legal cannabis that can enter the channel at much lower cost at levels where the illicit market can't compete, and legal producers can profit. 
Fully automated environments, nutrients, pH, air, lighting, humidity, temperature — are all monitored and adjusted through software-controlled electromechanical systems in a soil-free environment. With minimal labor required, contamination risks are low, natural contaminants won't take root and heavy metals and pesticides can be excluded from the environment. 
Indoor aeroponic grow systems represent a sea change for many longtime growers and modernizing the industry means new opportunities. New technology replaces labor-intensive efforts with cruise control automation in an efficient climate-controlled environment. Cutting corners proves to be costly while the rewards for doing it right are considerable: precision fast-turning superior yields — and a dramatic reduction in the potential for contaminants to wreak havoc and impact safety. 
We all know that risk is part of any business, and that a key element of our jobs is to reduce risk and cost for our customers. Growing in a highly controlled indoor environment at lower cost to the consumer can dramatically mitigate your risks so you, and your customers, can breathe easier, and we can ensure cannabis remains safe. 
---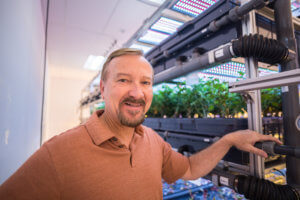 Phil Gibson, Vice President of Marketing has 30 years of sales, marketing, and channel experience with 3 years at AEssenseGrows, and is known as the creator of the WEBENCH online design environment now owned by Texas Instruments. Previously, Phil held executive marketing positions at Infineon, TI, and National Semiconductor. With 8 patents in web technology, Phil is an expert in digital marketing and built his first web site in 1995. Phil holds an MBA from the University of Southern California and a BSEE from UC Davis.