by Justin Charneau, Eagle Protect
Skin-related (dermal) issues from the constant wearing of disposable gloves were among the top complaints revealed in various cannabis workplace surveys. Many employees required to don single-use gloves to conduct a variety of job-related tasks – in the cannabis cultivation process and several other industries – remain unaware of the distinct types and qualities on the market, and how they differ. The quality, fit, durability, and functionality of disposable gloves are determined by several factors, including the type, application, raw materials, and manufacturing processes used to produce them.
Gloves by Type and Dermal Risk
Among disposable gloves, there are three primary types – latex, vinyl, and nitrile, each with differing qualities and risks. Here is a snapshot of each variety, along with their associated dermal risks:
Latex – these gloves are constructed of rubber, a snug fit like second skin that is both highly elastic and resilient. They are mostly worn in the medical industry, where a high level of dexterity and tactility is warranted. However, latex gloves can trigger a Type I hypersensitivity reaction to latex and Type IV hypersensitivity reaction to rubber chemicals. Latex-free nitrile gloves have generally superseded this option in the market. 
Vinyl – these cheap gloves are manufactured from brittle polyvinyl chloride (PVC) material, prone to a high rate of defects (rips and holes) in the glove barrier, an immediate cross-contamination risk.
Vinyl gloves are manufactured with plasticizers to soften the PVC, which often contain toxic phthalates and chemicals. Many of these ortho-phthalates have been shown to harm reproductive health and brain development. These threats can be absorbed into the glove wearer's skin, and leach into the food handled which, in turn, can later be ingested by customers. Phthalates in vinyl gloves are highly restricted in Europe and Japan for food handling and were recently banned by the state of Maine.
Vitrile – a blend of vinyl and nitrile. These gloves should be stronger than plain vinyl gloves and less expensive than nitrile. Due to pandemic-related price increases in gloves, the vitrile option has recently grown in popularity. Buyers should beware of cheap nitrile gloves, blended with cheaper vinyl, yet still marketed as nitrile. Vitrile gloves carry the same risks to the wearer, and the products they handle, as vinyl gloves.
Nitrile – these gloves are among the best choice for the cannabis industry, as they protect against harmful chemical substances, and their puncture and tear-resistant qualities are ideal for complex cultivation and processing tasks. They also provide the highest level of protection and durability as a barrier to harmful chemicals and pesticide exposure.
However, nitrile glove allergies can also occur, posing potential problems for the glove wearer. Cheap and toxic raw material ingredients, which reduce glove manufacturing costs, can also cause occupational skin disease (OSD), such as contact dermatitis and Type IV hypersensitivity to rubber chemicals. Accelerators, added to speed up rubber vulcanization during the manufacturing process, are the typical cause of glove contact allergies.
For glove wearers prone to skin allergies and irritation, higher quality gloves and accelerator-free options are a necessity.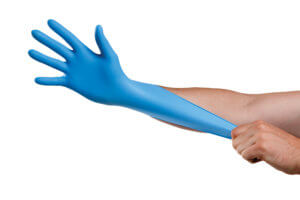 Keeping Your Workforce Safe
There are ways and means of reducing the risk of dermal disorders caused by single-use, disposable gloves. The more frequently gloves are worn, the higher the risk. Below are several ways to mitigate the risk of dermal disorders:
Choose quality nitrile gloves, marketed by reputable suppliers with an extensive history of glove sourcing and experience. Look for well-established company websites, including industry-related blogs,

published articles

, and resources that demonstrate the supplier's commitment to quality

Request proof of factory and third-party audits, as well as HACCP compliance certifications

Plan to undergo a commercial trial of glove products prior to committing to bulk purchasing. Any established and reputable supplier should be more than happy to ship glove samples for trial usage

If possible, choose accelerator-free nitrile gloves

Consider your options for glove types. Be wary of vinyl / nitrile-mixed gloves passed off as nitrile – always sample first before you buy

If alternatives are available, avoid vinyl gloves
For more information on how disposable gloves can affect your business and productivity due to skin disorders and repetitive hand movement injuries, please read our recent NCIA blog post, "PPE and Staff Efficiencies – How Much Do the Quality of Your Disposable Gloves Matter?"
---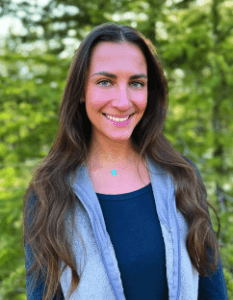 Justine Charneau is the head of cannabis industry sales at Eagle Protect, a disposable glove supplier dedicated to the responsible sourcing of quality products that ensure customer safety and impact reduction, ultimately mitigating customers' risk. Eagle Protect is the only global PPE supplier that is a Certified B Corporation, a designation that a business has met the highest standards of verified performance, accountability, and transparency. She can be reached at justine@eagleprotect.com.