by Ed Keating, Co-founder of Cannabiz Media
We're more than one year into California's legal cannabis industry and license growth continued on a fast-rising upward trajectory through the end of 2018. In fact, between November 1, 2018 and December 31, 2018, California issued a total of 6,855 new cannabis licenses according to the Cannabiz Media License Database as people worked extended hours to process the remaining temporary license applications.
To put that number into perspective, California had 4,085 active licenses as of October 31, 2018. During the next 61 days, the state more than doubled that number to 10,940 active licenses on December 31st. You can see the data visually in the chart below.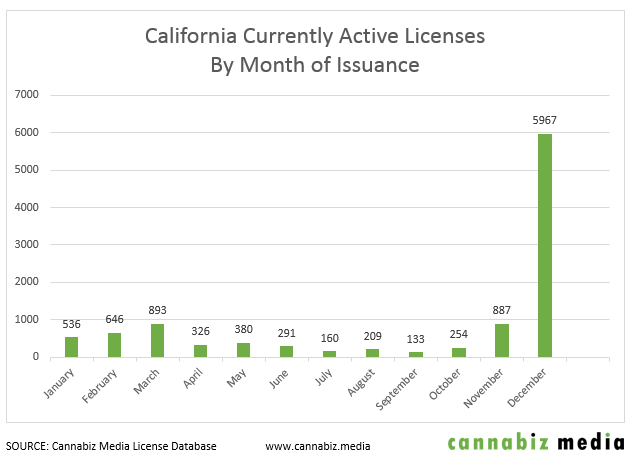 Majority of Licenses Granted Went to Cultivators
Of the 6,855 licenses granted in California during November and December 2018, 65% were issued to cultivators by the California Department of Agriculture.
Distributor licenses accounted for 14% of the licenses granted during that two month period, followed by manufacturer licenses at 12%, retailers/dispensaries at 3%, microbusinesses at 3%, delivery businesses at 3%, and testing labs at less than 1%.
Cultivators Continue Stacking Licenses
During the final two months of 2018, 45 license holders gained double digit licenses, which accounted for 24% (1,665) of the 6,855 new licenses issued. One reason for this is because cultivator licenses are skyrocketing as more growers secure multiple small licenses to create large cultivation facilities.
Between November and December 2018, five companies received 729 cultivator licenses, which equates to more than 16% of cultivator licenses granted during that time and nearly 11% of all licenses awarded during that time.
Those five companies are Coyote Hills Agricultural Enterprises (210 new licenses), White Light Farms (173 new licenses), BDZ, Inc. (134 new licenses), Iron Angel II, LLC (133 new licenses), and Busy Bee's Organics (79 new licenses).
Distributor Licenses Saw the Most Growth in Late 2018
While new cultivator licenses grew by the largest quantity during November and December 2018, new distributor licenses saw the largest growth jump over the previous 10 months of the year.
The number of new distributor licenses issued in December and November 2018 was nearly double the amount granted in the previous 10 months. Manufacturer licenses issued increased by 188%, cultivator licenses by 178%, testing licenses by 68%, and retailer/dispensary licenses by 58%.
What's Next for California's Cannabis License Holders?
California has stopped issuing temporary cannabis licenses, and throughout 2019, many of the temporary licenses awarded during 2018 will expire. Each of these temporary licenses will need to become provisional and/or annual licenses in order for the license holders to stay active in California's cannabis industry.
A few months in 2019 stand out as ones to watch because a large number of temporary licenses will expire. In March, 1,559 licenses will expire. In April, the number of expiring licenses jumps to 4,731, and in July, another 2,453 temporary licenses will expire. During other nine months of 2019, the number of licenses that will expire ranges from three licenses in October to 682 licenses in May.
Clearly, the story of cannabis licensing in California is far from over, and the Cannabiz Media team will be watching closely and tracking all of it in the Cannabiz Media License Database. Follow the link to see more data and insights related to license growth in California during the last two months of 2018.
---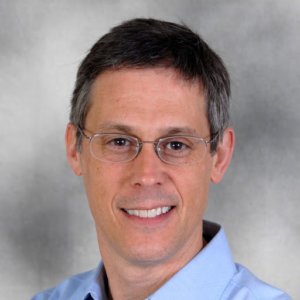 Ed Keating is a co-founder of Cannabiz Media and oversees our data research and government relations efforts. He has spent his whole career working with and advising information companies in the compliance space. Ed has overseen complex multijurisdictional product lines in the securities, corporate, UCC, safety, environmental and human resource markets and focuses on workflow products. Ed has spent the last twenty five years in the information industry. During that time he has worked for both startup and established information companies where he has led marketing, product management and sales organizations. These companies include Wolters Kluwer/Commerce Clearing House, CT Corporation, EDGAR Online and Business & Legal Reports. At Cannabiz Media Ed enjoys the challenge of working with regulators across the country as he and his team gather corporate, financial, and license information to track the people, products and businesses in the cannabis economy. Ed graduated from Hamilton College and received his MBA from the Kellogg School at Northwestern University. He has been active with the Software & Information Industry Association for his whole career and managed the Content Division for six years. He's was recently a Trustee at the Country School in Madison CT and a Little League Coach for seven years.