Following up with Ean Seeb three months after his visit to D.C. to meet with Hawaii's congressional delegation on cannabis industry issues, we checked in to hear about some of the progress made on his efforts. We also spoke with fellow NCIA Member Tae Darnell, who accompanied Ean on several of his congressional office visits.
On April 4th, Senator Schatz of Hawaii became the 12th Senate co-sponsor of the Marijuana Business Access to Banking Act (S 1726).
Ean's overall sentiment about the experience? Hard work pays off.
Ean Seeb, Denver Relief Consulting:
It was a sense of accomplishment in that when you're working with Congress, things are very slow-moving and we have been dealing with the banking and tax issues repeatedly since my first NCIA Lobby Days in 2013.
As far as the experience of going into a congressional office and telling them you're working with cannabis and asking them to back or co-sponsor some legislation, back then, it was a foreign thought. Contrast that with now – to walk in and have the recognition, know what we're doing, and three months later to see a Senator actually fulfilling the only request that we made to him, specifically, to co-sponsor this bill.
All of our efforts are not for naught. If you put your mind to it, you go to work, and you extend some effort on behalf of the industry, you can make powerful, meaningful change here. Having another Senate supporter, even harder to come by than on the House side – it's an incredible accomplishment.
I was delighted. It's not due to any one person individually. NCIA's Michael Correia, Director of Government Relations, set up the meeting and put it all together. It made me feel better about working hard and diligently with a team and getting to the solution to the challenge we're facing. Sen. Schatz can't himself enact the banking bill, but this is one more step toward chipping away at cannabis prohibition as we know it.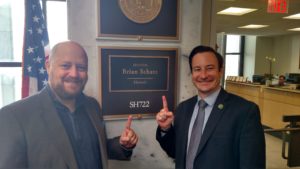 It was really helpful to have my fellow NCIA member Tae Darnell there. I didn't know it at the time, but Tae wrote the draft legislation for Hawaii, so he was really well-informed on the issues we were discussing and was able to provide some good examples as to why it was important to get behind the bill.
Tae Darnell, Sensi Media:
I've been deeply involved with Hawaii since 2010, when I drafted the first version of the medical marijuana bill that just passed. Although much has shifted since the original version, I've developed close connections at the state level and have a particular affinity for Hawaii's role in the advancement of cannabis regulation because of those relationships.
When Ean approached me about lobbying with Michael and speaking with the federal arm of Hawaii (one of those being Senator Schatz's office), I jumped at the opportunity. I think it's incredibly helpful to be able to share direct experience and engage conversation that personalizes the story at a federal level. I also think it helps to be able to diversify perspective. In that regard, Ean was able to share his NCIA experience as well as Denver Relief's experience both as a dispensary and consultant. I was able to share my experience as an (almost) 10-year cannabis lawyer who assisted Colorado with HB 1284, SB 109, and A64, and also as a drafter of Hawaii's legislation. As a co-founder of Surna and Sensi Media, I was also able to share my experience as an entrepreneur on the ancillary side.
In the end, and based on my experience as a cannabis lawyer and entrepreneur, I'm incredibly excited that the work of NCIA is able to facilitate such incredible accomplishments. The countless hours of effort, put in by so many, are rewarded when we, as an industry, are able to accomplish goals like gaining sponsorship for critical banking legislation. I think successes like these are further validation of how critical it is that we continue to aggressively support the work of NCIA. The time is now to effect change, and the nearly 1,000 member businesses of NCIA are a major catalyst for why it's happening.
---

Want your voice heard in our nation's capitol on issues affecting the cannabis industry? Join us for our 6th Annual NCIA Member Lobby Days in Washington, D.C., on May 12 & 13, 2016.
To make the most out of the Lobby Days experience, register early so that we can begin the process of setting up meetings for you on the Hill. Members who register before April 30th will be entered to win admission and travel expenses for two at NCIA's Cannabis Business Summit & Expo, including airfare and lodging.