by Madeline Grant, NCIA's Government Relations Manager 
There is no doubt that we've missed the in-person, one on one interactions in the cannabis industry. For anyone that attended the Midwest Cannabis Business Conference in Detroit in September, it was refreshing to connect with friends and meet new friends in the cannabis industry. Fortunately, we have the chance to meet in person again at the 7th Annual Cannabis Business Summit and Expo (CannaBizSummit) in San Francisco, California. From networking with California-based cannabis companies to meeting new companies in the industry, there is no lack of connections to make at CannaBizSummit.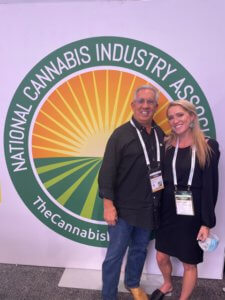 Pictured Right: NCIA member Sonny Antonio with Sunshine Design and I at MJBizCon at NCIA's booth.
The National Cannabis Industry Association (NCIA) has been hard at work in Washington, D.C. With the introduction of the Cannabis Administration and Opportunity Act draft legislation, there had been an undeniable excitement to support momentum towards cannabis policy reform. The Government Relations team submitted comments to the sponsoring offices on behalf of NCIA's members and will continue to work to support members' best interests. We appreciate your support of NCIA and the missions we continually work to achieve. 
At #CannaBizSummit there will be opportunities for educational panels on federal cannabis policy and opportunities to connect with cannabis professionals in all sectors of the cannabis industry. Below are just a few of the education panels and "Lightning Lessons" that will be taking place throughout the conference:

You can find more information and details on the agenda and sessions HERE.
NCIA is honored to welcome our 2021 #CannaBizSummit Keynote Speaker, Troy Datcher, CEO of The Parent Company. Leading a new generation of c-suite innovators, Chief Executive Officer Troy Datcher, together with Chief Visionary Officer Shawn "JAY-Z" Carter, helms a cannabis business for the post-prohibition era The Parent Company. Combining best-in-class operations with leading voices in popular culture and social impact, the company focuses on building brands that will pave a new path forward for a legacy rooted in equity, access, and justice. 
Beyond the panels and educational resources, attendees will be able to meet others from around the country. From cannabis cultivators to cannabis retail owners, there is no shortage of potential to network. At NCIA, we continue to support our members' best interests by providing a continued understanding of the political landscape of cannabis policy reform. It's our goal to support value-driven reform and support a responsible cannabis industry. Remember, if you are an NCIA Blooming or Evergreen member, you have a number of complimentary tickets to our trade shows.
If you have any questions regarding your membership or the CannaBizSummit please reach out to me via email, Madeline@TheCannabisIndustry.org. There is a lot to be excited about this year and I hope to see you out in San Francisco this December!