by Michelle Rutter, NCIA Government Relations Manager
Last night, Americans all over the country let their voices be heard at the ballot box. Voters in Michigan cast their votes for the legalization of adult-use cannabis, increasing momentum of our movement. At the same time, voters in Missouri and Utah were successful in legalizing medical cannabis, becoming the 32nd and 33rd states to do so, and despite significant hurdles.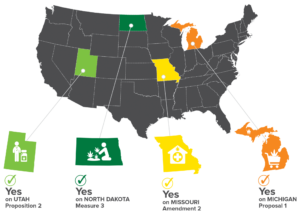 MICHIGAN
Appearing on the ballot as Proposal 1, this initiative passed by a whopping 55% and made Michigan the first state in the Midwest to legalize adult-use cannabis for those over the age of 21. The proposal outlined an excise sales tax of 10%, which will be levied on sales at retailers and micro-businesses, and then be allocated to local governments, K-12 education, and road and bridge maintenance. In the future, municipalities will be given the authority to to ban or limit cannabis businesses and establishments within their boundaries. Michigan's prominent Midwest location, as well as the size of the projected adult-use market, make it a game-changing initiative to watch for cannabis reform. Michigan is the only adult-use state that also gave it's electoral votes to President Trump in the 2016 election.
NORTH DAKOTA
In North Dakota, Measure 3, or the Marijuana Legalization and Automatic Expungement Initiative, appeared on the ballot and failed by only receiving 40% of the vote. This measure would have made cannabis legal in the state of North Dakota for people 21 years of age or older and, unlike other initiatives, also created an automatic expungement process for individuals with convictions for a controlled substance that has been legalized. Advocates and policy organizations were initially stunned when the campaign submitted enough signatures to appear on the ballot, and immediately recognized the importance of a staunchly, dependably conservative state choosing to legalize the adult-use of cannabis. Both of the candidates who ran for Senate in the state, Rep. Kevin Cramer (R) and Sen. Heidi Heitkamp (D) stated that they opposed the measure.
UTAH
In Utah, the Medical Marijuana Initiative (Proposition 2) appeared on the 2018 ballot and passed with 53% of the vote. This initiative legalized the medical use of marijuana for individuals with qualifying medical illnesses such as epilepsy, HIV, and and multiple sclerosis, among others. In October, the proponents and opponents of the measure, Mormon church leaders, and elected officials met to discuss the possibility of passing a medical cannabis law through the state legislature– regardless of the result for Proposition 2, which it was determined, would remain on the ballot. State lawmakers plan to hold a special session to work out details for how to make Utah the next medical cannabis state. Utah is a perfect example of a traditionally conservative state choosing to reform their cannabis laws to be more compassionate — Utah has given its electoral votes to Republican presidents in every election since 1968.
MISSOURI
In Missouri, three separate medical cannabis initiatives appeared on the ballot last night– including two proposed constitutional amendments and one statutory measure– with Amendment 2 triumphing with 65% of the vote. The other two medical cannabis initiatives failed. The winning Amendment 2, backed by New Approach Missouri, was favored by national advocacy groups such as NCIA, MPP, and NORML. The initiative legalized cannabis for medical purposes, creates a licensing system for cultivation, testing, and dispensing of medical cannabis and sets up a 4% tax on cannabis sales. State tax revenue garnered will be spent on healthcare services for veterans. Voters in Missouri also elected Josh Hawley (R) to replace sitting Sen. Claire McCaskill (D). Interestingly, Amendment 2 received over 300,000 more votes than Senator-elect Hawley — proving that cannabis is a winning issue across partisan lines.

OUTLOOK: 2019 AND THE 116TH CONGRESS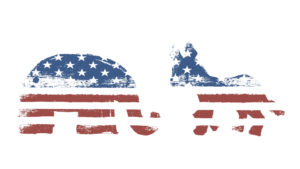 These stunning victories have implications in Washington, D.C. and set the stage for federal reform in the 116th Congress. In addition to the ballot initiatives that were passed last night, Democrats took control of the House of Representatives, while Republicans maintained their control of the Senate. While this development surely means that cannabis policy will progress further than ever in the House, it also means that anything passed through that chamber will face significant hurdles in the more conservative Senate.
HOUSE
This year's midterm election was one of the most highly anticipated in modern American history.
Last night, the House of Representatives switched from a Republican majority to a Democratic majority: as of Wednesday morning, Democrats held 220 seats, while Republicans held 194.

Republican leadership in the House of Representatives over the last two years has blocked even popular reforms such as banking access from receiving hearings or votes.

With a Democratic majority in the House of Representatives, cannabis legislation will likely move at an unprecedented rate. Because Democrats have traditionally been more friendly to cannabis reforms, there is the possibility that hearings will be held, bills will move through committees, and even possibly be voted on and passed on to the Senate.  
Most, if not all, of last night's House races will have implications for cannabis policy in the 116th Congress. Notable cannabis opponent and chairman of the powerful Rules Committee Pete Sessions was defeated in a stunning victory by Colin Allred, who has stated his clear support for medical cannabis. At the same time, cannabis advocates saw the loss of longtime cannabis champion Rep. Dana Rohrabacher (R-CA), marking the end of an era. While the loss of Rep. Rohrabacher will be felt by many, his challenger Harley Rouda has stated his unequivocal support for adult-use cannabis.
SENATE
As polls indicated prior to Election Day, Republicans maintained their control of the Senate, and in fact strengthened their majority. As of Wednesday morning, Republicans had gained two members in the Senate, holding a total of 51 seats, with three races still in play. While the Democrat-controlled House of Representatives may be able to move pro-cannabis amendments and legislation through that chamber, anything that moves on to the more conservative Senate will face significant hurdles.
One of the most closely watched Senate races in the country was in Nevada, where sitting Sen. Dean Heller (R) faced Rep. Jacky Rosen (D). While Sen. Heller has signaled his support for cannabis reform in the past, he currently does not co-sponsor any pro-cannabis legislation in the Senate. Rep. Rosen, however, is a co-sponsor of multiple bills in the House, including the SAFE Banking Act (H.R. 2215), the Small Business Tax Equity Act (H.R. 1810), and the STATES Act (H.R. 6043), among others. In addition, Rep. Rosen replied to an NCIA candidate survey and stated, "I was proud to support Nevada's marijuana ballot initiative in 2016 and our state has already seen the positive impacts of this industry, including thousands of jobs and millions of dollars in tax revenue."
With more on the line than ever before, political donations and investments in our industry are vital. NCIA's political action committee (NCIA-PAC) is proud to have donated to 41 of the winning candidates on election night.
The 116th Congress will arrive in Washington, D.C. in January. With the change in leadership in the House of Representatives, cannabis policy and reforms will be able to advance in a way never seen before. At the same time, any pro-cannabis bills or amendments sent to the Senate will still face challenges, but as recent elections have proved, anything is possible.