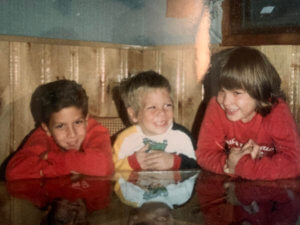 Hi, I'm Jeremy and this is my story. I grew up in a middle-class immigrant household in Schenectady, NY, in the same house my grandparents bought when they moved their kids from Sicily to America. My brother, my sister, and I loved torturing my grandfather and were no strangers to getting chased down the driveway by him and his broom. Life was as you might expect in an Italian house, the talking was loud, the food was good, and the family bond was strong.
Fast forward… I had no idea what I wanted to do with my life, I had a lot of fits and starts with college until settling into the one thing I knew I truly loved, politics. I struggled hard in college (and in high school for that matter) only doing well in my PolySci classes. Somehow I managed to get a B.S. in Political Science and Government from S.U.N.Y. Brockport, graduating late 2009, just as the economy was headed into the Great Recession. Not so perfect timing.
I did what any naive kid just out of college and in love with politics would do: I moved to Washington, D.C. so I could get a job on the Hill and start my awesome career! Wrong! I couldn't even sniff an interview on the hill. I spent the next two years doing temp work around the Beltway, ending with a stint at the American Institute of Architects (AIA).
In April 2012, I decided it was time to move on and I started to set my sights on Denver, CO. The Colorado chapter of the AIA was looking for someone to help plan their national convention that was coming to town, so I packed up my stuff and dog and headed into the unknown. All good things come to an end…my 18-month contract expired with AIA and I found myself unemployed and back on the job market.
Four months later, I applied for a position with the National Cannabis Industry Association, I went through the interview process but ended up not getting hired and figured I would never hear of the organization again, but life works out funny sometimes. Out of the blue, three months later I got an email from Aaron Smith asking if I was still interested, as they were growing so fast they had already promoted the person they chose for the position initially. We had a few conversations and drinks at a Deadhead bar, Quixotes True Blue for all you Denver folks, and on May 1, 2014, I started working for NCIA.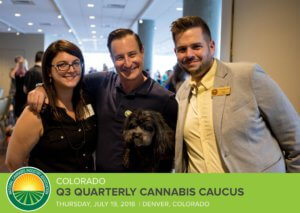 I'm not going to lie, I had no idea what I was doing here or how I fit in, after all I was the first NCIA hire with a more structured association background as opposed to grassroots activism. Other than consuming cannabis occasionally I had no connection to the plant like the other staff did. They were long time activists and all had a personal story for their passion and what cannabis advocacy meant to them. I just needed a job.
It was kind of surreal, I worked in the living room, while others worked in adjoining bedrooms and living spaces. It also wasn't uncommon for me to see Aaron walking by with his laundry to utilize the washer and dryer in the cottage. In short, that NCIA was much different than the juggernaut we have since become.
Little did I know, what started as just a job would completely change my life. I was able to learn first-hand all about the plant, the people, and the industry. This isn't just a bunch of stoners who wanted cannabis legal so they could get high. This was about quality of life, social justice, medicine, and community. It has been the privilege of my career to work with people who are so committed and passionate about the history we are making and I couldn't be prouder to be part of it. If you told me 10 years ago that I would be working in the cannabis industry, I would have laughed in your face, but now I couldn't imagine working for something I'm not passionate about.
I'm particularly proud of the part I played in (re)launching our member committees and implementing an organization-wide database to help us better engage with our members. I also have been leading a few exciting new benefits, like NCIAConnect: our exclusive online community, and a completely mobile NCIA experience with our new app. Both are coming super soon!
After serving as the Membership Coordinator, Manager and ultimately leading the department as Director, I recently shifted into a whole new role as the SalesForce Administrator and Business Process Analyst. This role is allowing me to combine my technical abilities and my institutional knowledge of NCIA to help move us forward in a coordinated and strategic way. I have also relocated back to the East coast for some loud talking, family connections, and pasta Sundays.
NCIA has changed dramatically since I started 6 years ago, we launched national conferences, grew our staff five times over, doubled down on our advocacy and commitment to our members, and we finally got out of the old "Cannabis Cottage." I'm not certain what my future holds but I would like to think that NCIA and I have played a role in each other's successes and are primed for bright futures.