by NCIA Editorial Staff
The cannabis industry has seen exponential growth in the mainstream support for regulated cannabis markets from both sides of the political aisle. This progress is a direct result of the relationships NCIA has built on Capitol Hill, as well as the personal stories told by our members each year at our annual Lobby Days events in Washington, D.C.

NCIA's 8th Annual Cannabis Industry Lobby Days, hosted May 21-23, was the industry's most impactful fly-in yet, as our members made more inroads to Congress at a time when the nation has reached a tipping point in the fight to protect legal cannabis.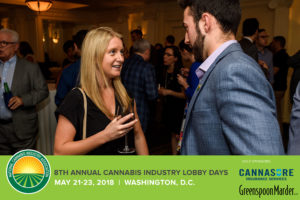 "So many more people keep coming to Lobby Days which is amazing to see," said Karson Humiston, founder of Vangst. She's one of Forbes' 30 under 30 and the only female in cannabis to make the list. She's focused on telling members of Congress about the potential for job creation and the economic impact of a fully recognized cannabis industry. "We are talking about jobs as much as possible in order to educate members of Congress about the economic stimulation regulated cannabis is bringing to the states and the need for federal legalization," she said.
NCIA announced the release of its 2018 State Cannabis Progress Report during this year's Lobby Days. The publication outlines a myriad of economic and social benefits already being realized by states with successful cannabis programs, including job creation, tax revenue, and reductions in crime and teen use.
So far 2018 is shaping up to be much different from the past seven years, largely because of Republican backlash against Attorney General Jeff Sessions attempting to ramp up federal interference in state cannabis programs by rescinding the Cole Memo. Historically, the GOP has been less publicly supportive of reforming cannabis laws, although there has been a strong current of support among certain segments of the party. Now, they listen and many have even joined us in support of banking and tax reforms needed for our industry to reach its full potential, in addition to their traditional support of federalism issues related to cannabis. Advocates, patients, and NCIA member-businesses all over the United States are keeping this positive momentum going.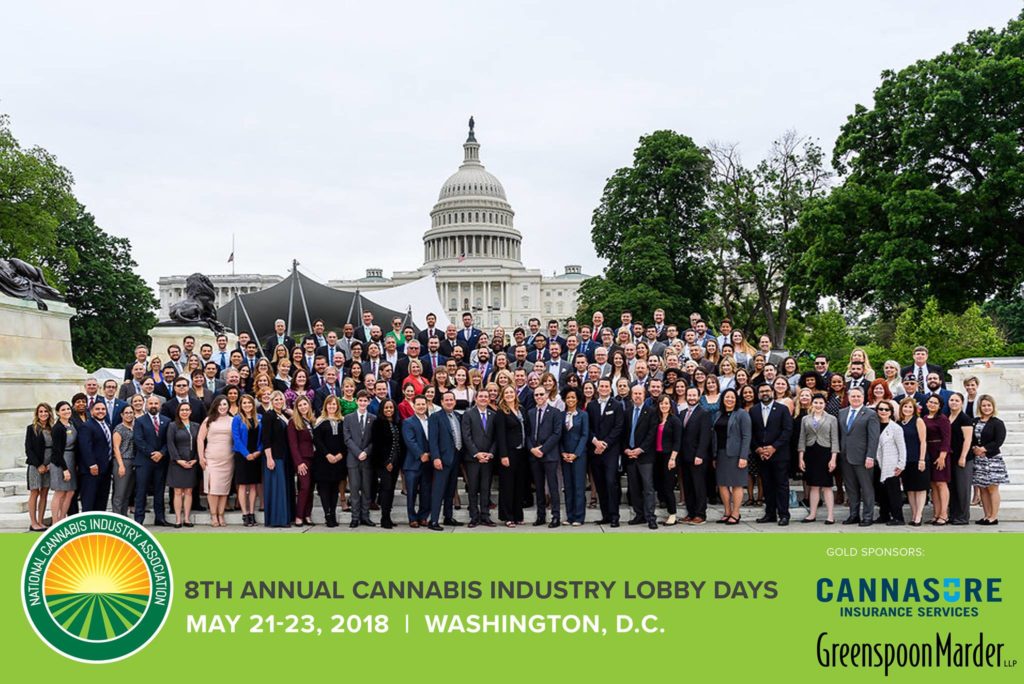 At the Lobby Days welcome reception on the evening of Monday, May 21, NCIA Executive Director Aaron Smith said he was delighted with the turnout. "There are so many new faces, so many old friends, and Lobby Days veterans," he told the audience of cannabis professionals, who had just arrived in Washington prior to the two full days of meetings with congressional offices. "Starting tomorrow, we will descend upon Capitol Hill to show lawmakers what a responsible, politically engaged cannabis industry looks like." He called Lobby Days one of the cannabis industry's most important events of the year.
NCIA member and founder of Washington, D.C.'s National Cannabis Festival and the National Cannabis Policy Summit, Caroline Phillips, said that she was proud to see so many members coming to her backyard to demonstrate their unity. "This is a really wonderful opportunity to share with members of Congress the diverse and innovative ideas of the cannabis industry and to show off the professionalism, creativity, and care that the people in the industry put into their work, "she added. "I think a lot of members on the Hill are starting to understand the cannabis industry is a lot more than just stereotypes, and for them to have one-on-one interactions with some of the best professionals in our industry is extraordinarily valuable."
New to Lobby Days was Attorney Blake Mensing. He was eager to join the crowd of professionals to advocate for the fair treatment of cannabis businesses. "I think that this is the eighth year that this is happening really shows that the industry is coming out of the shadows and the momentum has built to the point that there's a small probability that things are going back to the way they were [prior to the reform victories of the last decade]." Mensing founded The Mensing Group after he left his job as a Municipal Attorney in Massachusetts to start a cannabis-only practice. "It's the first time I've ever had fun being a lawyer," he remarked before heading into Senator Orrin Hatch's (R-UT) office.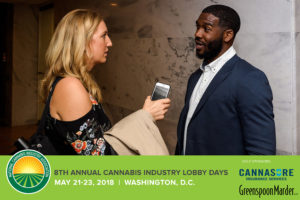 Professional football player Mike James also joined NCIA this year to advocate on behalf of his fellow athletes who would prefer to treat their health issues with medical marijuana instead of opiates. The active NFL running back has played for the Tampa Bay Buccaneers and the Detroit Lions during his career, which has wreaked havoc on his body, leaving him with chronic pain that he used to treat with opioids. "Within the NFL, I'm trying to go through their process and change policy. That way, hopefully, they can be an example for society," he said. Currently a free agent, he's the first and only active player with a medical marijuana card.
From the need to expand medical access to cannabis, to tax and banking reform, to addressing the injustice of racially disproportionate marijuana enforcement, NCIA hit the Halls of Congress to educate members of Congress and their staffs on what's happening in their own backyards and the successes of regulating cannabis.
For example, when it comes to tax reform, Heather Sullivan of 3C Consulting said the cash-flow is only one of the issues they have to worry about from the 280E tax burden. "It's a tough decision come tax season," she said. "Do you set aside those tax rates so you don't have that money to use for other things for your business, or do you play the game and run the risk that you're not going to get audited?" Many cannabis businesses face similar issues, which can effectively ruin a company over time.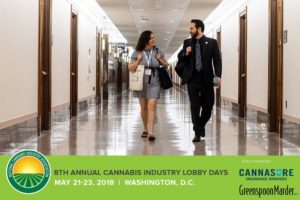 There were many Congressional offices that were receptive to the efforts and positions of NCIA members during Lobby Days. Heather took a meeting with Sen. Bernie Sanders' (I-VT) office, for example, and after leaving the meeting she felt that it went wonderfully, stating, "Senator Sanders is a proponent for the safe and regulated use of cannabis whether in the medical side or the adult use side, so it was a meeting that for us was an opportunity to tell Bernie and his staff how much we appreciate the hard work that he's done, ask him what we can do as an industry to help them continue the progress that they've already made and learn more about where his focus is." Sullivan is well-versed in the issues facing cannabis businesses today and knows many other officials are still in need of convincing.
In spite of heavy opposition from Attorney General Jeff Sessions, as well as House leadership, the cannabis industry saw a huge victory when protections for medical marijuana were included in this years' fiscal budget. Now, with the help of our members who flew in to speak about their personal issues and experiences, we can all look forward to an even more progress and a better outlook for the U.S. cannabis industry.